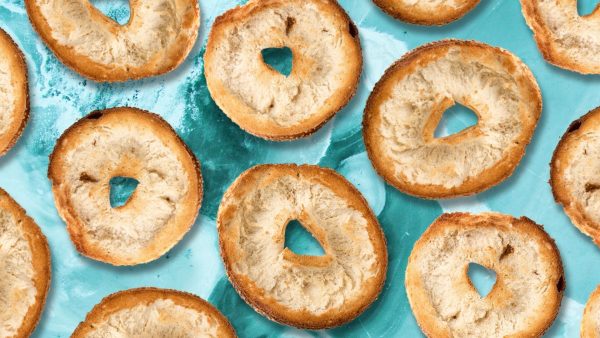 Do you remember the St. Louis bagel controversy of 2019? A former St. Louis native, then living in New York created quite a stir when he tweeted the following:
Today I introduced my coworkers to the St Louis secret of ordering bagels bread sliced. It was a hit! pic.twitter.com/XNGbljtpYz

— Alek Krautmann (@AlekKrautmann) March 26, 2019
Twitter users famous and obscure lambasted Krautmann for suggesting there is more than one way to slice a bagel. "St. Louis, fuhgeddaboudit," tweeted Senate Majority Leader Chuck Schumer.
The outrage even forced the culprit, Panera Bread, to release a statement:
"Panera introduced bagels in the early to mid-1990s. To entice customers, the restaurants would put bagel samples out on the counter, sliced thinly (like bread) so that customers could have a small taste. Our customers got into the idea of thin bagel slices and began asking for their bagels to be cut that way and overlaid with a slice of cheese. And so the bread-sliced bagel was born."
Somehow, we made it through that storm and now another bagel "shanda" has erupted. And while St. Louis is not at the epicenter of this new contra-bagel-versy, our town's bagel makers say they too have come face-to-face with customers wanting, wait for it, scooped bagels.
What is a scooped bagel?
Here's the scoop on the scooped bagel: it's an ordinary bagel with most of its doughy innards removed, creating two hollowed bagel halves. The argument for ordering a scooped bagel is to either make room for more toppings, or to remove a few extra calories from your morning deli order.
However, scooping bagels is apparently not a "New York thing," so when a Los Angeles TikToker posted a video, it sparked outrage. In the 30 second video, user Taylor Offer recounted his experience attempting to order his preferred bagel in New York City. The Los Angeles native claimed that when he walked into a local bagel shop, he was met with hostility when he asked for a "scooped, gluten-free" bagel, which runs rather contrary to the chilled-out bagel service he was accustomed to on the West Coast.
"Scooped Bagel-Gate" quickly went viral, prompting articles from Bon Appetit and of course It's a Shanda.com
"I have indeed heard of the scooped bagel issue that is tearing the coasts apart," said Alex Pifer, owner of St. Louis' newest bagel purveyor, Baked Boiled Bagels, in Soulard. "We came face-to-face with the topic last weekend when a man claiming to be from New York came in and demanded a scooped bagel. When we told him we would rather not because we spend days creating our delicious crumb, he threw a tantrum in the shop. He ended up eating it the way the bagel lords intended because 'New York bagels are like eating a loaf of bread with 700 calories,' and that ours did not need to be scooped. He then apologized and bought a shirt."
At Lefty's Bagels in Chesterfield, employees are completely on "Team Bagel Shop." "Customers are more than welcome to scoop their bagels if they so choose," said co-owner Scott Lefton. "But yeah, that would be a total shanda."
Lefty's co-owner Doug Goldenberg offers another take on why some prefer to scoop.
"My mother-in-law, Lois Lefton, loves her bagels scooped because she likes the outside better than the inside. I think by scooping you are missing the essence of a true bagel," said Goldenberg. "If you are concerned about carbs, just eat less bagel. But I understand the perspective of liking the crust better than the insides. Kind of like the opposite of cutting the crust off your bread."
If asked, Goldenberg says Lefty's will scoop your bagel.
"But scooping a gluten-free bagel? Why even eat a bagel at this point," said Goldenberg.
Baked & Boiled Bagels
1801 South 9th.
St. Louis, MO 63104
Follow them on Instagram for bagel updates.
Lefty's Bagels
13359 Olive Boulevard
Chesterfield, MO 63017
(314) 275-0959
[email protected]
| RELATED: The Ultimate Guide to St. Louis Homemade Bagels