Remembering Morton May, the Jewish St. Louisan who donated 5,500 works of art to SLAM
Like many American museums, the collection of art that makes up the St. Louis Art Museum not only comes from it purchasing works of art from around the world, but also from gifts and bequests from St. Louis collectors.  In total, according to the museum, 75% of the permanent collection was acquired as some sort of gift, which in scope and quality, transformed the museum as a whole. It is the generosity of these donors that have helped make SLAM one of the best in the country.
While the list of donors is long and distinguished, the contributions of Jewish donors have helped populate the museum with masterpieces that a Met or MOMA would envy.  
One of these Jewish donors was Morton D. May.
Morton D. May
According to SLAM, May is one collector who made the most significant impact on the Museum.
May was the grandson of one of the founders of May Department stores. In 1983 he donated to the Museum 5,500 works of art or nearly 20% of the museum's total collection. With a focus on German Expressionism, Pre-Columbian, Oceanic and African art, it is remarkable to learn that when May was thinking of purchasing an object, he considered the museum's interests as well as his own. He bought with the intention of rounding out the museum's collection.
GERMAN EXPRESSIONISM 
According to a 1970 New York Times article about May's collection, his interest in the expressionists started in 1946, when, fresh from a hitch in the Navy during World War II, he came to New York on a merchandising trip. Seeking the work of "a good artist not too well known in this country," he was led to Beckmann's canvases by a painter friend, Maurice Freedman.
So, while other collectors were Picasso's, May, a part‐time painter himself, began collecting in this specialized field and he had the market to himself. May was enthralled with their intensity and power, telling the New York Times, "these painters were interested in feeling, and they wanted you to feel. I suppose I've collected them because I'm not afraid of their strength."
May's collection grew to include works by such German masters as Wassily Kandinsky, Ernst Ludwig Kirch ner, Emil Nolde, Paul Klee, Franz Marc, Oskar Kokoschka, George Grosz, Alexi von Jaw lensky and Lyonel Feininger. It has as its focal mint 57 oils by Beckmann, whom Mr. May knew when he was teaching and painting in St. Louis.
These are but a few of the works that May gave to SLAM. His collection literally put the museum on the map!
MAX BECKMANN
According to the website Arts In Exile, May first became aware of Max Beckman at an exhibition of the artist's work in the Buchholz Gallery in New York; the same year he acquired his first painting by the artist and began systematically building the biggest collection of Beckmann paintings, including such early works as Untergang der Titanic [The Sinking of the Titanic] from the year 1912.
In 1948 Max Beckmann accepted a temporary position to teach at Washington University, where May and Beckmann met. May had a special eye for Beckmann's art and once said,  "I am only interested in buying very important examples of Max Beckmann's work."
Over time, May assembled one of the finest and most diverse collections of primitive art in the country and the single most important group of German Expressionist paintings to be found in any collection, public or private."
His collection, which he bequeathed to the Saint Louis Art Museum and which now holds the largest collection of Beckmann works, includes the portrait of 1949, which was completed after several studies.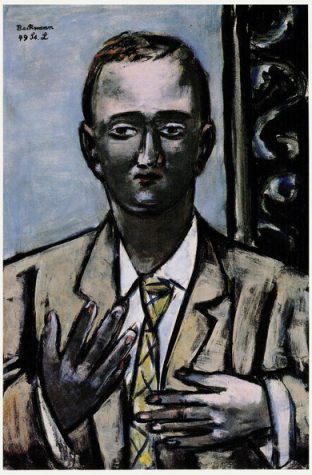 According to Art In Exile, Beckmann's journal contains some related notes:  "Big May day, lunch in his realm. It's all shaping up nicely and he's coming to the studio on Monday for drawing." (25 March 1949) The painting shows the hands of the 35-year-old subject, and particularly his right hand, in a notably awkward gesture in front of his chest. His countenance is marked by a laboured brow, an apprehensive look, and an equally uncertain turn of the mouth, which are connected to the hand gestures. Due to an illness, Morton D. May could barely move his right hand."
ANCIENT AMERICA, OCEANIA, AFRICA
SLAM's May collection also includes many examples of Meso-American, Pre-Columbian, Polynesian, and Melanesian with an accent on Oceania. According to Stephen G. Albert's recent article on the website Art Of The Ancestors, May wrote of his introduction to this style of art in the introduction of his collection after donating to SLAM.
"After meeting John Carlbach in 1960, it was as if a whole new world art had opened to me, and I became convinced that art from the Melanesian Islands was of the highest quality and should be ranked with that of the other great art producing areas of the world."
The May Collection Today
The St. Louis Art Museum continues to exhibit about 2000 works from its permanent collection every day, on a daily basis. Incredibly, 16% will be gifts or bequests of one Jewish donor, Morton D May.
Morton May died on April 13, 1983, at Jewish Hospital in St. Louis. He was 69 years old.