Peach season has arrived. To celebrate this season, we recommend loading up your fruit basket with these juicy, sweet marvels and prepare to indulge. You can enjoy your peaches fresh-picked and eaten out-of-hand, sliced or chopped as part of a salad or with your yogurt or cereal, grilled, sautéed, baked, or stuffed.
This delicious seasonal gem is the ultimate summer treat.  And its intoxicating aroma, the result of its membership in the rose family, will not only delight your palate but signal to all who enter your kitchen that summer is here.
Picking the perfect peach is a bit of an art and, of course, the fruit you purchase directly from a farm or farmer's market will be the best. However, not everyone has easy access to a farm or farmer's market. If you are selecting your peaches from the supermarket, look for the ones labeled "tree ripened."  The area around the stem of the peach should be yellow. A green color indicates that the peaches were picked too soon and, most likely, spent excessive time on a refrigerated truck. Though they may soften some after sitting out at room temperature, odds are that the resulting flesh will be mealy.
Peaches that are soft when you buy them will probably last no longer than a day or two, though they can be refrigerated to keep them from getting softer.
Here are some of my favorite ways to cook and bake with peaches. The following recipes are from our content partners at JaimeGeller.com
---
Summer Peach Pie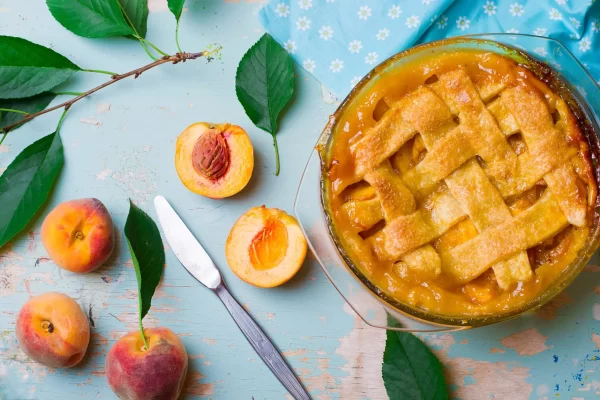 A homemade and healthy vegan pie that brings out the comforting flavor of sweet peaches, and there is a secret ingredient in the dough… vodka!
INGREDIENTS
PIE CRUST
5 cups all-purpose flour
5 tablespoons sugar
2 teaspoons salt
1 cup Earth Balance Original Buttery Spread (or other parve butter-substitute)
3/4 cup cold water
6 tablespoons vodka
PIE FILLING
6 1/2 cups of ripe peaches (about 7 peaches) – can be subbed with apricots for extra nutritional value
1/2 cup sugar (1/2 cup if using apricots)
6 tablespoons cornstarch
2 tablespoons lemon juice
1/2 tsp cinnamon
1 teaspoon lemon zest
PREPARATION
Pie crust:
1. Mix the flour, sugar, and salt.
2. Cut the butter substitute into the mix into small pieces.
3. Add water and vodka, and stir until a dough forms.
4. Separate into four dough balls, cover each in plastic wrap.
5. Refrigerate for 1 hour.
Pie Filling:
1. Bring a large pot of water to a simmer.
2. Score the peaches with an X on the bottom of each.
3. Simmer peaches for about 4 minutes until the skin appears to start peeling away.
4. Make a large bowl of ice water. Blanch peaches by transferring from simmering water to the ice bath.
5. When peaches are cool enough to touch, peel and chop each into bite-size pieces.
6. Add sugar, cornstarch, lemon juice, cinnamon, and zest to the peaches.
7. Refrigerate for 30 minutes.
Assembly:
1. Roll out the dough or press into pie plates.
2. Fill each pie crust with the peach filling.
3. Roll out extra dough onto the each pie or create a lattice design just make sure there is room for steam to escape.
4. Bake at 350 degrees for 50 minutes.
5. Chill in the refrigerator for about 2 hours before serving.
---
Peach and jalapeno salsa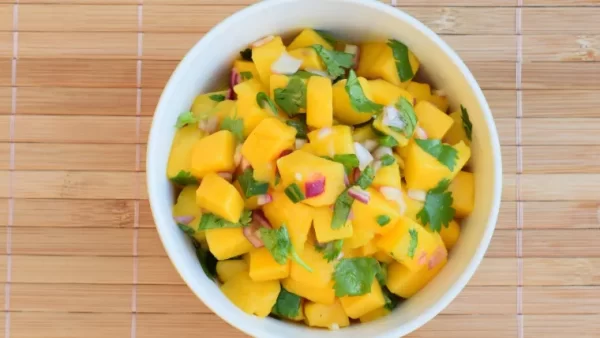 Peach and jalapeños come together in this bright and flavorful take on a Summer salsa. So good on fish, chicken, beef and vegetables. Make sure to add this to your next Summer BBQ.
INGREDIENTS
3 cup fresh peaches, chopped
2 tablespoon lime juice
2 cup fresh tomatoes
1 large red pepper, diced
2 sweet onions, diced (I use Vidalia onions)
1 jalapeno, diced (optional)
¼ cup rice wine vinegar
3 garlic cloves, minced
3 tablespoon honey
¼ cup cilantro
PREPARATION
Combine peaches, lime juice, fresh tomatoes, red pepper, onions, jalapeño, vinegar, garlic, and honey in a non reactive bowl.
Bring mixture to boil over medium heat. Cook for 3 minutes, stirring frequently.
Reduce the heat to a simmer and continue cooking until the mixture is thick (about 20-30 minutes). Add the cilantro and adjust seasoning with salt and pepper.
Store the salsa, covered in the refrigerator for up to 5 days or freeze for 2 months.
Serve the salsa with grilled vegetables or grilled chicken.
---
Peach and blueberry cobbler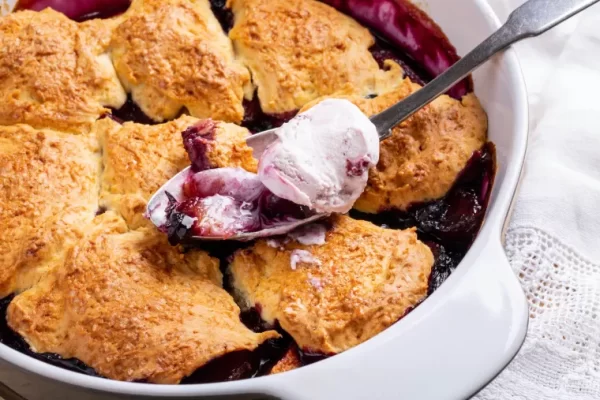 Cobbler is so delicious and so easy and the best way to use the abundance of fruits in the Summer.  You can really make it any time of year with any fruit and you can also use frozen fruit.
INGREDIENTS
6 peaches, peeled and sliced
¾ cup blueberries
8 tablespoons sugar, divided
½ lemon, juiced
2 cups all-purpose flour
1 tablespoon baking powder
Pinch salt
⅓ cup vegan butter or coconut oil, cold
1 egg
⅓ cup soymilk or almond milk
PREPARATION
Preheat oven to 350°F.
Combine peaches and blueberries with 6 tablespoons sugar, and lemon juice in a deep pie dish. Toss well.
In a medium bowl combine flour, baking powder, remaining 2 tablespoons sugar, and salt. Cut in the vegan butter until crumbly.
Add 1 egg and milk, stir to combine. Spoon batter to cover fruit. Place in oven and cook until browned about 1 hour.
Server with ice cream, whipped cream, or enjoy hot as it is.
---
Chicken with peach bbq sauce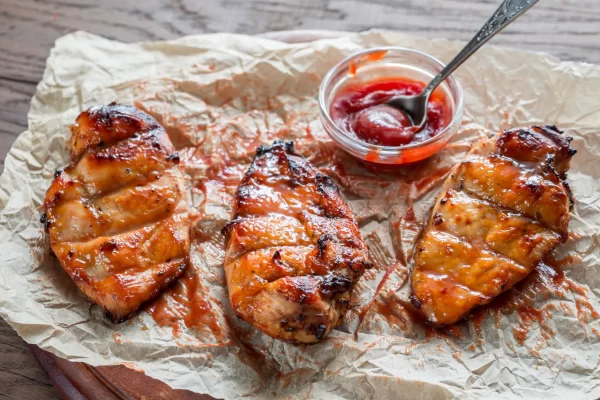 The fresh peaches in the BBQ sauce give this grilled chicken dish a delicious flavor. Quick to make and great served alone, or with salad or pasta.
INGREDIENTS
1 cup fresh or 10 ounces frozen peaches, thawed
½ cup ketchup
2 tablespoons lemon juice
1 tablespoon soy sauce
3 cloves garlic, crushed
salt and pepper to taste
PREPARATION
Chop peaches. Set a small pot over a medium flame. Put in chopped peaches, ketchup, lemon juice, soy sauce, and crushed garlic cloves. Season with salt and pepper and bring to a boil. Reduce heat and simmer for 10 minutes.
Remove the pan from heat and allow the sauce to cool.
Puree sauce with an immersion blender or a regular blender. Add more salt and pepper according to your taste.
Place half the sauce in a container with the chicken to marinate – cover the chicken evenly in the sauce and either marinate at room temperature for 20 minutes or in the refrigerator for up to 12 hours.
Set the rest of the sauce aside if marinating for a short amount of time. If marinating for several hours store in the refrigerator.
Grill the marinated chicken for 5 minutes on each side or broil for 7 minutes on each side. Brush with the reserved sauce before serving.
---
Summer peach and heirloom tomato gazpacho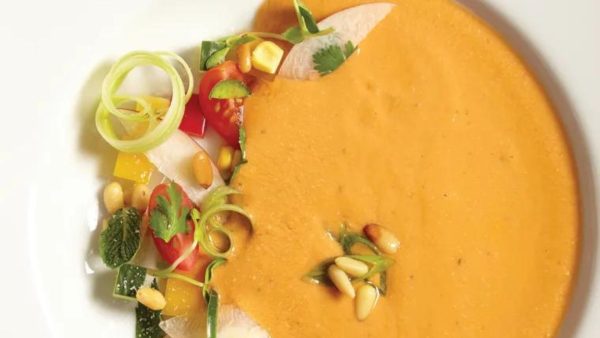 A Summer Peach and Heirloom Tomato Gazpacho bowl is so simple to make and is a fresh, cooling and sophisticated soup…perfect for the summer or fall months.
INGREDIENTS
3 peaches, peeled and pitted
2 cups cherry tomatoes
1 cup coconut milk (sugar-free)
¼ cup marcona almonds (or blanched almonds)
1 hothouse cucumber (not peeled)
1 bunch fresh mint
2 teaspoons agave nectar
Juice of half a lime
Salt to taste
½ cup ice
SERVE WITH:
1 yellow pepper, diced
1 large yellow tomato, diced
½ cup corn
1 jalapeño, seeds removed and finely diced (optional)
PREPARATION
1. Place all the peaches, cherry tomatoes, coconut milk, almonds, cucumber, 5 sprigs mint, agave, fresh lime juice, pinch of salt, and ice in vita-mix or blender. Blend until very smooth, and season to taste.
2. Pass through a fine-mesh sieve. Once sieved, you may have to add a little water to achieve the proper consistency, which should be like a drinkable yogurt.
3. Store in a covered container until ready to serve.
4. Place some of the yellow peppers, tomato, corn, and jalapeno in each bowl. Pour gazpacho liquid on top or around the vegetables. Garnish with remaining mint leaves and pine nuts