Newsmakers – Sept 2022
Published September 9, 2022
National Council of Jewish Women St. Louis (NCJWSTL), was recognized by the Women's Foundation of Greater St. Louis as a top place for women to work in the fifth annual Women in the Workplace: Employment Scorecard. NCJWSTL was recognized as one of 24 St. Louis employers demonstrating excellence in four areas of workplace gender equity: leadership, compensation, flexible work policies and recruitment and retention.
Marc Schreiber will be the new president of the St. Louis Sports Commission beginning Jan. 1. He is currently vice president of marketing and development. Schreiber is a member of Congregation Shaare Emeth.
Rabbi Hershey Novack, director and senior campus rabbi at Chabad on Campus, was on a winning team at an "engagement hackathon" competition at a recent conference hosted by the Chabad on Campus International Foundation, held in New Jersey. The hackathon's goal was to develop a practical and scalable solution to a common challenge facing college students.
Cultural Leadership, a local nonprofit that educates middle and high school students to recognize and resolve issues of privilege and injustice through the lens of the African American and Jewish experience, will honor Rabbi Daniel Bogard, Bob Fox and Cheryl Adelstein at its Golden Gala on Tuesday, Sept. 15. Rabbi Bogard, of Central Reform Congregation, will receive one of four Inaugural Ginsburg-Lewis Awards. It recognizes individuals and entities who are working to create "good trouble" and bring about disruptive, innovative change to our communities. Fox, co-founder of the Clark-Fox Family Foundation, will be honored with the Freedom Fighter Lifetime Achievement Award, which honors those who have dedicated their life's work to ensuring the freedom of the disenfranchised. Adelstein, the deputy director of the Jewish Community Relations Council of St. Louis, will be presented with one of two Troublemaker of the Best Kind Awards for Education Equity, honoring community members and organizations dedicated to shining a light on critical social issues and generating positive change. 
Esther Miller Bais Yaakov High School welcomes new executive director, Rabbi Avi Feigenbaum. For the past nine years he was the director of education of Etz Chaim Synagogue in Jacksonville, Fla., where he focused on creating innovative learning opportunities for Jewish education outside synagogue walls. 
Leslie Schwab Johnson is the co-founder of Alchemy, a Clayton-based workspace for female entrepreneurs, by female entrepreneurs.  Alchemy offers private offices, co-working memberships, and many amenities, including 24/7 access, conference rooms, and free garage parking.  She is a member of Kol Rinah.
Demi Fine, Alyssa Smith and David Smith earned Herzl Camp›s Kol Hakavod Award. Each year, six staff members are chosen by their peers to receive this honor. Winners are recognized for outstanding job performance, exceptional leadership abilities, consistently positive attitude, and their overall contribution to Herzl Camp. Demi is the daughter of Jenn and Kevin Fine and attends the University of Kansas majoring in education. Jennifer and Matt Smith are parents to Alyssa (Butler University) and David (University of Iowa). All attend Congregation B'nai Amoona.
Alan Spector's most recent book, "Playing Baseball with 'Kids' Our Own Age," has been published. It explores adult amateur baseball. Spector, a Jewish Light board member, continues to play in the older age divisions of his local league and of winter tournaments in warm weather locations.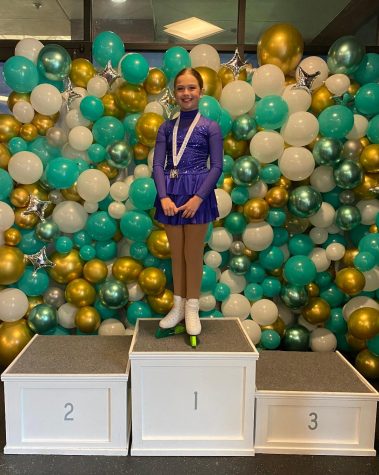 Emma Gross will be competing in the pre-bronze Pattern Dance event at the U.S. Figure Skating National Solo Dance Finals in Santa Clarita, Calif. from Sept. 7–10. She qualified for this event by earning points at regional competitions over the past few months and was the top qualifier in the Midwest region. Emma, a 6th grader at Wydown Middle School, is the daughter of Matt Gross and Tracy Goldberg-Gross.