Newsmakers: November 2022
Published November 28, 2022
Dr. Ken Ludmerer, of the Washington University School of Medicine, has joined the Foundation for Barnes-Jewish Hospital board. 
Dalin Dental Associates received one of 10 2022 Family Business Awards from the St. Louis Business Journal. Dr. Jeff Dalin is owner and is joined by his nephew, Dr. Daniel Goldberg, and son, Dr. Andy Dalin. The practice is located in Creve Coeur. All belong to Congregation B'nai Amoona. 
Jennifer Rich-Thomas was the executive producer of the documentary "The Garcia Family," working with director Emmett Williams. It tells the story of Alex Garcia, who took sanctuary in a Maplewood Church to avoid deportation and how his family and community came together. The screening was part of the St. Louis International Film Festival. Rich-Thomas attends Congregation Shaare Emeth.
Jayme Bertish has joined the Buddy Fund board, whose mission is to serve local at-risk youth by providing new sports and recreation equipment. A member of Shaare Emeth, Bertish is an enrollment and marketing support specialist with Media Cross.
Dylan Brown will be the camp director at Camp Indigo, a residential summer camp for youth entering second through 11th grades. Located just outside of St. Louis, the camp seeks to provide LGBTQ+ youth the chance to experience a community of peers in a fun, exuberant, affirming environment. During the school year, Brown is a fourth- grade teacher in Austin, Texas. 
Entrepreneur and fashion designer Phyllis Brasch Librach was honored at the 2022 Full Figured Industry Awards with a Lifetime Achievement Award. She is the founder and president of Sydney's Closet, a company that focuses exclusively on creating wedding, evening, pageant, prom and party dresses for women ages 16 to 60 who wear sizes 14 to 40. Librach attends B'nai Amoona.
Dr. David H. Gutmann and Jonathan Kipnis, PhD are two of the four faculty members at Washington University School of Medicine elected to the National Academy of Medicine, a part of the National Academy of Sciences. 
Gutmann is the Donald O. Schnuck Family Professor in the department of neurology and an international authority in neurofibromatosis (NF) cancer predisposition syndromes. Gutmann is being recognized for his seminal contributions to the field of NF and related disorders. 
Kipnis is the Alan A. and Edith L. Wolff Distinguished Professor of Pathology & Immunology and a BJC investigator. He also is a professor of neurology, of neuroscience and of neurosurgery. Kipnis is an internationally recognized scientific leader in how the nervous and immune systems interact neuro disorders. The founding director of the Center for Brain Immunology and Glia at Washington University, Kipnis has conducted groundbreaking studies on how immune cells contribute to brain health and disease.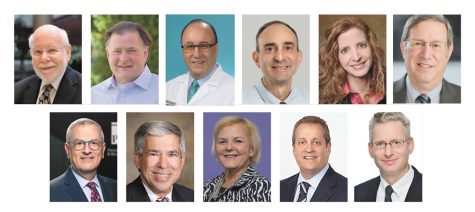 At the recent Interfaith Partnership of Greater St. Louis' celebration, Journeys to Friendship, Leonard Frankel was honored with one of two 2022 Interfaith Achievement Awards to commemorate his years of service and activism in the St. Louis interfaith community. Frankel attends B'nai Amoona.
Marc Enger was honored by Habitat for Neighborhood Business (HNB); an organization that partners with local volunteer business experts to help restore economic vitality to under-served neighborhoods. He was honored for his contributions as a volunteer mentor and marketing director for HNB. A member of Congregation Temple Israel, Enger is the owner and fractional chief marketing officer at Propel Marketing Services.
Dr. Mauricio Lisker-Melman received the 2022 Distinguished Clinician Educator/Mentor Award from the American Association for the Study of Liver Diseases (AASLD). He was honored for his sustained scientific contributions to the field of liver disease and hepatology. A member of Traditional Congregation, Lisker-Melman is a professor of Medicine at Washington University School of Medicine and the director of Hepatology
at the John Cochran Veterans Administration Medical Center in St. Louis.
Marc Soble has joined Armstrong Teasdale as chief financial officer. In his role as CFO, he will identify opportunities and drive plans for continued growth and productivity. He will also work firmwide to assess risk and strategically plan for the firm's future.
Area lawyers who have been chosen for inclusion in the 2023 edition of "The Best Lawyers in America" and/or "Missouri Super Lawyers 2022" publications are: Susan Bindler (Haar & Woods), Rick Eisen (Growe, Eisen, Karlen, Eilerts), Alan Freed (Paule, Camazine & Blumenthal), Norman Pressman (Goldstein & Pressman), Wendi Pressman (Lathrop GPM), Steven Schwartz (Brown & James) and Richard Tischler (Riezman Berger).