Newsmakers: November 2021
Published November 8, 2021
Giti Fredman recently opened Just Bake It! She is offering online and in person bread baking workshops that include kosher baking kits of challah (regular or pretzel), babka, bagels or cinnamon buns. There is a four-person minimum for in-person workshops and unlimited online. Fredman attends Tpheres Israel Chevra Kadisha.  
Farilyn Hale, Central High School Class of 1971, is one of 12 people who will be honored with the Parkway Alumni Award. As an advocate devoted to social justice causes, she has helped bring many projects to fruition and built a legacy of service with National Council of Jewish Women-St. Louis. A member of Congregation Shaare Emeth, she will be recognized at an awards ceremony in November 2022. 
First-grade teacher Eliana Heller, a former St. Louisan, is a nominee for the Olathe Horizon Award. Each Kansas school district may nominate one elementary and/or one secondary classroom teacher for the Kansas Horizon Award program. The mission of the program is to recognize exemplary first-year teachers who perform in a way that distinguishes them as outstanding.                      
Terror Tacos on South Grand Boulevard was voted Best Vegetarian Food & Drink by the Riverfront Times. Brothers Brian Roash and Bradley Roach are owners and attend Congregation B'nai Amoona. Read more about Terror Tacos in the Light's story from April at bit.ly/terror-tacos. 
Whitfield high school senior Ellior Rose won the Missouri State High School Activities Association Singles Class 1 Girls Tennis State Tournament last month. She is the first tennis state champion in Whitfield history. Ellior was named Athlete of the Week by Schnucks and the St. Louis Post-Dispatch. Daughter of Rabbi Carnie and Paulie Rose of Congregation B'nai Amoona, Ellior has not determined where she will attend college but will continue playing tennis and plans to study exercise science.  
Emily Kantrovitz, a John Burroughs high school senior, won the Missouri State High School Activities Association Singles Class 3 Girls Tennis State Tournament let month, defeating two area standouts. Emily was named the 2021USTA Missouri Valley St. Louis Female Player of the Year as well as the Post-Dispatch Metro League Player of the Year. Daughter of Melissa and David Kantrovitz, Emily will be attending Emory University next fall and will continue her tennis career as a member of the defending national champion Emory Eagles. Emily and her family are members of Temple Israel.                 
Elise Krug has joined the administrative staff at Congregation Shaare Emeth working in the business operations department. Krug is a member of B'nai Amoona.  
Molly Katzman, a senior at Ladue Horton Watkins High School, has been crowned Homecoming Queen. She and her family attend B'nai Amoona. 
Eve Frank, a member of B'nai Amoona, recently released her first children's book, "The Clearing," which tells the story of a creature's journey into a forest clearing. The self-published book is available on Amazon and most e-book platforms. Tovah Enger, a member of Kol Rinah, was the illustrator. By day, Frank is a freelance graphic designer. 
November is National Diabetes Month. R. Randal Aaranson, a podiatrist at Mercy Clinic in Washington, Mo., and Orthopedic Associates in Des Peres, recently published "Diabetic Foot Care: Walking in Wellness." It is a guide for diabetics that focuses on how to take care of their feet through early prevention and daily foot care in order to prevent infection and amputation. The book is published by Stonebrook Publishing and is available on Amazon. Aaranson attends Shaare Emeth. 
Alex Abramson, a postdoctoral fellow at Stanford University in the Department of Chemical Engineering, is the lead author of a team that developed a flexible electronic strain sensor for the real-time monitoring of tumor progression. The strain sensor is capable of determining the efficacy of many cancer treatments within hours after beginning the treatment. It can also read out what is going on with the tumor in real-time with a cell phone app. It allows pharmaceutical companies to come up with better medicines and help them understand how drugs interact with the body in real-time. The sensor is being tested in animals, and Abramson hopes to bring it to human trials within two years. 
Joe Pereles was recently honored by J Street St. Louis at  its annual benefit. A past president of Shaare Emeth, he was chosen for his leadership, community involvement, advocacy and helping build the local chapter.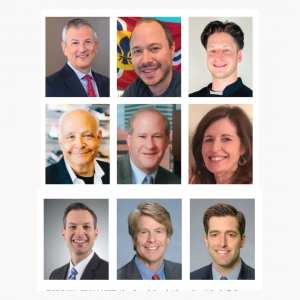 Alan Freed, a lawyer at Paule, Camazine & Blumenthal, has been reappointed by the Missouri Bar to serve as a vice-chair of the Family Law Section for the 2021-22 bar year. This is the fifth year Freed will be serving in this capacity. He is a member of Central Reform Congregation. 
 Leonard Vines, an officer in Greensfelder's St. Louis office and a member of the firm's Franchising & Distribution group, received the Lewis G. Rudnick Award at the 44th annual ABA Forum on Franchising meeting. The award is one of the highest honors a franchise lawyer can receive, created as a means to recognize the significant contributions and leadership qualities exhibited by practitioners of franchise law. 
The Missouri Historical Society has honored Mary Strauss with its Thomas Jefferson Society Award. She has dedicated her life to promoting and supporting the arts and historical preservation in St. Louis.  
Ben Winchell has joined MyChef STL as a personal chef. He is leading the charge as the company begins to help St. Louis families with their meal plans. MyChef STL is an in-home personal chef service catering to all types of people and food preferences. Once a week, a chef comes to your home, plans the custom menu, shops for the ingredients, cooks in your kitchen, and cleans up. Food can be either preportioned, ready to heat and eat, or served family-style.   
Evan Waldman, CEO of Essex Industries and a member of Shaare Emeth, has been selected as one of 40 under 40 in the St. Louis Business Journal. These individuals were recognized for influencing the region's business community.  
Lawyers Alvin Wolff Jr. and son Alexander Wolff have joined Morgan & Morgan St. Louis to manage and expand the office. A B'nai Amoona member, Alvin Wolff will serve as a senior trial lawyer as well as handle medical malpractice/catastrophic injury cases. Alex Wolff will primarily serve as the managing lawyer for the office and will focus on personal injury. He and his family attend CRC. 
Laurie's Shoes has been honored as one of 11 St. Louis Business Journal's 2021 Family Business Awards. It is being recognized for its longevity, entrepreneurship, perseverance and community involvement. Mark Waldman is president of the company and attends United Hebrew Congregation. 
Lawrence "Bud" Wittels has joined the mediator panel of United States Arbitration & Mediation, the leading provider of mediation and arbitration services. He is a lawyer with the Enterprise Law Group and a member of B'nai Amoona. 
Randy Vines, co-creator of STL-Style, has received the Mary T. Hall Diversity Award by the UN Association of St. Louis for his continued work in showcasing the diversity of Cherokee Street with emerging leaders throughout the region and beyond.