Newsmakers: July 2022
The Saul Mirowitz Jewish Community School has been awarded the 2021-22 Green Schools Quest Judges Choice Award for the middle school's Tikkun Garden. Students worked to revitalize Mirowitz's garden, growing garlic and rye. The award is given each year to encourage and celebrate sustainability projects in St. Louis schools.
The Repertory Theatre of St. Louis has renamed its black box studio series for its beloved former artistic director of over 30 years, Steve Woolf, who passed away in July 2021 at age 75. The Steve Woolf Studio Series will return in the Rep's 2022- 23 season with a production of "Gruesome Playground Injuries" by Rajiv Joseph, running April 14 through May 7 at the Strauss Black Box Theatre at the Kirkwood Performing Arts Center.
Anita Kraus has stepped into the role of executive director of Congregation B'nai Amoona. She was previously the congregation's director of early childhood and young family programming. In addition to attending B'nai Amoona, Kraus is a member of Congregation Temple Israel.
Kerri Alper has been named director of B'nai Amoona's Linda Rotskoff Early Childhood Center. She attends both B'nai Amoona and United Hebrew Congregation.
Lori Sheinbein is the new board chair of Washington University Hillel. A member of B'nai Amoona, Sheibein will serve a two-year term.
Jan Abrams is retiring after 15 years as executive director of Caring for Kids, a St. Louis nonprofit that helps children with urgent needs by giving beds for safe sleeping, school supplies and uniforms to enhance learning, clothing and other necessities. Abrams said she has decided to retire to spend time with her family. She is a member of Temple Israel.
Rabbi Mark Shook of Temple Israel has written a novel, "Search for the Sacred Scroll: Book 1 — Discovery Under Fire," a biblical thriller that starts in modern Iraq and reaches back to ancient history to discover the origins of the Five Books of Moses. The book was published by Newhouse Creative Group on May 23 and has been released in both electronic and paperback editions. This is the first in a series of five books planned.
Matthew Bloom, a St. Louis native, is now working for the Green Bay Packers in their sales and business development department. He previously had an internship with the NFL's partnership activation team that manages relationships with corporate partners.
Beckie Jacobs, owner of Serendipity Handmade Ice Cream, has reopened her shop at 4400 Manchester Road in the Grove neighborhood. She will continue to serve ice cream as well as breakfast pastries, coffee, shakes and more. Jacobs is a member of Congregation Shaare Emeth.
Dr. Gil Vardi has become the first cardiologist to implant the BAT-wire Barostim Neo CVRX device. The procedure was performed at Premier Surgical Center on the St. Louis Heart and Vascular campus in Bridgeton. The device includes a pulse generator implanted below the collarbone with a lead attached to the carotid artery, delivering electrical impulses to the neck's baroreceptor cells, which sense the flow of the blood through the arteries.
Erica Abowitz has been named Pattonville School District's 2022 Support Staff of the Year. A member of B'nai Amoona, she is a social worker at the early childhood center.
Alan Taxman, senior vice president and wealth management adviser at Merrill Lynch, has been named a Forbes magazine Best-in-State Wealth Advisor for 2022. Taxman is a member of B'nai Amoona.
Tony Westbrook has accepted an offer with the nonprofit Repair the World and will move to Chicago to join its team as director of Jewish service learning. Repair the World "mobilizes Jews and their communities to take action to pursue a just world, igniting a lifelong commitment to service," according to its website. Westbrook was the assistant director of Hillel at Washington University.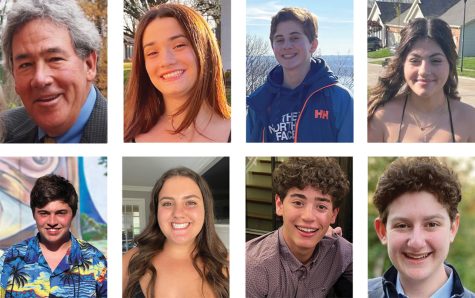 Retired pediatrician Richard Lazaroff has published his second book, "Illumination." It is a work of historical fiction about faith and Jewish immigration to America from Eastern Europe and Russia in the late 1800s. It shines a bright light on the trials, tribulations and triumphs of American Jews.
B'nai Amoona USY (BAUSY) has been named the 2022 EMTZA Region USY Chapter of the Year, Chapter of Excellence, Best Social Action/Tikkun Olam Program of the Year and Best Social Media chapter. EMTZA covers Minnesota, Iowa, Kansas, Missouri, Colorado, Nebraska, western Wisconsin and Manitoba. Stephen Rosenberg (not pictured) received the Junior Dugmah (positive role model) award. The 2022-2023 EMTZA Regional Executive Board includes Vice President Ilana Boyer, daughter of Marci and Marty Boyer, and Mitchell Smith, membership/ engagement vice president and son of Jennifer and Matt Smith. The new BAUSY president is Aydan Bricker, daughter of Jamie Bricker and Cory Bricker.
The B'nai Brith Youth Organization (BBYO) St. Louis Council board and chapters recently elected new officers for 2022- 2023. Sam Deutsch, son of Lisa and Jimmy Deutsch, and Rylie Fine, daughter of Jennifer and Kevin Fine, are council presidents (AZA Godol and BBG N'siah). Zac Cantor, son of Amy and Mark Cantor, is president of Esperanto AZA chapter; Griffin Scissors, son of Jennifer and Irl Scissors, was named president of Ya'ad AZA chapter; and Sari Gross, daughter of Stephanie and Geoffrey Gross, will lead Shira BBG chapter.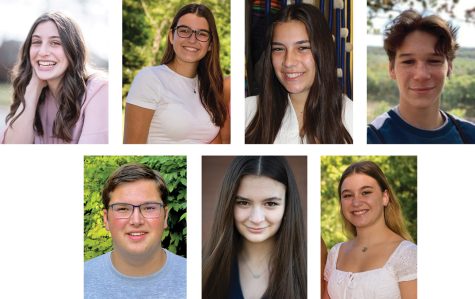 NFTY Missouri Valley has announced its 2022-2023 Regional Board officers. They are: President Sarah Malter for her second term, daughter of Felicia and Steve Malter; Sadie Rosenberg, religious and cultural vice president, daughter of Rabbi Brigitte and Lee Rosenberg; and Sasha Albright, membership vice president, son of Danna and Bill Albright. Simon Warner, son of Cantor Seth and Shayna Warner, is on the National NFTY Board as the religious and cultural vice president. On the local level, Amelia Swier, daughter of Rachel Goltzman and Paul Swier, is the Shaare Emeth (SETYG) president, and Emma Malter leads the United Hebrew NFTY group. She is the daughter of Felicia and Steve Malter.