Newsmakers: January 2022
Published January 6, 2022
Rabbi Ze'ev Smason will be retiring after 25 years in the pulpit at Nusach Hari B'nai Zion. He will continue to be the spiritual leader until August. Smason will then continue his support with Israel advocacy.
Among the 2022 inductees of the Clayton Alumni Hall of Fame are David Garfield (1974), musician, songwriter, composer, producer, record label owner, Los Angeles; Larry Gellman (1966), former TV news reporter, financial advisor, Tucson, Ariz.;  John Rosenfeld, M.D. (1970) pediatrics specialist, Ketchikan, Alaska; and Vanessa Merit Nornberg (1993), owner of Metal Mafia wholesale jewelry company, Paris. They will be honored at a joint induction, with the class of 2020, on April 22, at Clayton High School with a gala celebration the following night at the St. Louis Club.
Photographer William Greenblatt, a news and sports photographer, is one of 13 people and five high school programs/teams recently inducted into the Missouri Sports Hall of Fame. His career spans 49 years, and he has worked as a staff photographer for United Press International since 1980. He also has been an official photographer for the St. Louis Fire Department, the St. Louis Sports Hall of Fame, the St. Louis Cardinals and politicians on both sides of the aisle.
Dr. Kenneth M. Ludmerer has received the 2022 John C. Gienapp Award for Distinguished Service to Graduate Medical Education from the Accreditation Council for Graduate Medical Education (ACGME).  He is being recognized for chronicling the residency experience in his book "Let Me Heal," for amplifying the role of clinician well-being and for playing a vital role in the development of the current ACGME Common Program Requirements. The ACGME, based in Chicago, is responsible for establishing and enforcing standards in residency and fellowship programs in all specialties at all U.S. hospitals.
David Rubin has been named to the 2022 edition of U.S. News and World Report list of Best Lawyers in America. For the past five years, the Law Offices of David A. Rubin has been included on its list of the Best Law Firms in America.  
Richard Tishler, managing shareholder of Riezman Berger P.C., is listed in Missouri Super Lawyers 2021for business/corporate law. He attends Congregation Shaare Emeth.
Rick Cornfeld of the Law Office of Richard S. Cornfeld has been selected president of the Class Action Trial Lawyers Association Top 25. This group is composed of and limited to the top 25 trial attorneys from each state or region who serve individuals and families. In addition, Cornfeld, a member of United Hebrew Congregation, was listed in Missouri Super Lawyers 2021 for consumer protection and class action law.
Daniel Levy of the Law Office of Richard S. Cornfeld has been selected  again as a Top 40 Under 40 Civil Plaintiff Trial Lawyer in Missouri. He was also listed as a Rising Star in class action/mass torts by Super Lawyers 2021.
Alex Abramson is on the Forbes Under 30 list for 2022. A postdoctoral fellow at Stanford, he and his team developed an ingestible robotic capsule to deliver biologic drugs that normally require an injection or infusion. His approach, published in Science, has worked in large animal models with drugs including insulin and Humira, and his patent portfolio has been licensed by Novo Nordisk.
The St. Louis Press Club has announced a new scholarship called the Alice Handelman Scholarship Fund for Feature Writing. Thanks to an $18,000 grant by Jewish philanthropists Michael and Carol Staenberg, $3,600 will be donated annually for the next five years to her Scholarship Fund. Handelman, a member of Temple Israel, is a longtime board member and past president of the Press Club as well as a vice president of the Jewish Light's Board of Trustees.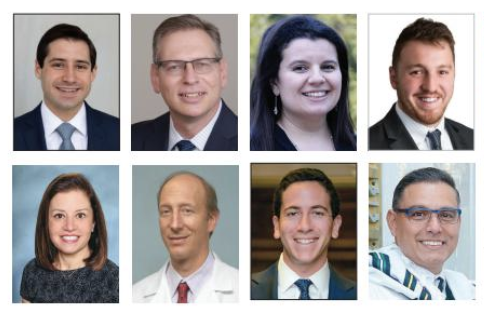 Former St. Louisan Jimmy Loomis has been named a finalist for the 2022 class of Presidential Management Fellows. The PMF program is a selective, two-year, rotational fellowship for advanced degree holders. Finalists have the opportunity to gain leadership development skills, interview for opportunities with government agencies and, upon successful completion of the fellowship, are eligible to transition into full-time government positions. Loomis lives in Washington, D.C., and is the defense and foreign policy adviser to Democratic U.S. Rep. Stephanie Murphy of Florida.
Ohad Kadan will be the new dean of Arizona State University's W.P. Carey School of Business effective July 1. He is vice dean for education and globalization, and the H. Frederick Hagemann Jr. Professor of Finance, at the Olin Business School at Washington University.
During Congregation Temple Israel's 135th annual meeting, Korina Gabrielson and Jerry Thomeczek were installed as members of the board of trustees. They will each serve a three-year term. Gabrielson is vice president of tax at Energizer Holdings; Thomeczek is an associate in the corporate group at the Husch Blackwell law firm.
Debra Klevens will be recognized this spring at the Journalism Education Association's Spring Conference as the Distinguished Adviser of the Year. She is the journalism adviser for the yearbook and online news at Parkway West High School. Klevens attends United Hebrew and is a member of the Jewish Light's Board of Trustees.
Neurologist and neuroscientist David Holtzman has received the 2021 President's Achievement Award from the Foundation for Barnes-Jewish Hospital. This award is given to a physician or faculty partner whose accomplishments are advancing medicine, ensuring the delivery of world class patient care and educating the next generation of clinicians. Holtzman is being recognized for his work aimed at uncovering the causes of Alzheimer's disease. He is the Barbara Burton and Reuben M. Morriss III Distinguished Professor and the scientific director of the Hope Center for Neurological Disorders, and associate director of the Knight Alzheimer's Disease Research Center, at Washington University School of Medicine. Holtzman attends Shaare Emeth.
Robert Glassman, a graduate of the Whitfield School in Creve Coeur who is now a trial attorney in Los Angeles, has established the Glassman Leaders program, which is designed to supplement and advance the goals of the school's "Habits of Mind & Heart" program, in which students develop public speaking and leadership skills through coursework and mentorship. One junior and one senior who have participated or are participating in Whitfield's Leadership Development Series will be selected each year.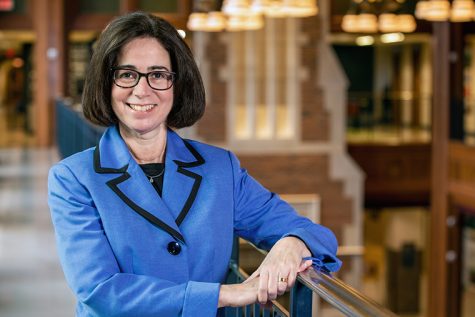 Amy B. Kweskin, vice chancellor for finance and chief financial officer at Washington University, has been promoted to executive vice chancellor for finance and will continue as chief financial officer. In addition to her responsibilities for the financial operations of the university, she will oversee the university's real estate portfolio, operations and development, as well as represent the university on the board of the Cortex Innovation Community. Kweskin is a member of Shaare Emeth.
Rabbi Carnie Shalom Rose of Congregation B'nai Amoona has been selected as one of 24 Jewish educators for the World Maccabiah games in Israel. Prior to the games in July, the athletes will participate in a 10-day training camp to learn about Judaism and Israel. This is a joint effort between Maccabi USA and iCenter, a company based in Chicago that works with American Jewish educators and learners in transforming the field of Israel education. Rose, as part of the Maccabi team, will march in the opening ceremonies.
---
Newsmakers is compiled by Elise Krug. To submit an item for consideration on the Newsmakers page, visit stljewishlight.org/submit-newsmakers or email [email protected]