Missouri lawmakers seek to honor Holocaust hero who lived in St. Louis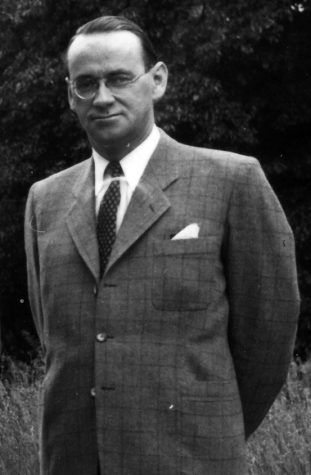 A pair of Republican Missouri lawmakers, Sen. Roy Blunt and Rep. Blaine Luetkemeyer, have introduced resolutions to honor a Swiss diplomat with ties to St. Louis who saved thousands of Jews during World War II
Carl Lutz arrived in Budapest in January 1942 to serve as Switzerland's vice-consul and represent British and U.S. interests because the countries had cut off relations with Hungary. Once the Germans began occupying Hungary in March 1944 and sending Jews to extermination camps, Lutz tried to persuade the Hungarians to stop the deportations. When the Hungarian leader Miklos Horthy offered to allow some Jews to leave for Palestine, Lutz issued 7,800 emigration certificates for Jews and arranged so that they not only protected the individuals, but also their families. Lutz also negotiated with the Hungarian authorities to establish 76 "safe houses" around Budapest that Nazi and Hungarian forces were prohibited from entering and could thus shelter Jews.
Lutz is credited with saving more than 62,000 Jews.
"Carl Lutz is a hero in the truest sense of the word," Blunt stated in a news release. "In the face of unthinkable horrors, Lutz put his own life at risk to facilitate the largest civilian rescue mission of Jews during World War II. I'm proud to introduce this resolution with Senator [Bob] Casey to honor a remarkable man and ensure his incredible acts of selflessness and bravery are remembered for years to come."
Lutz's connection to the St. Louis area dates to before the war. He was born in Walzenhausen, Switzerland in 1895 and immigrated to the United States in 1913 and spent five years working in Granite City, Ill., before attending Central Wesleyan College in Warrenton, Mo.
Lutz also served in the Swiss Consulate in St. Louis from 1933 to 1934.
"While others stood by and did nothing, Carl Lutz risked his life and career to rescue tens of thousands of Jews during the Holocaust," Don Hannon, acting executive director of the St. Louis Holocaust museum, stated in the news release. "Lutz's story is relatively unknown, but we are working to change that. Sharing his story teaches our students what empathy and courage look like in action. "As our world continues to face hatred and division in so many places, that lesson is more important than ever before. We are proud to work with Senator Blunt and Senator Casey to honor this former Missourian's story, so that Carl Lutz will be a forgotten hero no more."