Maryville University Hillel hires new manager
The Maryville University Hillel has hired a recent UCLA graduate as its new manager.
Joey Abeles replaces Erin Schreiber, who served as the founding manager of the college's Jewish student life organization, which launched in 2015.
Abeles, who grew up in Los Angeles, said he became interested in Jewish student life when he went with his three older sisters to their campus Hillel centers.
Then he became involved in the Hillel and other Jewish organizations at UCLA. He was a founding member of the UCLA Jewish Awareness Movement, which facilitated events for Jewish holidays, interfaith dialogs, and Jewish learning seminars.
The Jewish organizations "were a really transformative part of my college experience," Abeles said.
He moved to St. Louis because his partner, Maia, is pursuing her master's degree in social work at Washington University.
"When I saw the opening [at Maryville], I thought this was such a perfect opportunity for me to grow as an individual and help the campus community grow, bring some Jewish values and Jewish tradition to the campus and help Jewish students express themselves and find a home away from home," said Abeles, who started in the position last month.
The organization then hosted "Pretzels in the Hut" during Sukkot. More than 120 students enjoyed "soft pretzels while learning about the significance of the Sukkot holiday and the sukkah," Abeles said.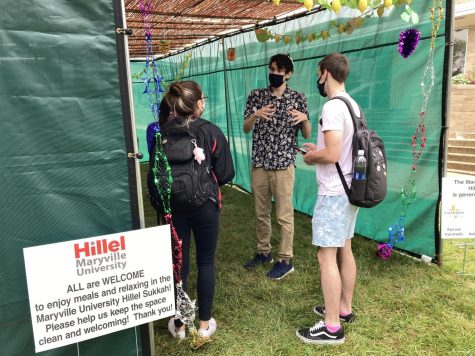 "One of the elements of the role that I love the most is that I get to share the beauty of Judaism with everyone on campus, many of whom haven't had much exposure to Judaism," Abeles said.
Schreiber now works at Washington University, where she oversees women's affinity engagement in the advancement department.
"I'm really excited for Joey and the fresh eyes he will bring to the role," Schreiber said. "There is wonderfully engaged student leadership and incredibly supportive lay leaders who I know are very excited to work with him."