Lost Tables: Remembering Pfeifer's
Harley Hammerman, Special For The Jewish Light
Published July 19, 2021
Have you ever wondered what happened to that restaurant you once loved and have memories of dining at with your family and friends? We did! There is an amazing website called Lost Tables, dedicated to celebrating the restaurants of our past. We are partnering with the site's creator Harley Hammerman and celebrating these wonderful stories. Hammerman and his wife Marlene are members of Shaare Emeth, and she is past president of the National Council of Jewish Women of St. Louis.   Visit Lost Tables on Facebook
---
Remembering Pfeifer's
Carl Pfeiffer was born in Germany in 1906. By the 1920s, he was working at a bakery in St. Louis at 2612 North Kingshighway. In 1928, he bought the bakery and hung up his own sign — Pfeifer's Pastry Shoppe. He and his wife Emma lived over the store with their sons, Carl Jr. and Richard.
Pfieffer was anxious to assimilate. "He was an American, and he was a big patriot," recalled his daughter-in-law, Rosemary Pfeiffer. "He made Dresden stollen at Christmas time, and some of the old-fashioned cookies that were German, but he wasn't known for making the German specialties. The only time they even spoke German was when they didn't want the children to know what they were saying."
After a few years, the forward-thinking Pfeifer established a line of frozen baked goods that people could "buy now, use later." He changed the name of his business to Pfeifer's Frozen Pastries.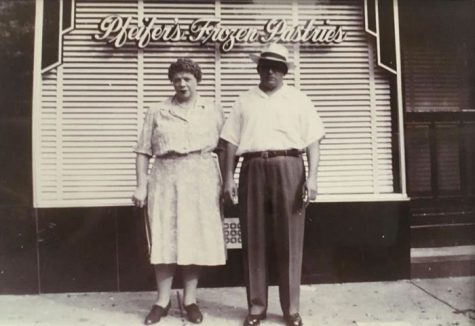 In 1948, Pfeifer moved his business and his family from the city to the county, relocating the bakery to 8021 Clayton Road. He renamed the business Pfeifer's Party Pastries.
Pfeiffer's son Richard, nicknamed "Dutch," began working in the bakery after he graduated high school in 1949. He trained alongside his father, and in 1960, took over the business, with his father continuing to work alongside.
As the business grew, Dutch made changes. His father didn't allow talking while working in the bakery; he thought it distracted the men. When Dutch took over, they all talked, although playing the radio wasn't allowed. The elder Pfeifer may not have liked some of his son's changes, but he never interfered.
Dutch's mother, Emma, who ran the office, didn't always adjust as quickly. The shop had three phone numbers, so she had three telephones on her desk. When Dutch replaced them with one phone, she was unhappy until she realized she still had her three separate lines.
Some of the bakers were at Pfeifer's for decades; there were women who worked in the front for 24 years or more. Every Christmas, they would make Christmas cookies for two days straight, all day long. After they were finished, Dutch would go to the market and get ham and turkey and all the fixings for the men to have dinner. His father had done the same because he knew how hard they all worked.
By 1974, Dutch and his wife Rosemary had six children, and the bakery was thriving. Things were so busy that one day Dutch asked his wife to help. She remained on duty for the next 15 years.