Lost Tables | Remembering Chinese restaurants in St. Louis
Have you ever wondered what happened to that restaurant you once loved and have memories of dining at with your family and friends? We did! There is an amazing website called Lost Tables, dedicated to celebrating the restaurants of our past. We are partnering with the site's creator Harley Hammerman and celebrating these wonderful stories. Hammerman and his wife Marlene are members of Shaare Emeth, and she is past president of the National Council of Jewish Women of St. Louis.   Visit Lost Tables on Facebook
---
Remembering Chinese restaurants in St. Louis
In the last decades of the nineteenth century, St. Louis was a city of rich ethnic diversity. Immigrants from other continents composed one-third of the city's population. St. Louis was the fourth largest city in the United States at the time.
It is during this period that Chinese started arriving in St. Louis. The first recorded Chinese immigrant was Alla Lee, who arrived in 1857 and opened a small shop on North Tenth Street selling tea and coffee. By the end of the nineteenth century, the Chinese community in St. Louis had grown to about three hundred.
The earliest Chinese settlers in St. Louis congregated in an area between Seventh, Eighth, Market and Walnut Streets, which became the Chinatown of St. Louis, more commonly known as Hop Alley. The name was widely used to represent the district where Chinese hand laundries, merchandise stores, grocery stores, herb shops, and restaurants were located.
Chinese restaurants were initially started to satisfy the needs of Chinese bachelors. They served authentic Chinese dishes that appealed mainly to the Chinese.
In January of 1894, Theodore Dreiser, then a 23 year-old reporter for the St. Louis Republic, visited the Kee Hong Kee restaurant at 19 South Eighth Street while researching a story about the Chinese in St. Louis.
"
The first dish set on the bare table was no longer than a silver dollar and contained a tiny dab of mustard in a spoonful of oil. Three dishes of like size followed, one containing pepper jam, the others meat sauces. Tea was served in bowls, and was delicious. The duck, likewise the chicken, was halved, then sliced crosswise after the manner of bologna sausage, and served on round decorated plates. One bowl of chicken soup comprised the same order for two, which was served with dainty little spoons of chinaware, decorated in unmistakable heathen design. Rice, steaming hot, was brought in bowls, half platter. Around the platter-like edge were carefully placed bits of something which looked like wet piecrust and tasted like smoked fish. The way they stuck out around the edges suggested decoration of lettuce, parsley and watercress. The arrangement of the whole affair inspired visions of hot salad. Celery, giblets, onions, seaweed that looked like dulse, and some peculiar and totally foreign grains resembling barley, went to make up this steaming-hot mass.
— St. Louis Republic, Jan 14, 1894
As Chinese restaurateurs expanded their menus, chop suey shops opened in Hop Alley. Chop suey could be easily prepared and was widely accepted by non-Chinese patrons as representative of Chinese food.
The origin of chop suey is widely debated. St Louisan Emily Hahn presented one popular theory in her book on Chinese cooking.
"
Two dishes that Westerners do know and repeatedly order are chop suey and chow mein. This is a great pity, for while chow mein can be good enough, there is little one can say in favor of chop suey, a dish unknown in China. One explanation of its origin is that the dish was born when the famous 19th Century diplomat Li Hung Chang, traveling in the West as the Chinese emperor's emissary, got indigestion from rich foreign food at banquets he had to attend. He had so agonizing an attack of biliousness following a hard week's banqueting in the United States that his aide Lo Feng-luh suggested a bland diet. Between them the gentlemen thought up the plainest possible dish – a concoction of celery and other vegetables sautéed with a little pork. Thus was chop suey born. The other standby of Chinese restaurants in the United States, chow mein, is something else again. It had an honorable origin in China, where it is often eaten as a snack or light meal. When well prepared, it can be very good. (I still remember the chicken chow mein I ate on my first date, hundreds of years ago in St. Louis, in a Chinese restaurant where we were awed and delighted by lovely hanging lamps with red silk panels that gave out little illumination, and a romantic table of black wood inlaid with bits of abalone shell or possibly genuine mother-of-pearl. All the mysterious East was ours in Missouri, and chow mein too.)
— The Cooking of China, Time-Life Books, 1968
Orient Restaurant
Jo Lin was born in San Francisco in 1883. He arrived in St. Louis in 1906 with no family and little money. By 1916, he owned the Orient Chop Suey Restaurant at 419 North 6th Street, over the Strand Theater.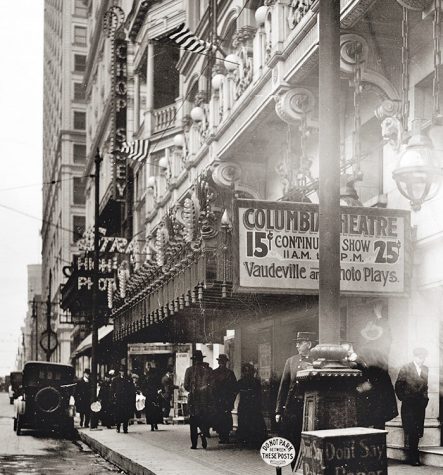 "
Advertising Men – You Are Invited to Visit The Orient Chop Suey More than 400 Chinese and American dishes prepared by the most famous Chinese chefs in the country. Enjoy these good things to eat amid the luxurious surroundings and quaint Chinese decorations. We especially cater to ladies' afternoon tea parties in our richly designed tea room. In our specially arranged banquet room we are prepared to take care of small banquets.
— The St. Louis Star, Jun 7, 1917
Joe Lin was forced to move his restaurant when he lost the lease on the space above the Strand Theater. On March 19, 1926, he reopened the Orient at 414 North 7th Street.
"
The opening today of the new $40,000 Orient chop suey restaurant, 414 North Seventh street, is the realization of success for Joe Lin. Lin arrived in St. Louis in 1906 with 65 cents in his pocket and only one acquaintance. Today he is opening one of the largest chop suey restaurants in the central west. Joe admits he is wealthy, but he says he does not know just how much he is worth. He says: "To succeed in any business, but especially the restaurant business, you must cater to all the people, regardless of who they are."
— The St. Louis Star, Mar 19, 1926