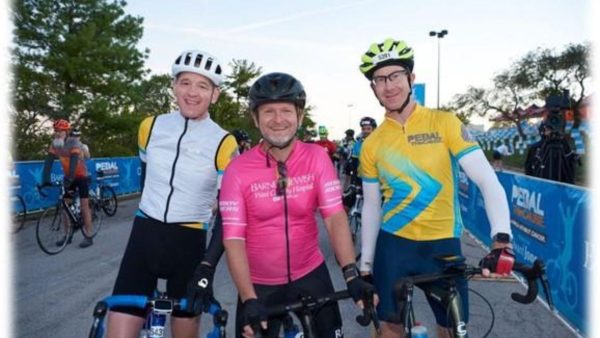 When Dr. Ryan Fields straps on his helmet, climbs on his bike and clips into his pedals for this weekend's Pedal the Cause 2023, he will be among hundreds of riders pushing the limits of their endurance to raise money to fund cancer research. But, when he completes his ride, his time and energy in fighting cancer doesn't end.
Fields is the chief of surgical oncology at WashU and Siteman Cancer Center, and co-leader of the Solid Tumors Therapeutics Program. He works with patients battling pancreatic cancer, colon cancer that has spread to the liver, stomach cancer as well as skin cancer. And when he's not working with patients, Fields is running research programs that help doctors better understand why some cancers are more aggressive and spread while others don't.
"Remember the old "Hair Club for Men," ads, where the guy would say, 'I'm not just the president, I'm also a client' Well that's how I feel about Pedal. Although I've participated and raised a bunch of money, and been on the board, I've also researched a bunch of research grants for them to help get good cancer-fighting ideas off the ground," said Fields.
What Pedal the Cause does
If you've been around St. Louis over the past 14 years, chances are you will be familiar with Pedal the Cause, the annual cycling challenge that has raised over $40 million in funding for cancer research at Siteman Cancer Center and Siteman Kids at St. Louis Children's Hospital.
But what does raising money for cancer research really mean?
Dr. Fields explains:
"Most research in cancer is funded through grants from the federal government, the National Institute of Health (NIH) and the National Cancer Institute. And these organizations are very conservative with their dollars. They require a strong understanding that their dollars are going towards a project that will work, so getting access to these funds is very competitive," said Fields.
Only about 10% of those projects seeking funding will receive any money.  If a researcher writes a grant request for a project, they must provide strong preliminary data to support their hypothesis and idea. That data requires a lot of work on the front end.
"And that costs a lot of money," said Fields. "It's expensive to hire people, it's expensive to conduct the lab work and that's where mechanisms like Pedal come in."
Every single individual dollar raised through Pedal the Cause is put into the Siteman Investment Program. This program is the largest mechanism WashU and Siteman Cancer Center have to hire the people and fund the research that will ultimately provide the preliminary data for doctors like Fields.
"So, through Pedal, we can take ideas and grow them large enough that the federal government and other major funders will take us seriously," said Fields. "It's transformative, and I'm not exaggerating when I say that my research career and any success we've had here at Siteman would not be possible without Pedal The Cause and the Sitemen Investment Program because it is truly our catalyst, our seed money, and our venture capital."
Since 2010 PTC and the Siteman Investment Program have helped fund 211 cancer research projects.
How can people participate or support the event?
You can ride one of 10 courses over Saturday and Sunday from 10 miles to 100 miles. You can spin for one of three hours or all three hours on Sunday morning if you don't have a bike and don't want to get out on the road. You can also sign up virtually – which they call 'inspired' – to do whatever activity you want.
To register and ride in Pedal the Cause, volunteer or support a team, visit pedalthecause.org.
Dr. Ryan Fields, his wife Laura and their family are members of Congregation Temple Israel.
| RELATED: St. Louis' Jewish community has long supported Pedal the Cause