St. Louis' Jewish community has long supported Pedal the Cause
AMY BURGER, Special to the Jewish Light
Published September 12, 2022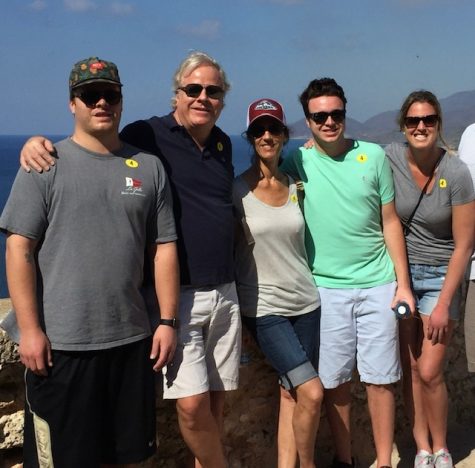 If you've been around St. Louis over the past 13 years, chances are you will be familiar with Pedal the Cause, the annual cycling challenge that has raised over $36 million in funding for cancer research at Siteman Cancer Center and Siteman Kids at St. Louis Children's Hospital.
Members of the local Jewish community have long been involved in the organization, including the family of its Executive Director, David Drier.
Drier and his wife, Julie Miller, were married in 1988 at Temple Israel and the family has remained members of TI ever since. Their three children, Victoria, Tommy and Alex all celebrated their b'nai mitzvahs and confirmation at the temple, and the temple community rallied around them when Victoria was diagnosed with brain cancer at age 16. It was through her illness that Drier first became involved in Pedal the Cause. Though Victoria passed away in 2018 at age 28, Drier remains strongly committed to continuing to support cancer research in St. Louis and across the country.
With this year's Pedal the Cause taking place Friday, Sept. 23 through Sunday, Sept. 25 in Chesterfield, Drier reflects on the organization's mission, his personal journey and the continued support of the local Jewish community.
How and when did you first become involved with Pedal the Cause?
Our only daughter, Victoria, was diagnosed with a brain tumor coinciding with Pedal the Cause launching. [Founders] Bill and Amy Koman were friends of my wife's and asked if we wanted to start a friends and family team called Team Victoria. We formed Team Victoria and got going and we are always one of the top three friends and family teams in the rankings as far as number of teammates and dollars raised. Team Victoria hit a lifetime fundraising of one million dollars last year, so that was a big milestone in our efforts, and I hit a personal milestone of $250,000 toward that million.
How did you go from being a team captain to becoming executive director of the organization?
In 2012, I joined the Board of Directors because I was so passionate about the cause and really believed in the model. Three years later, I jumped on the executive committee and eventually became President of the Board of Directors for two years, so that put me into a leadership role within the organization. All the while, I had Team Victoria going every year and was fundraising. My career was always in travel. When the founding executive director retired after 10 years, I was on the search committee for his replacement and the light bulb went on that in my career I could switch from for profit to nonprofit and I had the history of the organization and the passion and leadership.
How can people participate or support the event?
You can ride one of 10 courses over Saturday and Sunday from 10 miles to 100 miles. You can spin for one of three hours or all three hours on Sunday morning if you don't have a bike and don't want to get out on the road. You can also sign up virtually – which we call 'inspired' – to do whatever activity you want. Walk, run, kayak, jump rope or play a round of golf and fundraise against that effort. 100% of what participants raise goes directly to Siteman and cancer research.
How does Pedal the Cause allow families to get involved together?
We have a separate category called Kids Challenge that is open to kids ages 5-12 that is a completely safe closed course. The event is the weekend before the main ride since it has gotten so big. At age 13, kids can join the main ride with their parents.
What does the money do?
The full $36 million we've raised to date has been deployed here in St. Louis at the two beneficiaries. It's really created an ecosystem at Siteman and Siteman Kids of researchers who come to St. Louis and are recruited by Wash U medical and the cancer center to say 'yes' to St. Louis because there's seed capital here. We only support seed capital on projects that have not been supported in the past. The 194 projects that we have funded over the years, on average, have gone on to attract another $7 for every dollar we've invested from federal sources like the National Institutes of Health. So our $36 million to date has attracted another $250 million in federal funds that would not have been brought in to St. Louis without these efforts.
How has the Jewish community supported Pedal the Cause over the years?
The Jewish community features prominently in the Pedal Family from riders/fundraisers such as John Flotken, Michael Pepper, Bruce Schneider and Michael Staenberg; Team Captains like Merle Fox and Justin Sperry; young riders in the Kids Challenge including Bernie and Jake Goldstein and Lila Merlin; Board Members Judy Glik, David Moons, Joe Berger and Dr. Ryan Fields; funded researchers Josh Rubin, Jeff Bednarski, and Ryan Fields; and the people we honor or remember with our teams including Greg Fox, Victoria Drier and Eli Abeles.
To register and ride in Pedal the Cause, volunteer or support a team, visit pedalthecause.org.