Israeli sport catches on in St. Louis
The most popular recreational sport among adult women in Israel is relatively unknown outside of the Jewish state. And even though it has its own international association and is spreading to countries worldwide, including the United States, most people still haven't heard of catchball — a game similar to volleyball but a little easier on the bodies of the women who play it.
That's right, women. Catchball was created by women, exclusively for women. Two teams of six players face off on a volleyball court to literally throw and catch. The object of the game, according to the International Catchball Federation, is "to pass the ball over the net, to ground it on the opponent's court, and to prevent the same effort by the opposing team."
The main difference between catchball and volleyball is that in catchball players must catch the ball with both hands before they can pass it on. They don't use their fists or wrists to bump or serve the ball, but instead throw or spike it over the net. Some also liken catchball to Newcomb ball, a game that was invented in 1895 at Sophie Newcomb College, part of Tulane University.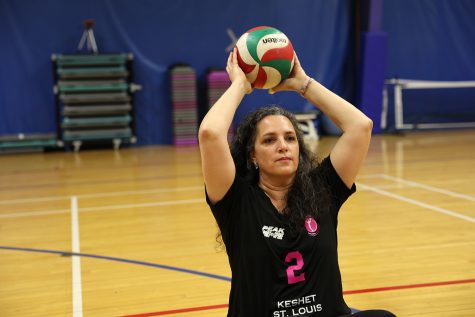 In 2017, Sigalit Vardi, a native Israeli and attorney who lives in Town & Country, started a team here after she learned about the game from a friend in her home country. According to a report from Israel's Culture and Sport Ministry, catchball leagues in Israel boast more than 12,000 female members, almost all of them over the age of 30. That is twice as many adult women as belong to basketball, soccer, volleyball and tennis leagues combined.
Vardi gathered 14 women, all of whom were Israelis living in St. Louis, and they began playing at the Jewish Community Center. When space there was no longer available on a regular basis because of youth basketball leagues, they began twice weekly, two-hour catchball practices at the Kirkwood Community Center and Chesterfield Athletic Club.
"The game looked very appealing to me because I'm not an athlete and I thought that it will be very suitable for women in their 40s and 50s," she said.
As time went on, explains Vardi, "the team grew and changed based on the direction that catchball went in the USA (there is now an USA Catchball Association). We incorporated some local (non-Israeli) women and just love what we can give one another and also enjoy our time together as a team.
"Catchball is a terrific activity for women to connect with other women and also get some exercise and keep in shape," she continued. "It's easier than volleyball – there isn't all that much to it — but it's really fun and competitive. All of us have become good friends; we truly care about each other."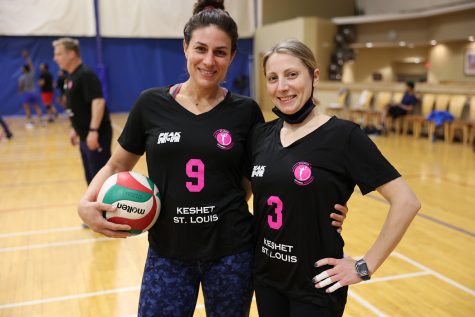 That was apparent at a recent Sunday afternoon practice as the women readied themselves for an upcoming three-day tournament in San Antonio, Texas this week. There, they will be facing catchball teams from around the country, including Boston, Las Vegas, Atlanta, Los Angeles and Seattle.
Ariel Kielmanowicz, who coaches the team, felt optimistic that St. Louis Keshet could finish at or near the top.
"The team's name is keshet, which in Hebrew means 'arch' but also 'rainbow,'" he explained. "We belong to St. Louis — the Arch — and at the same time, we are made of different colors (people/players) that create something colorful and beautiful, which brings joy and happiness."
Kielmanowicz, a native Israeli who played competitive volleyball in school, said he watched hundreds of catchball games online to learn how to help the women excel.
"I think that our level of play now is very high, even when I compare it to the best teams in Israel," he said. "We needed to improve some technical abilities like blocking and spiking and jumping higher. Our blocking rate went much higher almost two weeks after concentrating on this issue. Another important aspect of the game, and one we do well, is moving the ball from side to side to create a better situation to make a point."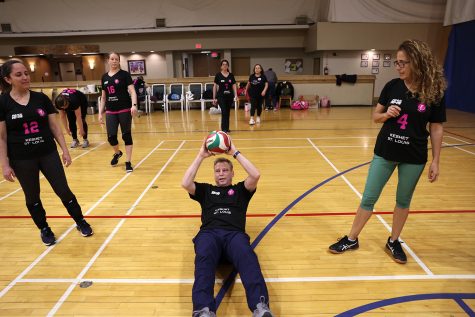 Kielmanowicz got involved with the team through his wife, Merav Gleit, who is a Keshet player. During COVID, when the team was able to practice outdoors, he filled in when there weren't enough players. Eventually, the women asked him to be their coach.
"Coaching is super exciting. I'm working very hard because the players really want to improve themselves and I want them to be able to gain from every minute of practice. They are coming at 8 p.m. every week after a long day of work, kids, husband and putting everything on the court."
And while that's evident at practice — the play is definitely competitive — the women say what they enjoy most is the uplifting, positive community that they have formed.
Sivan Weitzman, 43, who has played with Keshet for four years and is chief financial officer of a venture capital firm, says catchball does wonders for releasing stress. But it's the camaraderie that keeps her coming back.
"It's a great game, it's a great group of women and there is a social aspect that I really enjoy," said Weitzman, a native Israeli who belongs to Congregation Temple Israel and whose children attended Saul Mirowitz Jewish Community School.
Several other "Mirowitz moms" also play on the team, including Danielle Block, 36, who has been with Keshet since November. At one point some of the moms at Mirowitz considered forming a second team, but the pandemic pretty much put a kabash on that.
"One of the moms in my daughter's class asked me to play and I said, 'Sure. Why not?' even though I had never heard of catchball before," said Block, whose daughter is in first grade at Mirowitz. "It's a really a fun game and it's nice to be with other women who enjoy being athletic."
Currently, St. Louis Keshet has 18 players, about 70% of whom are Israelis living in St. Louis. Not all the players are Jewish. Regardless of their background, they all seem to get along well. Several socialize off the court and as a group, they have done community service work together.
"We donated care boxes to the Lydia House," explained Vardi, who now serves as Keshet manager after retiring as a player. "We thought we can present the game to the ladies at the shelter but due to the coronavirus, we had to give up on that. We hope to cooperate with other women's shelters soon."
Vardi encourages more St. Louis women to get involved with catchball. While St. Louis Keshet already has enough players, she welcomes interested women to email her at [email protected] so that more local catchball teams can be formed.