Popular interfaith art tours return to St. Louis Art Museum
Jordan Palmer, Chief Digital Content Officer
Published June 7, 2023
In early 2017 the St. Louis Art Museum (SLAM) began looking at ways to bridge societal gaps that were appearing around the city and the country. One idea was to turn their popular "Religion and Art" tour into something more meaningful that might foster deeper conversations. An accidental meeting gave them a place to start.
That summer, Amanda Thompson Rundahl, the St. Louis Art Museum's Director of Learning and Engagement, happened to run into Batya Abramson-Goldstein. Abramson-Goldstein had just retired as the executive director of the St. Louis Jewish Community Relations Council (JCRC) and was then serving as chair of community programs at Arts and Faith St. Louis. After their meeting, museum staff and Arts and Faith board members began working on the idea of an interfaith tour collaboration. Soon, they connected with the Interfaith Partnership of Greater St. Louis and the "interfaith tours" were created.
Interfaith Tours
The small group tours pair two diverse faith groups and are led by trained SLAM docents of different faiths. The tour is structured to demonstrate common elements of faith traditions in art produced through the ages.
"Docents identify a tour theme. Compassion, women in religion and the afterlife are examples of some past themes," said Ann Murphy Burroughs, head of engagement and interpretation at SLAM. "The docents then select the specific works of art to feature on the tour."
The tours quickly became popular but were suspended when the museum closed during the COVID-19 pandemic. Now, the interfaith tours are back.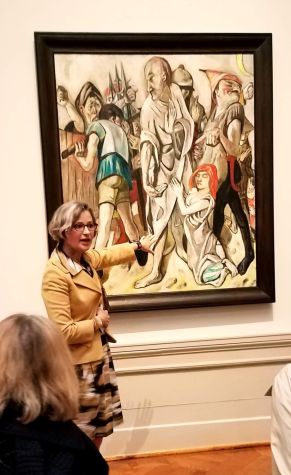 "American art museums have unique opportunities in which to encourage mutual respect through interfaith dialogue. The tours highlight the important role that museums can play in exploring diverse points of view and in inspiring empathy and religious understanding," said Murphy Burroughs.
To make sure each docent is fully knowledgeable of the art as well as the diverse religions that many of the tour participants represent, SLAM turned to David Oughton, a long-serving professor of world religion at St. Louis University.
"Dr. Oughton provided specialized in-gallery training as well as a 'World Religions and Art' PowerPoint for all SLAM docents," said Murphy Burroughs. "Since interfaith touring restarted, Dr. Oughton has provided multiple in-gallery refresher sessions for docents."
Planning a tour
The tours are organized by Kathy Bratkowski, development and publicity coordinator at Arts & Faith-St. Louis. Bratkowski looks to pair interested faith groups and handles the scheduling. The tours are available any time during regular museum hours.
"We have received great feedback from tour participants," said Murphy Burroughs.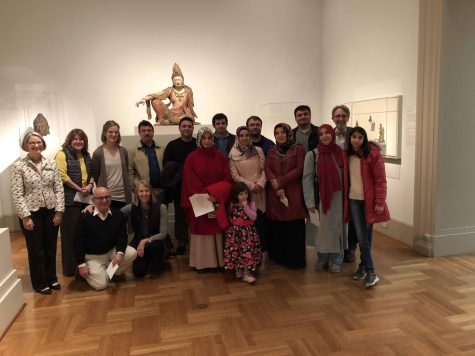 In an email to Murphy Burroughs, a congregant from Temple Israel wrote, "We had a great time, and it was good to meet the folks from Salem Methodist Church." In another email, a participant wrote, "The tour was amazing. It was a true interfaith group. Two Jews, two Christians, two (from the Baha faith) and one Muslim. Thanks so much for organizing!"
If you are interested in scheduling an interfaith tour, please email Kathy Bratkowski, at [email protected]
​