An upcoming concert at Mirowitz Center, "Boogie-Woogie & All That Jazz!" will feature Ethan Leinwand, one of St. Louis' top pianists. Leinwand, 40, who is Jewish, regularly plays to large audiences at musical festivals around the country. He is a popular solo performer and a member of three local bands: Miss Jubilee and the Yas Yas Boys, The St. Louis Steady Grinders and The Bottlesnakes.
During the Mirowitz Center event at 3 p.m. on Wednesday, July 19, Leinwand will provide background on the folk piano music that originated in African American communities and work camps in the deep south.
Leinwand gave the Jewish Light a preview of the event, which is co-sponsored by the St. Louis Jazz Club.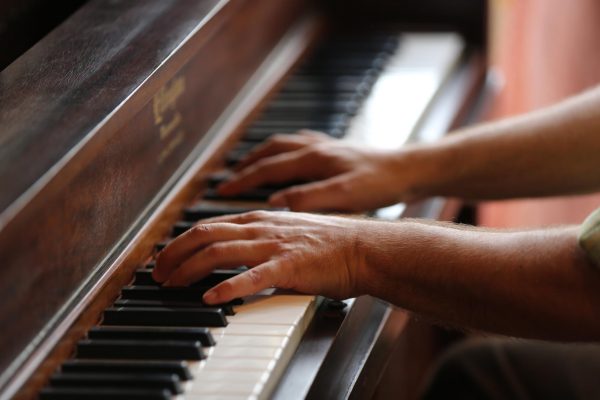 Is it accurate to call ragtime an American-born style of music?
Ragtime is the first truly American music. If Bach laid out the groundwork for how classical music could be played in ideas of chords and progressions for 300 years, Scott Joplin laid it out for the next 50 years of what jazz was going to be. When you take ragtime and add blues into it, that's how you get jazz.
How did St. Louis shape the growth of ragtime and blues?
St. Louis was the first major hotbed of ragtime. We are a place where the south meets the north and east meets west. It was the perfect breeding ground for this southern folk melody music. That gets elevated to this sophisticated ragtime music, which mixes Black southern folk music with the ideals of European classical music. This was a piano town, and the music thrived here.
You came to St. Louis eight years ago because of the music scene and history here, correct?
Yes, and my love of blues piano. I learned that it was still very much alive here and I found a lot of like-minded people to play with. I was interested in the history of the music and the community, and I continue to love being a part of it.
Do you plan to provide some historical context for the audience at Mirowitz Center?
Yes. I've been doing a show on the Viking Cruise Lines when they come through St. Louis on the Mississippi. I do a presentation about ragtime piano history. It's called "St. Louis—A piano town." It starts with ragtime, then boogie-woogie and barrelhouse blues and how they connect to later music like rock and roll.
Does the history of the music inform your playing style?
Absolutely. The music does speak for itself. It has its own power. There's so much personal expression happening, and that's always the goal. I want there to be some historical perspective so you can know what you're listening for or find a new way in. Ultimately, my hope is that people can just enjoy the fun expression of this music, the joy of it, and my joy in playing it.
To register for "Boogie-Woogie & All That Jazz!" click here.