Local Jewish pianist reviving series of ragtime concerts
Bill Motchan, Special To The Jewish Light
Published December 22, 2022
Ethan Leinwand is an internationally known blues piano player. Leinwand, a Jewish St. Louisan, said that after thousands of gigs, he still has to conquer self-doubt when he takes the stage.
"Performing piano is not easy at all," said Leinwand, 39. "It's terrifying. It is for me, still, every time…You just walk through the thorny bush, and you take your licks."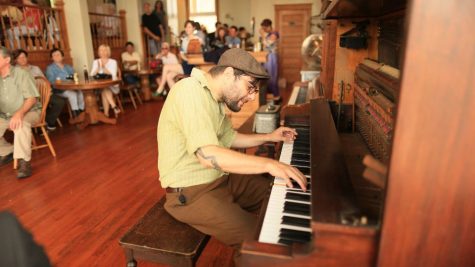 Ragtime music is especially challenging with its intricate syncopation, he said. And that's the genre that Leinwand plans to feature with a monthly concert series he is helping plan that will begin in January. The idea is to allow local amateur and professional musicians an opportunity to play and listen to ragtime.
"I was in Alaska last summer and, outside Fairbanks, is an old saloon," he said. "There's a ragtime club that meets there. Seeing everyone there, I thought, 'We really need to get it going.' They can do it in Fairbanks, and we should darn well be able to do it in the home of ragtime, right?"
Related: Live! From the couch: Musicians extend their creativity to perform in a time of pandemic
St. Louis is credited as one of the cities where African American musicians developed ragtime. The most famous was Scott Joplin, who popularized the genre with hits like "The Entertainer" and "Maple Leaf Rag."
Leinwand's monthly ragtime event will be called Ragtime Rendezvous, similar to a previous incarnation held at the Scott Joplin House on Delmar Boulevard just north of downtown St. Louis. That venue has been closed for repairs since before COVID. Leinwand and his regular musical collaborator, TJ Muller, are both on the board of directors of the Friends of Scott Joplin, so they joined forces to renew the series.
The Ragtime Rendezvous will run on the first Monday of each month beginning at 5 p.m. Players of all skills are welcome to perform for the first hour. Each month will feature a special guest musician who will perform a longer set. The featured performer at the inaugural Jan. 2 event will be Royce Martin, a St. Louis native and piano virtuoso, whose set will run from 6 to 7 p.m.
"Our hope is to grow it back organically and get the word out to music schools and to the teachers around town because a lot of kids want to play ragtime," Leinwand said. "This will be a fun, safe space for them to come and perform."
 

The Ragtime Rendezvous
WHAT: Ragtime music performances
WHEN: 5 p.m. on the first Monday of each month, beginning Jan. 2
WHERE:  Jack's Joint: Musiques at O'Connell's Pub, 4652 Shaw Ave. The second-floor venue is not wheelchair accessible.
HOW MUCH: Free admission (but donations encouraged)