A few weeks ago, I landed the Willy Wonka Golden Ticket of local fashion: an exclusive, behind-the-scenes peek at nearly all – and I do mean more than 20,000 pieces – of the merchandise that will be for sale at the 59th Couturier sale, running Oct. 18-21.
For those unfamiliar, the annual Couturier sale at the Resale Shop, a charitable project by the National Council of Jewish Women St. Louis, features racks and racks and cases and cases of gently used, high-quality, designer clothes and accessories for women, men and children, as well as home décor items at about a third, or less, of the retail value. These are the crème de la crème of a year's worth of donations, saved specifically for this four-day event. Proceeds from Couturier go to fund NCJWSTL's various community service and advocacy projects that work to improve the lives of women, children and families in the St. Louis community.
As one who every year counts down the days to this sale – at which I've procured some of the niftiest outfits in my closet – I was more than a little enthused when my idea to preview the fashion merchandise and explain how it comes together drew a thumbs-up from NCJWSTL's Jessica Duneman.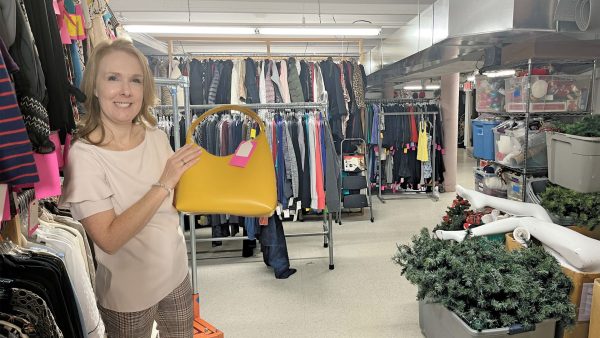 As Retail Operations Director, Duneman rules Couturier's roost. And while she graciously granted me permission to see what it takes to ready all the merchandise for the annual sale, it was with one condition: I never, ever, disclose where all the goods are kept before they make their way to the floor of the Resale Shop for Couturier. Trust me, she wasn't joking, though she did stop short of demanding my first born should I violate our agreement. We locked pinkies instead.
| RELATED: Photos: NCJWSTL's Couturier event through the years
Let's just say "massive" doesn't begin to describe the overall space where the merchandise is housed and processed. Racks and racks chocked full of designer dresses, pants, suits, blouses, sweaters, coats, furs, athletic wear and more cover what appears to be miles of floor space while see-through bins packed with designer purses, jewelry, scarves and shoes are stacked neatly against the walls.
My heart began to race at the sight of this style smorgasbord. I was like a kid in a candy store except I wasn't allowed to sample (or try on) any of the sweets. To calm myself and quell my excitement, I gently patted a Stella McCartney dress. 
What stood out, besides the seemingly endless abundance of high-end designer duds, was how organized it all was. Every item had been sorted and separated either by designer/brand or type of merchandise and size before being affixed with a hot pink Couturier tag, hung on a hanger and placed on a rack.
Duneman explained that collecting for Couturier begins as soon as last year's sale ends, so the Resale Shop essentially gathers inventory for 365 days. Every donated item first gets inspected by Donation Center Manager Karen Rieger and her team to decide whether it should be saved for Couturier or go to e-commerce (the shop's online business), the Resale Shop or recycling. 
"Not everything that is designer is saved for Couturier," Duneman pointed out. "It's important to know that these same designers can always be found at the store throughout the year. At no time when you come to the Resale Shop are you not going to find Eileen Fischer or Michael Kors or Lululemon. They are consistently on our sales floor."
She said that 15 pairs of Lululemon leggings could come in one day and maybe one will be saved for Couturier. 
"That's determined by the condition they come in, or it might be because they have a unique pattern, or they are just loud and fun," Duneman said. "People come to Couturier wanting to find something that's unique or different and reflects their personality. We try to pick pieces that scream personality."
Occasionally, you may run across multiples of the same item at Couturier. Duneman says that sometimes happens when the donation comes from a store.
"We have boutiques in town and other stores that support us throughout the year with donations," she said. "Sometimes during a season, they might give us five of the same shirt. It depends on their inventory and what they are trying to move out."
More often though, pieces selected for Couturier have been donated with their original labels still attached, having never been worn. Duneman says most of the shoes donated for the sale are brand new as are all the children's clothes.
For pricing, Duneman, Rieger and their team rely on several sources, including their own historical data from past sales. They store all the pricing information in a purple binder, aptly named "Karen's Pricing Guide."
"Say a pair of St. John black knit pants comes in. We know from year's past we priced them at $65, so we'll likely go off what we historically priced them at," said Duneman. "But there are other factors, too. We try to determine the age of the garment as well as if it's a limited edition, or certain style or material. We consult eBay, Poshmark and other resale sites to match our item as closely as possible and determine its current selling price. Then we make sure we are significantly less than others."
Google Lens is another tool the pricing team uses, especially for handbags. 
"Let's say I want to know the price of a particular Louie (Vuitton) bag," said Duneman. "I'll take a picture using Google Lens and it will find every one of those Louies listed online. Google Lens will help us identify the name of that particular bag. I can then research the bag better once I know the name, which allows me to find out the age, material and its value."
Duneman said all of these tools help with consistent pricing. But she is quick to note that similar items by the same designer aren't always priced the same. 
"A piece might be a limited edition or in perfect condition with its original price tag, so it might be priced a little higher," Duneman said. "Or it might have certain buttons or other embellishments that affect the price."
And in case you were wondering, no one at the Resale Shop or NCJWSTL is allowed to buy any Couturier item until the sale officially begins. 
"We joke that if you touch one of Karen's racks, we will know," said Duneman, laughing. "They are off limits."
Typically at Couturier, jewelry and handbags are the most sought-after, with shoppers receiving a line number for their turn at those counters. Some popular brands, like St. John, Eileen Fisher, Chanel and Lafayette 148,  for example, usually have an entire rack or two dedicated to the designer. 
Duneman, who will mark her 13th Couturier sale this year, is savant like when it comes to knowing how many pieces can fit on a rack and how many racks are needed if she has, say, 300 pieces from one designer (answer: two large circular racks). She and her team also arrange the racks so that signage is easily visible, with Shop Manager Peggy Levin providing video snippets throughout the sale alerting shoppers to where certain merchandise is displayed in the store.
"The Couturier sale is a well-oiled machine," said Duneman, adding that each year it passes the sales goal of the year before. "We have practices for everything, and organization, well yes, that is key."
On Monday, Oct. 9, the Resale Shop will begin its "clear the racks" sale, with all merchandise 20% off, to make way for new Couturier merchandise. On Oct. 10, the discount goes to 30% and continues increasing through Saturday, Oct. 14, with 75% off. On Monday, Oct. 16, every item left in the store will be $1 or less. 
The shop will be closed Oct. 17 to prepare for the Couturier, which begins at 1 p.m. Oct. 18 for 50 lucky VIPs who purchased a $75 ticket after they went on sale last month (they sold out in 20 minutes). Shoppers can line up outside the shop at 295 N. Lindbergh Blvd and pay $10 for entry on Oct. 18 between 4 and 8 p.m.
The Couturier sale continues with no entry fee Oct. 19 and 20 from 10 a.m. to 6 p.m. and Oct. 21 from 10 a.m. to 5 p.m. For more information.