Tu B'Shevat seder features a lucky seven food species
Rabbi Eliyahu Safran of the Orthodox Union refers to the number seven as the perfect number. "Seven is completeness and wholesomeness," he says.
There are numerous examples in Judaism of the significance of that seven, beginning with Shabbat, the seventh day of the week. G-d created the Earth in six days and rested on the seventh day. Also in Genesis, God gives Noah seven commandments for how he and his family must conduct their lives. And then there is the Sheva Brachot, which is the seven blessings recited under the chuppa at a wedding.
In Ashkenazi weddings, it is also customary for the bride to circle the groom seven times. Most recently, at our daughter Kayla's wedding, she and her husband Abraham—in an updated version of that tradition—circled one another three times and then together completed the seventh circle.
And finally, according to Torah, Shmita, the seventh agricultural year (which just happens to be this year), is the year that all land on which crops are grown must lay fallow. As it is written in Exodus 23:10-1: "Six years you shall sow your land and gather in its produce, but the seventh year you shall let it rest and lie fallow, that the poor of your people may eat; and what they leave, the beasts of the field may eat. In like manner you shall do with your vineyard and your olive grove."
So what does the number seven have to do with Tu B'Shevat, which begins Sunday, January 16th, and concludes on Monday.  In addition to being a New Year for the trees, Tu B'Shevat is a celebration of creation and a reaffirmation of our connection to the Land of Israel. As part of that celebration, it is customary to partake in Shivat Haminim, the seven species of the land of Israel as mentioned in Deuteronomy. Those seven species are: wheat, barley, olives, dates, grapes, pomegranates, and figs.
Many Jews around the world enjoy each of the species as part of a Tu B'Shevat seder. Phyllis Glazer, in her book "Jewish Festival Cooking" explains that this meaningful seder was conceived by the 16th-century mystic, Issac Luria, whose special seder revolved "around the eating of thirty different native fruits, which he believed contained the 'divine sparks' that had been scattered all over the universe when it was first created."
A traditional Tu B'Shevat seder includes various categories of fruit from the trees in these specific groups: nuts with shells; nuts without shells; fruits with peels; fruits with edible seeds; fruits with inedible pits; and wine or grape juice as the fruit of the vine.
Each category of fruit is accompanied by four wine tastes or servings to reflect each of the four seasons. For the winter tasting, each person sips white wine, followed by white wine with a drop of red wine to signify spring, followed by additional red wine in the white wine to signify summer, and finally just the red wine which is symbolic of fall.
Every part of the seder has significance and each of the fruits and wines are accompanied by their own blessings. If you've never experienced a Tu'b'shvat seder, I highly recommend it. For me, I liken it to the experience of "stopping to smell the roses." The seder creates a new appreciation and enjoyment of earth's bounty. The experience is the epitome of mindful eating.
The word seder means "order," and just like our Passover seders, there is a specific order to sample the fruits of the land of Israel. To learn more about this lovely experience, checkout one of these Tu B'Shevat Haggadahs:
https://hazon.org/wp-content/uploads/2012/08/2013-Tu-BShvat-Haggadah.pdf
https://reformjudaism.org/sites/default/files/RAC-NFTY-seder.pdf
While not everyone may want to have a seder this year, you can still celebrate the holiday by incorporating some or all the seven species into your meals. I am including a few recipes to give you some ideas. The Fruity Barley and Farro Pilaf is quite versatile. It can be served just out of the oven or as part of a salad (see the note at the bottom of that recipe).
The Barley-Carrot Croquettes can be topped any number of ways: with the tehina sauce as in the recipe, Greek yogurt or, just as you top your latkes, with applesauce. My husband Mike says these croquettes remind him of falafel, only better.
The Chocolate Covered Tahini and Almond-Stuffed Dates can be prepared in advance and kept frozen for a few weeks and eaten straight from the freezer. Alternatively, they can stay refrigerated for up to 1 week. They can be served whole or cut in half to reveal the almond center. These are heavenly and a special treat for whenever you are craving chocolaty-nutty-date goodness.
I wrote on barley for Tu B'Shevat in 2015 and included a few of my favorite barley recipes in that column. You can check them out here.
Wishing you all a beautiful Tu B'Shevat holiday!
Margi Lenga Kahn is the mother of five and grandmother of eight. A cooking instructor at the Kitchen Conservatory, she is working on a project to preserve the stories and recipes of heritage cooks. She welcomes your comments and suggestions at [email protected]
---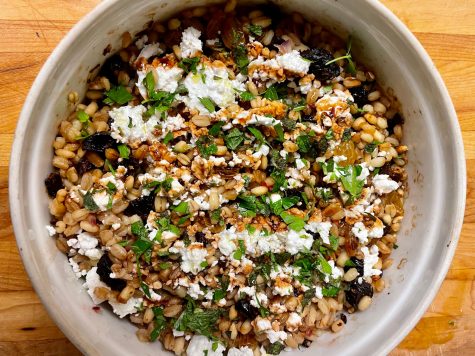 Fruity Barley and Farro Pilaf
Ingredients
½ c. pearled barley
½ c. pearled farro
2 c. vegetable or chicken broth or water
1 heaping tbsp. finely minced red onion
1/3 c. dried black mission figs, stemmed and finely diced
1/3 c. golden raisins
1 tbsp. chopped Italian flatleaf parsley
1/3 c. pomegranate arils
1/3 c. crumbled feta cheese
2 tbsp. minced fresh herbs such as parsley, mint, chives, thyme, oregano, or a mixture
1 tbsp. pomegranate molasses or honey
1-2 tbsp. olive oil, for drizzling
Freshly ground black pepper, to taste
Optional add-ins:
1 c. packed fresh spinach, cut into thin strips
1 c. packed fresh kale, chopped
Sauteed mushrooms
Sauteed fennel
Directions
Combine barley, farro, and broth or water in a medium saucepan. Stir, bring mixture to a boil, cover pan with a lid, and immediately reduce heat so that mixture simmers. Simmer for 15 minutes.
Preheat oven to 375 degrees.
Place a heat-proof bowl in your sink and place a strainer on top of it. Carefully turn cooked grains into the strainer. Reserve excess liquid for later.
Turn cooked grains into a 1½ qt. ovenproof baking dish. Stir in red onion, figs, raisins, parsley, and any or all of the optional add-ins. Add 1/4-1/3 c. reserved liquid (or hot water if not enough liquid remained) so that mixture is just a little bit soupy.  Stir again and then place uncovered dish in preheated oven. Let bake for 20 minutes.
To finish pilaf, sprinkle the top with pomegranate arils, feta cheese, and minced fresh herbs. Drizzle evenly with pomegranate molasses or honey and olive oil. Grind some fresh black pepper over dish.
Just before serving, toss pilaf lightly to incorporate everything.
Makes 4-6 side-dish servings.
Note: To make this into a salad, let grains cool after draining. Stir in red onion, figs, raisins, and parsley. Transfer to a serving bowl and toss with 4 oz. baby arugula. Garnish with feta cheese, pomegranate molasses, olive oil, and 2 tsp. lemon juice. Toss and sprinkle with pomegranate arils; serve. Makes 4-6 side salads.
---
Barley-Carrot Croquettes with Tehina Sauce and Pomegranate Arils
(Recipe adapted from Jewish Festival Cooking, by Phyllis Glazer)
Ingredients:
1 c. pearl barley, rinsed under cold water for 30 seconds and drained
2 c. water
1 tsp. coarse kosher salt
½ c. whole wheat flour
2 garlic cloves, peeled and finely minced
2 tsp. honey
1 large carrot, trimmed, cleaned, and finely grated
½ c. finely chopped yellow onion
1 egg, lightly beaten
½ tsp. coarse kosher salt
1/8 tsp. freshly ground black pepper
About ½ c. panko breadcrumbs or more for dipping
1/4 c. extra virgin olive oil
Tehina Sauce:
½ c. tahini (sesame seed paste, well mixed)
3 tbsp. freshly squeezed lemon juice
1/3 c. hot water, plus more as needed to thin sauce
2 garlic cloves, peeled and finely minced or crushed
1/4 c. fresh minced herbs such as dill, parsley, mint, oregano, or a mixture, plus additional for garnishing
1/4 tsp. coarse kosher salt, or to taste
Freshly ground black pepper, to taste
1/4 c. pomegranate arils, for garnishing
Directions
Combine barley and 2 c. of water in a medium saucepan. Bring mixture to a boil, cover with lid, and immediately reduce heat so that mixture simmers. Cook for 20 minutes.
Using a slotted spoon, transfer cooked barley to a mixing bowl. Add salt, flour, garlic, honey, shredded carrot, onion, egg, and salt and pepper. Fold mixture together to combine.
Line a small baking pan with wax paper.
Using damp hands, form barley mixture into 3-4" patties and place onto prepared pan. Lightly cover pan with plastic wrap and refrigerate for 15-30 minutes.
Meanwhile, make tehina sauce. In a small bowl, combine tahini, lemon juice, hot water, and minced garlic. Stir until mixture turns into a sauce, adding more hot water as needed to reach a drizzling consistency. Stir in garlic, minced fresh herbs, and salt and pepper; set aside.
Place panko crumbs in a shallow bowl or small plate. Heat olive oil in a large skillet over medium heat. Gently lay one patty onto panko crumbs. Sprinkle some crumbs over the top of the patty and, using a spatula, lift patty into hot pan. Repeat with remaining patties. Fry until golden, about 1½-2 minutes and then turn patties over. Continue to fry for another 1½-2 minutes. Transfer patties to a serving platter. Drizzle with reserved tehina sauce and sprinkle with fresh herbs and pomegranate arils; serve.
Makes about 12 patties.
---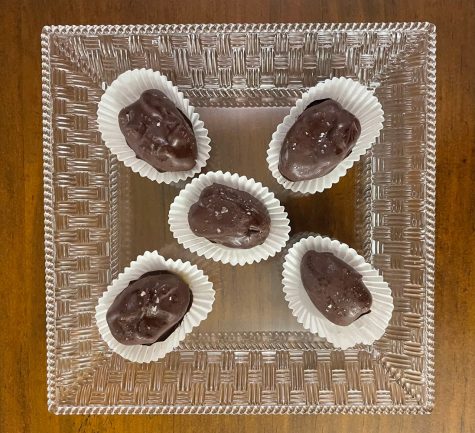 Chocolate Covered Tahini and Almond-Stuffed Dates
(Recipe adapted from Middle Eastern Sweets by Salma Hage)
Ingredients
10 Medjool dates, unpitted
5 tsp. tahini (sesame seed paste)
½ tsp. honey
10 whole salted almonds
5 ½ oz. dark chocolate, coarsely chopped (do not use chocolate chips)
½ tsp. flaky sea salt, for sprinkling
Directions
Cut a small slit in the center of each date. Remove pit and pull apart ever so slightly. Arrange dates on a wax or parchment paper lined small pan.
Stir together tahini and honey. Drizzle about ½ tsp. of the mixture into the center of each date. Press an almond into the center of the date where the pit once was. Gently close dates and set pan into freezer for 20-30 minutes.
Meanwhile, bring a small pan of water to a gentle boil. Place chocolate into a heatproof dish or pan that can rest on the top of the pan of boiling water (if you have a double-boiler, use it here). Stir chocolate until it is almost all melted. Remove pan from heat.
Take stuffed dates out of the freezer and, using a teaspoon, roll dates one at a time in the hot chocolate to cover. Set dates back onto pan, sprinkle lightly with flaky salt, and refrigerate or freeze to set chocolate before enjoying.
Makes 10 stuffed dates.