There is great falafel in St. Louis if you know where to look
Jordan Palmer, Chief Digital Content Officer
Published June 22, 2023
When it comes to eating, it's good to every now and again break out of one's comfort zone. Recently, I read how falafel had become the most popular food in Israel, so I decided to give it a shot.
Now, I've become slightly obsessed with falafel. Where I can find it in St. Louis? How does one place make it different from another? How it's served?
Recently, I noticed a surge in falafel photos on social media and was so happy to see others enjoying falafel, too. Turns out, that I missed "International Falafel Day" on June 12. So, to make up for that faux pax, here's more information than you might ever need about falafel, as well as everywhere in St. Louis you can find it on a menu, 12 days late.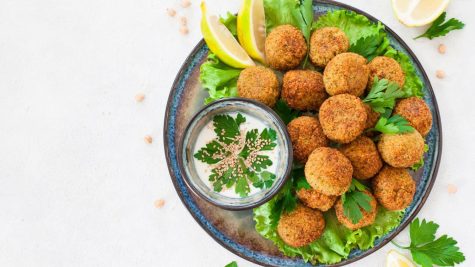 So exactly what is falafel?
For those who don't know what it is, falafel is a deep-fried ball made from ground chickpeas. It's occasionally cooked using fava beans. Onions and spices, such as cumin or coriander, may also be included, depending on your preferences.
The exact origins of falafel are up for debate. Some food historians write that it was developed in Egypt about 1,000 years ago, while others say that falafel can be traced to India in the 6th century. No matter where the falafel story began, it has become one of the most popular foods in the world, including Israel where it's been called "the ultimate Israeli food."
Israeli Falafel Style
With Jews from hundreds of countries calling Israel home, Israeli cuisine is a mix of national and worldwide flavors and techniques. In Israel, falafel is typically served in a Middle Eastern pita bread pocket, topped with salad and hummus – as well as German sauerkraut, Iraqi fried eggplant, Indian pickled mango sauce, Yemeni hot sauce and French fries. The result is uniquely Israeli.
Admittedly, I've not found anyone serving Israeli style falafel in St. Louis, but that could also be because I've never asked. The good news, St. Louis is home to many places that serve falafel in many variations, making finding your "forever falafel" easier than ever.
Falafel In St. Louis
Today, these fried ground chickpeas balls are not only standard fare at Mediterranean and Middle Eastern restaurants around St. Louis, but they also have rolled onto menus at many of our town's finest eateries. Some of which you might not expect.
---
Al-Tarboush Deli, 602 Westgate Ave. 63130
Pick Item: Falafel Plate

Lettuce, tomatoes, and 4 pieces of falafel with a pita.
Gyro House,6152 Delmar Blvd, 63112
---
J's Pitaria, 91 Concord Plaza Shopping Center
Pick Item: Falafel Sandwich

Somun bread filled with falafels (6), organic arugula, tomatoes, cucumbers, red onions, feta and house-made tzatziki sauce. Served with Himalayan salt potato chips. Substitute dairy for Ajvar for vegan option.
---
Kohn's Kosher Deli, 10405 Old Olive Street Road, 63141
---
Layla's, 20 Allen Ave, Suite 130, 63119
---
Taste of Lebanon, 331 N. Euclid Ave., 63108
Pick Item: CC Special

Falafel, garlic sauce, and spicy potatoes, all wrapped together in this delicious sandwich.
---