The remarkable true story of this maple walnut cake recipe
Shared by Judy Bart Kancigor
Published April 27, 2021
This story originally appeared on The Jewish Food Society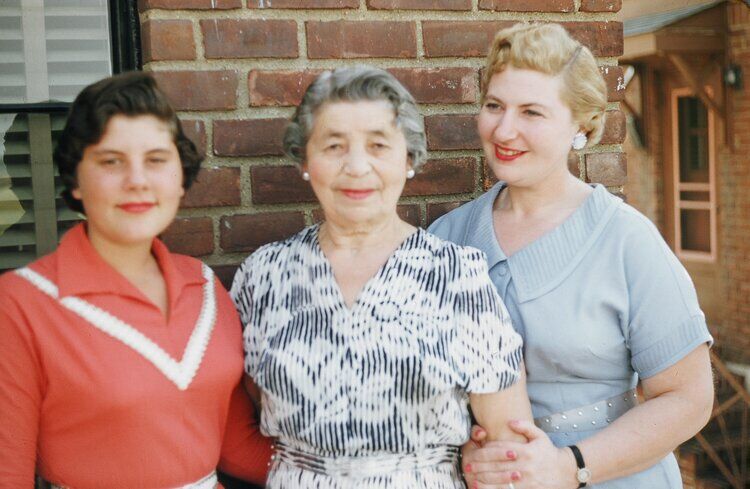 "It always was a party when we got together," cookbook author Judy Bart Kancigor says of her family when she was little. Judy grew up in Belle Harbor, a neighborhood just four blocks wide, sandwiched between the bay and the ocean in the Far Rockaways section of New York City. Her grandparents Mama Hinda and Papa Harry lived upstairs in a two story home her grandfather built, and three aunts and one uncle and their families all lived close by. "I like to say I had four mothers," Judy says referring to her aunts. And her cousins were like siblings. "I had one brother, but lots of siblings," she adds.
Judy grew up in a New York City that is nearly lost today. Her grandparents were married in Slonim, a city that today sits in Belarus, in 1905 and came to the United States shortly after. Papa Harry worked in construction building houses. When he couldn't sell one, his family of seven children would move in. For a time in the 1930's, he owned a candy store and soda fountain shop selling English-langauge newspapers, even though he couldn't read them himself. At home, he and Mama Hinda spoke Yinglish, as Judy calls it, a mix of Yiddish and English, where one wasn't always sure which language a word came from. When Judy was little, there were trips to the Lower East Side for bolts of fabric aunt Estelle would sew into dresses and meals at Ratner's, a famed and now shuttered Jewish dairy restaurant.
When the family gathered, there were always the go-to meals, Judy says. If it was lunchtime, there was deli. If it was Sunday, appetizing or smoked fish and bagels graced the family table. "In those days, in the '50s, it wasn't like now," Judy explains. Instead of trying out new recipes when one expected company, her aunts, mother, and grandmother, "all had the dish they made when we all got together." Aunt Irene was known for her sweetbreads and kugel, aunt Estelle was famous for the chocolate chip cookies she sent in tins to family members at summer camp and later in college. Aunt Sally, who Judy calls the Julia Child of the family in her cookbook Cooking Jewish: 532 Recipes from the Rabinowitz Family, was known for her red, white, and blue cake, among other recipes. Her mother, Lillian laid a beautiful table, often with an elegant vegetable platter.
But there were recipes that were shared by the women as well. Among them was a maple walnut cake, a soft and spongy cake all of the sisters and Mama Hinda made for company — even when company was a sister who lived four blocks away. Judy isn't certain where the maple walnut cake recipe originated and Mama Hinda never wrote this recipe or any others down. Thankfully, Judy says, aunt Sally did, keeping a black and white composition notebook with carefully documented recipes for herself, her daughter, and ultimately for her grandchildren.
For a time, if anyone besides her daughter asked for a recipe, Sally would slyly leave out an ingredient so the cook couldn't copy her work. Judy's mother Lillian, or Lil, would occasionally sneak into her sister's kitchen and copy recipes, though she never made them. Later in life, Judy says, Sally softened and shared her recipes with Judy freely.
In the 1990s, Judy visited her aunt in Florida when she was working on her cookbook, which was initially a personal project that was self-published (it was later picked up by the publisher Workman). Judy would bring up a recipe — even ones Sally hadn't made in years. She would say, "Let me see…. Nope, this recipe's no good." Others, she would give the nod to. Judy adds:  "Without her I would have no cookbook. We wouldn't be talking to you today."
---
Recipe: Maple Walnut Cake
Total Time: 1 hour
Ingredients
For greasing the pan:
1 tablespoon vegetable oil
3 tablespoons all purpose flour
For the cake:
2 cups sifted all-purpose flour
2 teaspoons baking powder
½ cup vegetable oil
¾ cups brewed coffee, cold
4 teaspoons pure maple extract
7 large eggs, seperated and at room temperature
1 ½ cups (packed) light brown sugar
1 cup granulated sugar
1 ¼ cups toasted walnuts, finely chopped
Powdered sugar (optional)
Preparation
1. Preheat the oven to 350 degrees. Grease a 9 x 13 inch baking pan with 1 tablespoon of oil. Sprinkle 3 tablespoons of flour and dust the surface of the pan with the flour, tap out the excess flour and discard.
2. Mix the remaining 2 cups of flour and the baking powder in a bowl. Set aside.
3. Combine the oil, coffee, and maple extract in another bowl. Set aside.
4. Beat the egg yolks and brown sugar with an electric mixer on high speed until pale in color and fluffy, about 3 to 4 minutes. Reduce the speed to low and add ⅓ of the flour mixture. Mix until just incorporated. Add ½ of the coffee and oil mixture. Mix until just incorporated. Add another ⅓ of the flour mixture and mix until just combined. Add the remaining ½ of the oil and coffee mixture, mixing until just combined. Add the remaining flour mixture and mix until combined into a cake batter consistency.
5. Using a clean dry bowl and whisk attachment to an electric mixer, beat the egg whites on medium high speed until soft peaks form, about 3 to 5 minutes. Add the granulated sugar 1 tablespoon at a time, mixing after each addition. Once all the sugar is mixed into the egg whites, increase the speed to high and beat until stiff peaks form, about 2 to 3 more minutes.
6. Fold ¼ of the sugar and egg whites mixture into the cake batter. Add the remaining egg white mixture into the cake batter in 3 more additions folding after each addition. Fold the chopped walnuts into the batter.
7. Gently pour the batter into the prepared baking pan and smooth the top evenly. Transfer into the oven and bake for about 35 to 40 minutes or until the cake is golden and a cake tester comes out clean.
8. Allow the cake to cool in the baking pan and dust with powdered sugar (if using). Slice into 3 inch squares and serve.