St. Louis Jewish patrons bid goodbye to beloved Bob's Seafood
Bill Motchan , Special to the Jewish Light
Published May 31, 2022
Howard Neuman walked out of Bob's Seafood last Thursday morning with a sack of fresh fish and sighed. An hour earlier, Bob's announced on Facebook that it would close for good on June 4.
"I was really upset to hear they were closing," Neuman said. "I've been coming here for years. I was never really happy with the quality of seafood anywhere else in the area. I really don't know where I'm going to go now."
Neuman is one of numerous Jewish customers who made Bob's a regular shopping stop for fresh, high-quality seafood. The news that Bob's was closing was somewhat predictable, since the surrounding buildings have already been razed to make way for a new retail development.
Another high-profile store is already going up across the street. That is Costco, which sits on the same tract of land that Torah Prep called home for 30 years. Torah Prep relocated a mile and a half southeast last year. Bob's has no such plan. The owners are calling it quits after 44 years in business. News spread quickly on social media and was greeted with dismay.
"Their customer service never waned," said Jessica Z. Brown, another Jewish patron. "It was a weekly destination for years following my parents' move here from Chicago in the 1990s to be with us. They loved the array of seafood, but they especially loved the warm hospitality shown them on every single visit."
"The fish was always the freshest and it was so easy to run in and see everything quickly before getting waited on with a smile from all of the staff," added Laura Jick Dardick. "They were always pleasant, always patient. It was a gift to the community!"
"I love Bob's," said Ben Wheeler. "I used to go there when it was in the Market in the Loop.  The woman who owns it taught me a lot about fish, that there is no 'sushi grade' tuna, for example."
Bob's has been located at 8660 Olive since 2005, but many longtime customers remember its original location in the University City Loop. Bob's owner Bob Mepham used to drive to the Gulf of Mexico once a week and bring back a load of fresh Gulf shrimp and other seafood on ice. He'd arrive back here in the wee hours of the morning, ready for the Saturday morning rush of customers.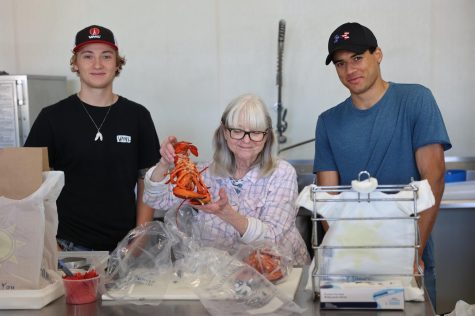 "I remember when Bob's first opened in the Loop," said Randi Mozenter, Kol Rinah board chair. "They always had great products, customer service and friendliness. Their closing is a huge loss to our community."
Another customer who will miss Bob's is attorney Alan Steinberg.
"I do a lot of cooking at home, so I'll sometimes go to Bob's and get a whole branzino or a red snapper," said Steinberg, 81. "There's nothing like cooking a whole fish with some parsley and Old Bay seasoning and ginger. It's hard to find a whole fish. This is going to be a big loss."
Steinberg, who was a part owner of Culpepper's in the late 1980s, said he also enjoys preparing gefilte fish from scratch and the array of fish at Bob's Seafood meant he could make a gourmet version of the Jewish standard.
Although owners Bob and Barb Mepham are not Jewish, many of their customers are, according to Danny Wald.
"Bob is well-known in the Jewish community," said Wald, 70. "He was also very particular about cleanliness and freshness. Bob has a background as a chemist, so he was well aware of how to keep things clean."
Wald, who is a member of Central Reform Congregation, was also an early landlord of Bob's Seafood. Wald still owns the 6655 Delmar Blvd. property and the first indoor location of Bob's Seafood. The building, which is now a karaoke lounge, was a happening on Saturday mornings with an assortment of tenants.
"In those days when we had the Loop Market, we had six or seven different businesses inside," Wald said. "We had frozen custard, we had Mangia Italiano, we had a falafel stand, Chinese food, and a flower shop. It was bustling and a lot of people came in with their families.
"We bought the property in '86 or '87, and built the building and Bob moved inside. He was a fantastic tenant. He did some wonderful things for U. City and employed a lot of local kids. I hate to see them go, but the building is being demolished for development and that's good for U. City, too."