(JTA) — We grew up in South Carolina in the late 1960s and '70s, one of us from the capital city, Columbia, and the other from the small town of Summerton. The foods served on our respective tables were a blend of Southern and Jewish, menus long ago established by our immigrant grandmothers and the African-American women who cooked for their families. Kashrut was observed in our grandmothers' kitchens, and Southern recipes recrafted for a kosher table mingled quite comfortably with the stuffed cabbage and tzimmes. Favorite family recipes were handed down from generation to generation — l'dor v'dor.
| RELATED: Ben Poremba moving three restaurants to the new Delmar Maker District, near his Deli Devine
Our Southern Jewish table — where crispy fried chicken sat next to a sweet and sour brisket, where chopped liver was served during the cocktail hour, and where bowls of steaming hot rice and fresh vegetables graced our table — is a part of our collective lived experience.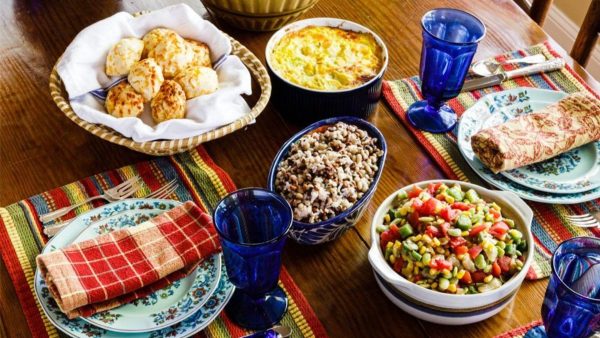 Our Southern kitchens
As women pulled by the force of both our region and our religion, we recognize the expressive power of food. In researching and writing our new book "Kugels & Collards," we have grown far more aware of nuances in Southern Jewish foods and connections spanning cultures, races, pantries and people.
And we have discovered the presence of boundaries — cultural, dietary and physical — that have existed historically and, in some instances, remain today. As Marcie Cohen Ferris writes in the book's foreword, "Southern Jews revealed who they were and what they believed through the foods they ate — and did not eat — in a region where treyfe (nonkosher) pork, shellfish and wild game were at the center of local cuisine."
In one of the stories in our book, Aaron and Eli Hyman, owners of the acclaimed seafood restaurant Hyman's in Charleston, share their memory of catching blue crabs on Sullivan's Island as young children with their grandfather. Aaron recalls, "We were not allowed to bring the crabs in the beach house, which had a kosher kitchen, but we steamed them and ate them outside on newspaper out of respect for our great grandmother."
The diversity of ingredients found in our favorite meals reflects the contributions of individuals underrepresented in or absent from earlier accounts of Southern Jewish cuisine. What we consider "typical Southern fare" reveals the culinary legacy of Africans brought against their will to the American South centuries ago. On many Southern Jewish tables, it is not unusual to have African-American staples such as collard greens, black-eyed peas and rice alongside European Jewish dishes like brisket, tzimmes and kugel. The aromas, textures and tastes of these meals made their way into the homes of our immigrant grandparents through generations of Black South Carolinians working in traditional Jewish kitchens.
One of these women is Charlestonian Annie Gailliard, whose recipe for okra gumbo we share in "Kugels & Collards." Like many great cooks, Annie cooked by taste and passed her recipe verbally down to her employers, the Firetags, Lyssa's grandparents. Annie and her husband, Walter Gailliard, and their children shared a backyard in Charleston with the Firetags, for whom she began working in 1933. Aside from the requirement that she cook kosher, Annie controlled the kitchen, cooking three meals a day.
For the Firetag family, she made the okra dish kosher, which meant no bacon or bacon grease. Although traditional gumbos have a roux base, Annie's recipe is more like a succotash. Lyssa in turn has given the recipe a Jewish touch, with a dollop of shmaltz and olive oil, served with the Jewish grain dish called kasha varnishkes rather than white rice.
Annie died in 2003 at the age of 99, and Lyssa attended her funeral with her mother and other family members. Annie's is one of many beloved "family" recipes created by — and appropriated from — skilled Black cooks.
On the Southern Jewish table many cultures are savored. Food is a vital part of the South's Jewish geography and foodways stretching across state lines to shape Southern culture.
In our own Southern homes, and certainly through the process of writing "Kugels & Collards," we have come to appreciate how food marks time and place, season and generation, tragedy and trauma, milestones and memory.
—
The post Our Southern kitchens are where Black and Jewish traditions come together appeared first on Jewish Telegraphic Agency.