There is an amazing website called Lost Tables, dedicated to celebrating the restaurants of our past. We are partnering with the site's creator Harley Hammerman and celebrating these wonderful stories. Hammerman and his wife Marlene are members of Shaare Emeth.
Morton Louis Meyer was born in St. Louis on January 25, 1931. After graduating from Princeton University in 1952, he served in the army during the Korean War.
Because of his fluency in several languages, Meyer was sent to the U.S. Army language school in California, where he scored the highest mark ever on the school's exam. He was shipped to Germany for training and then to eastern France as a counter-intelligence agent. While in France, Meyer developed a love for travel, art and French food.
On June 14, 1954, while still in the service, Meyer married Roxanne Harris of Highland Park, Illinois. They would have three children ― Nancy, Danny and Tommy.
Danny Meyer went on to become a renowned New York restaurateur. In his autobiographical book, Setting the Table, Danny looked back at his father's life from an adult perspective.
"My parents, Roxanne and Morton Louis Meyer had spent the first two years of their youthful marriage in the early 1950s living in the city of Nancy, capital of the French province of Lorraine, where my dad was posted as an army intelligence officer," said Danny Meyer. "In 1955, at the conclusion of my dad's overseas military service, my parents were still very much in love with each other and with Europe. Their knowledge of and fondness for France in particular was a powerful bond between them. In St. Louis, my father parlayed his love of all things French into a career as an innovative and successful travel agent."
Meyer joined the William H. Goldman Travel Agency, which was started by Goldman in 1919. In 1956, the agency was incorporated as the Goldman-Meyer Travel Agency, with Meyer as secretary-treasurer. When Goldman retired in 1958, Meyer became president of the firm. Meyer's brother, Richard, would become vice president.
In 1960, as large commercial jets began transporting Americans overseas, Morton Meyer developed Open Road Tours.
His agency, Open Road Tours, packaged customized driving trips, often in conjunction with Relais de Campagne, a network of lovely family-operated inns around France. His clients loved his attention to detail; his business thrived.
Meyer's love for Europe extended into his home, enveloping Danny and his siblings.
Meyer lived life to the fullest, with a propensity for risk-taking.
"My father was unquestionably my childhood hero: a hedonist, a gastronome and a man who cherished and passionately savored life. He loved the excitement and risk of the racetrack and gave me a taste for it, even when I was too young to place bets legally," said Meyers. Dad also took risks as a businessman. He was always coming up with exciting new ideas based on his love of travel and food, and on his constant drive to share his finds with others."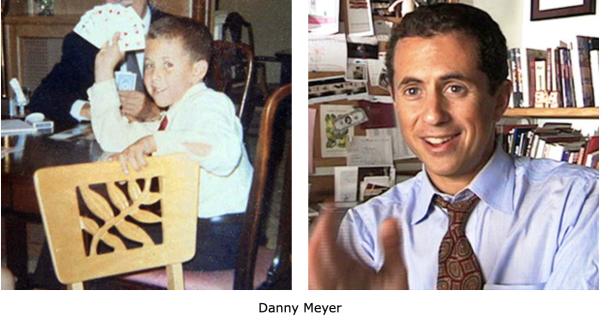 Morton Meyer entered the Clayton real estate market in 1977 when a banker friend suggested he needed to shelter earnings from his travel business. His initial purchase was the Mortgage Building at 7730 Forsyth.
In October of 1979, Meyer plunged into the restaurant business. He opened Chez Louis at 26 North Meramec in Clayton. The storefront space in the 53-year-old Seven Gables Apartment Building had previously housed the Clayton Coffee Company.
Meyer owned Chez Louis with Bernard Douteau, who served as the restaurant's chef and general manager. Douteau, born in a small town south of the Loire Valley, had worked as a hotelier in France, as well as in Ethiopia and Italy. In Italy, he managed two hotels for Meyer, whom he had met five years earlier in Paris.
Chez Louis featured white tablecloths with pastel napkins, heavy service plates and handwritten menus. Colorful prints and posters punctuated white plaster walls.
Chez Louis' menu was small and changed frequently. Restaurant critic Joe Pollack provided an overview of the cuisine in his March 25, 1982 St. Louis Post-Dispatch review.
"The Chez Louis cuisine style is French, kind of a happy compromise between the truly haute cuisine, which can be overwhelmingly rich, and the truly nouvelle, in which a food processor grinds everything into the texture and taste of baby food. Sauces are light, with a beautifully modulated touch of herbs and spices and a base that involves the reduced stock of the meat or fish. Vegetables are cooked quickly to retain color and flavor," wrote Pollack.
In November of 1982, Meyer and Douteau opened a second restaurant which they named Bernard's. It was located adjacent to Chez Louis, in the 18 North Meramec space of the Seven Gables Apartment Building.
Bernard's was an informal 50-seat French bistro. Its understated decor was much the same as Chez Louis, with cream-colored walls adorned with colorful framed posters from Paris art galleries. The ceiling was beamed and windows were trimmed with little cafe curtains. Seating was on plain bentwood chairs at bistro-style marble-top tables, with a few dark blue banquettes.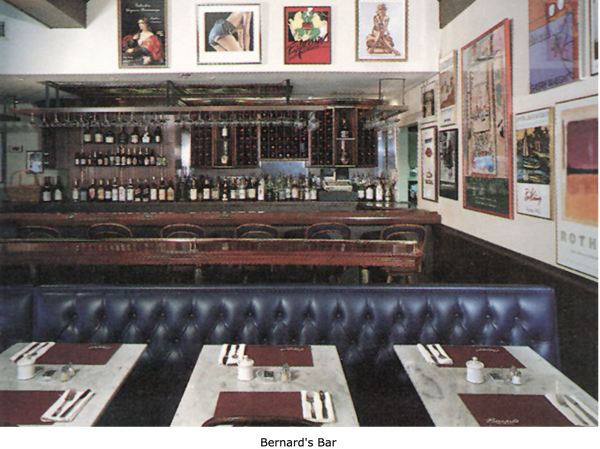 Douteau wanted Bernard's menu to be simpler than the more formal Chez Louis.
The one-page menu included onion soup, crepes, quiches, croque monsieur, salade Nicoise, terrines and charcuterie. There were at least two specials a day, which could include a hearty cassoulet of meat, lentils and flageolets, or a spicy veal stew simmered in white wine.
Douteau introduced the southern French specialty pan bania on Bernard's menu.
The inside of a hard round roll or bun was scooped out and filled with Boston lettuce, olives, tomatoes, potatoes, hard-cooked egg, capers and a vinaigrette dressing, with an anchovy option.
In December of 1983, Meyers and Douteau opened Bernard's Food Boutique at 10 North Meramec. According to Douteau, the gourmet marked started out as a charcuterie.
The boutique featured an assortment of salamis, hams, smoked duck, smoked chicken, Canadian bacon and cheeses. The pastry counter offered a selection of cookies, tarts, pastries and other sweets. There were croissants, baguettes and assorted breads. Olive oil, teas, flavored vinegars and mustards were also available.
Bernard's Food Boutique was short lived. It closed early in 1985.