Lost Tables: Remembering Port St. Louis
Harley Hammerman, Special For The Jewish Light
Published September 27, 2022
Wade DeWoskin belonged to a large Jewish family that included St. Louis Jewish Light Editor-in-Emeritus, Bob Cohn. DeWoskin opened Port St. Louis in Gaslight Square in October of 1960.
"My dad had a small grocery store, so you could say I started in the food business when I was 10 years old. When I came out of the service, I worked with him again.
"In 1959, a friend and I decided to open a business in the Gaslight Square area. We thought we could do it part time and continue working."
DeWoskin and his wife, Lois, acquired an old Victorian residence at 4283 Olive, which they thought was a good location for a bar.
"It's funny how things develop. We had intended to just have a bar with sandwiches. But there were already enough bars and sandwiches, so they didn't need us. I had a brother-in-law who was a chef and he said, 'Let's do a shellfish house, something we don't have in St. Louis.' He stayed with us about two months to get things started and then he took off."
"I had no background in the business," DeWoskin continued, "but I guess I did have a little flair and a little taste because from the moment we opened, people seemed to like what we did even though we didn't exactly know what we were doing."
Port St. Louis thrived, as Gaslight Square thrived. But as the area changed in the mid 1960s, restaurants and bars began closing. In 1966, Wade and Lois DeWoskin made the decision to move their seafood restaurant to Clayton.
The DeWoskins moved Port St. Louis to 15 North Central in Clayton towards the end of 1966. They bought the building two or three years later.
"We moved her on a thread and a prayer," Lois DeWoskin said with a laugh. "We mortgaged our house to open this place and everyone said we were crazy. The location had been a three-time loser. But we thought a restaurant that served good food and had an interesting appearance might make it."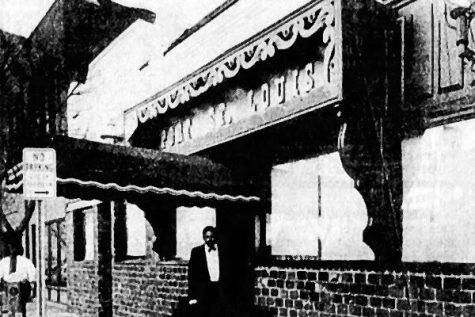 In 1972, the DeWoskins found it necessary to enlarge their restaurant, increasing its capacity to 175 diners. They acquired an adjoining dress shop which necessitated still more antique acquisitions. Their new dining room, called the Chouteau Room, was named for the historic Chouteau home on South Broadway.
Port St. Louis indeed had an "interesting appearance."  It was decorated with expensive antiques the DeWoskins had collected over the years. Many of the antiques had been moved from their Gaslight Square location.
Many items in the new room came from the old home, including a one-of-a-kind German fireplace mantel and stunning chandeliers of copper and brass, with cranberry glass shades to fit the color scheme. There was red velvet flocked wallpaper and ruby lights from lighting fixtures obtained from the Three Fountains restaurant in Gaslight Square.
The red color scheme of the new room was contrasted by touches of black, among them the bands on the service plates and the black brocade patterned chair seats. There were tall stained glass windows on the north wall depicting the Garden of Eden and Noah's Ark, which hung under the room's striking 13½ foot zinc ceiling.
On April 27, 1977, a fire caused heavy damage to Port St. Louis. The Chouteau Room escaped major damage, but many irreplaceable antiques were destroyed. The DeWoskins rebuilt and reopened their restaurant the following November. The remodeling offered more waiting space, including an area to sit just inside the front door, with the bar smaller and moved toward the rear.
Port St. Louis quickly became the outstanding seafood restaurant in the area. When it moved to Clayton from Gaslight Square, it was open for both lunch and dinner. After the fire, only dinner was offered.