Jewish BBQ master Steven Raichlen brings his show "Project Fire" to St. Louis
Jordan Palmer, Chief Digital Content Officer
Published April 15, 2022
The splendor of summer is approaching and that means backyard dwellers are thinking about spending more time outside, grilling and just relaxing. Some of us even turn on the old TV to find our favorite grill masters sharing their newest tricks, gadgets, and recipes.
But what many St. Louis Jews may not know is that one of the best grill shows is hosted by a self-described Jewish intellectual who was born in Japan and has a degree in French literature. That TV host is Steven Raichlen, the creator of the aptly named "Steven Raichlen's Project Fire."  
The show is an insightful exploration of how we grill today and how we will grill and smoke tomorrow. On-set guests and innovators of live fire cooking join Raichlen to share new techniques to elevate the backyard barbecue experience – from ember-roasting and salt slab grilling to fire-heated iron and high-tech rotisseries.
The show's fourth season, which features its "first-ever urban setting," was shot entirely at St. Louis at Union Station. The St. Louis season premieres Saturday, April 16, 11:30 a.m.  on Nine PBS and features a who's who of top local barbecue talent.
Steven Raichlen's Project Fire
"St. Louis is a sleeper when it comes to the great barbecue regions of the United States. Many think of Kansas City and Memphis, but what many don't really understand is the rich tradition of barbecue that is here," said Raichlen. "St. Louis may not be as famous as those cities, but the Gateway City is experiencing a live-fire renaissance."
Raichlen says he first discovered the greatness of St. Louis barbecue 20 years ago, while writing BBQ USA, which featured 425 fiery recipes from across America.
"St. Louis just wasn't well known at the time, but what I found here was a new wave of folks, bringing St. Louis' rich traditions into the 21st century," said Raichlen.
Project Fire: Top local talent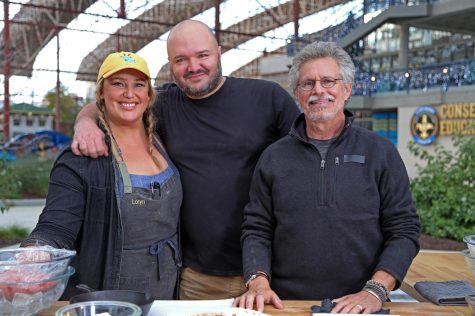 Raichlen's guests in St. Louis include some of the city's top chefs and pit masters along with television personalities and social media influencers.
Susie Bulloch, founder, Hey Grill Hey

 

Russell Cunningham, executive chef, St. Louis Union Station Hotel 

 

Diane Kochilas, host, My Greek Table

 

John Matthews, cofounder and owner, Pappy's Smokehouse 

 

Loryn and Edo Nalic, co-owners, Balkan Treat Box

 

David Olson, chef, Live Fire Republic

 

David Sandusky, owner/pitmaster, BEAST Craft BBQ Co.

 

Scott Thomas, author/blogger, Grillin' Fools

 

Earline Walker, formerly of Smoki O's BBQ

 

Derek Wolf, founder, Over the Fire Cooking  

 
A recurring segment, Project Fire Mystery Box, where Raichlen receives a mystery ingredient and then spontaneously creates a recipe on the set, is back. Other episodes in the St. Louis season include game day grilling, wagyu demystified, sandwiches and even a breakfast episode.
Meats sizzling on the grill include rib "wings," turkey "ribs," buffalo brisket burnt ends and a tasty beef tenderloin in a salt crust wrapped in wine-soaked cloth and cooked on embers.
Project Fire: Filming In St. Louis
For the first three seasons, Project Fire was shot in what Raichlen describes as "quiet environments." But for this season, and the show's first urban setting experiment, St. Louis itself is the backdrop. Raichlen says he could not be more impressed with our city, our food and the experience.
"What a great visual we had, to be surrounded by this beautiful city," said Raichlen. "I think our St. Louis audience will enjoy seeing the local talent getting some national and international exposure, while our audience from outside St. louis will get a chance to see why they need to add the city to their list for future barbecue roadtrips."
Raichlen is not only a barbeque lover, but of all foods as well, and says he got to try plenty of local fare and was impressed by them all.
"We visited and enjoyed, The Lucky Accomplice, Olive + Oak, and Indo. We had two spectacular meals at Corner 17 in University City, and we were wowed by their food," said Raichlen.