Families meld their own traditions into seder
The word "seder" means "order," which pertains to the required sequence of the telling of the story of Passover, no matter the particular Haggadah. Our family has several, including "The Yeshiva University Haggadah," "A Passover Haggadah" with comments by Elie Wiesel, and of course the most popular of all, "Maxwell House Coffee Haggadah." And while the English translations may vary, most Haggadot begin with the kiddush and end with the singing of "Chad Gadya." But as I discovered, many cultures and many families have created unique culinary and creative traditions within that seder order.
Take, for example, the traditional seder of the Jews of Yemen. In 2017, Lisa Samin described those traditions in an essay for The Jerusalem Post (https://bit.ly/Yemenite-seder). She explained that the entire table functions as the seder plate, and the matzah is not hard but soft, baked in a clay oven called a tabun. And while they do make chicken soup, the Yemini version could be an entire meal. It is cooked with whole pieces of chicken, a variety of vegetables, and a unique spice mixture called hawaijI. The soup is traditionally served over torn pieces of the soft matzah. I have included a recipe for such a soup below.
I spoke with my cousin Scott Lenga, who lives in Israel. (His soon-to-be-released book, "The Watchmakers," is a powerful Holocaust memoir about his father and two of his father's brothers, one of whom is my father.) Scott and I grew up together in St. Louis, and each of those years the first seder would be at my house and the second seder at Scott's. My mother served brisket as the main course, and my aunt Dorothy served a stuffed turkey. Fast forward to today. I rarely serve the same thing twice at my seders. That's because there are far too many possibilities.
But not so for my cousin Scott. "For my kids," he told me, "it's not a seder unless we have my mother's turkey and stuffing, which I make every year almost exactly the way she did."
But one thing he does do differently is asking his guests to bring one of their family's traditional dishes for the seder meal along with the story behind the dish. And, in an inspired "update," the karpas portion of Scott's seder is an actual salad rather than a measly sprig of parsley dipped in salt water. "That way no one is hungry during the first half of the seder," Scott explained.
Wow, I thought, what I would have given for a salad to hold me over all those years growing up!
Friends Carol Rubin and Howard Schlansky, with whom we have shared many lovely seders, begins their family one by involving everyone in a tzedakah project that takes place just before the seder begins. Carol contacts Jewish Family Services in advance to check on the organization's most pressing needs. Her projects have included soup in a jar; school backpacks filled with school supplies; toiletry items; and bags of healthy snacks. All guests happily contribute.
Another variation: The seder begins in the family room, where everyone can be comfortably seated or reclined (i.e., here is "how this night is different from all other nights"). Every guest is invited to write their name, the date of the seder and any additional artistic flourishes on a large white tablecloth. Once filled, the tablecloth is used on the seder table.
The large coffee table in the center of Carol and Howard's family room holds a seder plate along with some noshes, including Carol's delicious "eggplant" chopped liver, matzah crackers and gefilte fish. Everyone takes a turn reading passages from the Haggadah and Carol elicits discussion of various topics brought up by those passages. It's a highlight of the evening for the guests.
Our friends Brenda and Joe Pereles have also introduced several traditions to their seders. For example, when they get to the 10 plagues in the Hagaddah, everyone at the table dons a mask that aligns with a specific plague.
The meal portion of the Pereles' seders begins with gefilte fish, which Brenda's mother and grandmother always made "from scratch"—and, as with most such traditional recipes, never handwritten. So Brenda has developed her own version, which involves a can or jar of prepared gefilte fish recooked in a pot with onions, carrots, spices, and water. Once the fish has absorbed the new flavors, she refrigerates the whole thing. Then, just before serving the fish, Brenda sautés onions and round slices of carrots in butter and adds in the liquid from the cold fish. She serves  the fish on a lettuce leaf and drizzles each one with the warm sauce. Not quite her mother's, but close enough
And every Pereles seder meal ends with Brenda's flourless chocolate cake followed by each guest writing their name and date on the back page of their Haggadah, beneath those that have come before them.
I love hearing how others have worked within the prescribed order of the seder to create a unique family experience. If your family has any unusual traditions, please share them with me. Perhaps I can include some of yours in an upcoming column.
Chag Pesach sameach!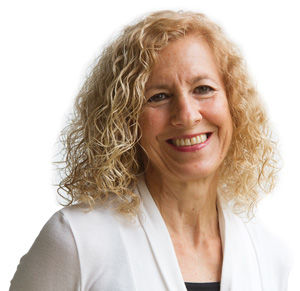 Margi Lenga Kahn is the mother of five and  grandmother of nine. While teaching virtual cooking classes and preparing meals for the local Meals On Wheels program, she continues to work on a project to preserve the stories and recipes of heritage cooks. She  welcomes your comments and suggestions at [email protected].
---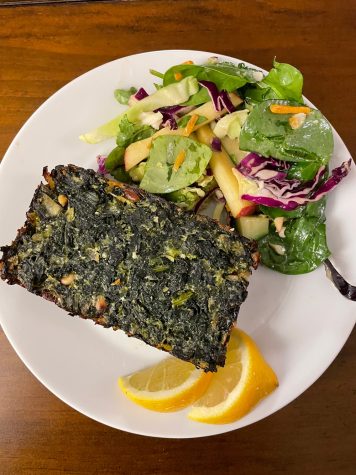 Recipe: Spinach and Swiss Chard "Updated" Kugel
(This recipe can be easily halved.)
Ingredients:
1 tbsp. olive oil, plus more for oiling baking dish
2 medium leeks, dark green portion discarded, light portion finely chopped
2 medium shallots, finely chopped
3 garlic cloves, peeled and minced
2 lbs. fresh spinach, stems discarded, rinsed, and coarsely chopped (you could substitute frozen chopped spinach, thawed and squeezed to release excess liquid)
2 bunches Swiss chard, stems and large ribs discarded, rinsed, and coarsely chopped (you could substitute fresh chopped kale)
2-3 tbsp. fresh minced dill
1 c. (8 oz.) whole-milk ricotta cheese
1 c. freshly grated Parmesan cheese (approximately 2 ounces), plus more for sprinkling
1/8 tsp. freshly grated nutmeg
Salt and freshly ground black pepper, to taste
1 ½ tbsp. toasted pine nuts (optional)
2 large eggs, lightly beaten
Your favorite salad, for serving with the kugel
Directions:
1. Preheat oven to 400 degrees. Oil a large rectangular or oval baking dish, or two smaller ones.
2. Heat olive oil in a very large deep pot over medium heat.  Add leeks, shallots, and garlic and sauté 5-10 minutes to soften. Raise heat and add large handfuls of spinach and chard to fill the pot.  Once the vegetables begin to wilt, add remaining greens. Continue to cook, stirring occasionally, until moisture has evaporated, about 15-25 minutes. Add 1 tsp. salt and stir to incorporate.
3. Transfer greens mixture to a large mixing bowl.  Stir in dill, ricotta cheese, Parmesan cheese, and pine nuts (if using).  Add beaten eggs, nutmeg, and salt and pepper, to taste. Stir well to combine.
4. Spoon greens mixture into prepared dish(s) and use a spatula to gently press mixture evenly into dish.
5. Bake kugel(s) for 30-40 minutes or until they are set.  Transfer to a cooling rack, sprinkle with grated Parmesan cheese, and let cool before slicing. Serve with a large salad on the side.
Makes 6-8 vegetarian main dish servings, or 10-12 side dish servings.
---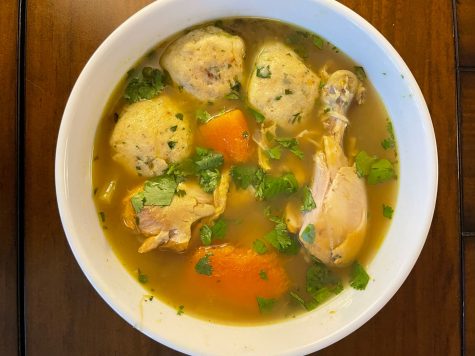 Recipe: Yemeni Chicken Soup with Vegetables & Matzah Balls
(Recipe adapted from Chef Einat Admony)
Ingredients
Hawaij Spice Mixture:
2 tbsp. ground cumin
1 tbsp. ground coriander
1 tbsp. ground turmeric
1 ½ tsp. ground black pepper, or to taste
1 tsp. ground cardamom
½ tsp. ground cloves
Soup:
6 skin-on, bone-in chicken drumsticks (about 1 ½ lb.), patted dry
2 skin-on, bone-in chicken thighs, patted dry
Coarse kosher salt, for sprinkling
2 tbsp. vegetable oil
1 large onion, cut into ½-inch pieces
1 whole head of garlic, most of outermost skins removed and ¼-inch cut off the top of the garlic bulb
2 large carrots, peeled and cut into 2-inch pieces
2 celery stalks, trimmed and cut into 1-inch pieces
2 dried bay leaves
1 quart (4 c.) chicken broth
½ tsp. ground cumin
½ tsp. ground turmeric
½ cup finely chopped cilantro, plus more for garnishing.
Half of a small butternut squash, peeled, cut into 2-inch pieces (about 1 lb.)
3 medium Yukon Gold potatoes (about 1¼ lb.), peeled and cut into 2-inch pieces
Coarse kosher salt, to taste
Freshly ground black pepper, to taste
Matzo balls:
4 large eggs
¼ cup vegetable oil
2 tbsp. finely chopped cilantro
2 tsp. dried fenugreek leaves, crushed, or 3/4 tsp. ground fenugreek seeds
½ -1 tsp. coarse Kosher salt, or to taste
Freshly ground black pepper to taste
1 cup matzo meal
Directions
Hawaij:
1. Combine cumin, coriander, turmeric, pepper, cardamom, and cloves in a small bowl; stir to combine. (Note: Hawaij can be made 1 month ahead. Store in an airtight jar or container at room temperature.)
Soup:
1. Generously season chicken with salt. Heat oil in a large heavy pot (at least 7 quarts) over medium-high. Cook chicken, turning occasionally, until browned on all sides, 12–16 minutes. Transfer chicken pieces to a plate; reserve.
2. Reduce heat to medium. Add onion and garlic to pot. Cook, stirring, until onion is golden, about 10 minutes. Add carrots, celery, bay leaves, broth, and 3 quarts cold water along with chicken to pot. Cover and bring to a boil, skimming any foam from surface. Add cumin, turmeric, 2 tbsp. hawaij, and ½ c. chopped cilantro. Reduce heat so soup is at a bare simmer, cover, and cook for 15 minutes. Add butternut squash and potatoes, bring to a light boil and re-cover pot. Reduce heat and simmer soup for another 45 minutes. Taste, adding more salt and pepper, as needed. (Soup can be made up to 2 days in advance. Reheat over a medium-low temperature.)
Matzo balls:
1. Whisk eggs, oil, cilantro, fenugreek, salt, a pinch of pepper, and ¼ cup broth from soup in a medium bowl to combine. Whisk in matzo meal; cover and chill dough until cold, at least 30 minutes.
2. Bring a large pot of water to a light boil with 2 tsp. salt.
3. Working one at a time, shape dough into ping-pong-size balls (about a heaping tablespoonful each).
4. Add matzo balls, one at a time, to the boiling water. Cover pot with lid and reduce heat to simmer.
5. Continue cooking matzo balls for about 30 minutes or until they are light and floating at the top of the pot. Using a slotted spoon, transfer matzo balls to a bowl.
6. Reheat soup. Place 2 matzo balls in each bowl and spoon soup and a mixture of chicken and vegetables over matzo balls.
7. Garnish each bowl with chopped cilantro; serve.
Makes 6-8 servings.
---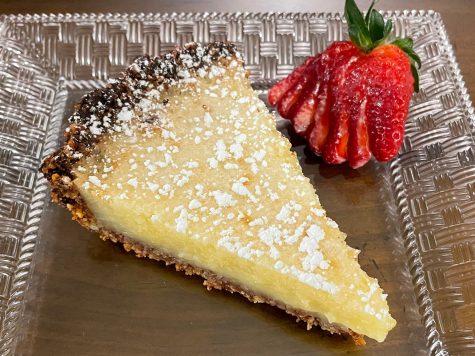 Recipe: Creamy Lemon Tart with Coconut Date-Nut Crust
(Recipe adapted from Dorie Greenspan, New York Times)
Ingredients
Crust:
1 c. almonds, toasted
2/3 c. pecans, toasted
1 c. Medjool dates, pitted
3/4 c. shredded unsweetened coconut
3 tbsp. coconut oil
1 egg white lightly whisked, to brush on bottom of crust
Lemon Filling:
1 medium-large lemon, scrubbed and dried
1 ¼ c./250 g. granulated sugar
2 large eggs, at room temperature
3 tbsp./24 g. potato starch
4 ounces/113 g. unsalted butter melted and cooled
Powdered sugar, for dusting top of pie
Directions
1. Center a rack in the oven and preheat oven to 325 degrees.
2.  Place all the nuts in the bowl of a food processor. Process until evenly chopped. Add dates, coconut, and coconut oil to nuts and pulse processor until everything is combined, finely chopped, and mixture holds together when pressed.
3.  Lightly oil a 9-inch pie plate; press date-nut mixture evenly onto bottom and up the sides of the plate. Brush bottom of crust with a thin layer of lightly beaten egg white. Place in oven and bake for 10 minutes. Set pie plate onto cooling rack; let cool.
4.  Cut the lemon into thin slices and discard the seeds. Place the lemon slices (and any residual juices) and sugar into the bowl of a food processor; process for 3 minutes (or longer until completely pureed), scraping the bowl as needed, until mixture is smooth. With the machine running, add the eggs, one at a time, and then, when they're fully incorporated, add the potato starch followed by the melted butter. Remove the bowl and tap it against the counter a few times.
5. Set the cooled pie plate onto a baking sheet and pour the lemon filling into the crust. Carefully place everything in the oven and bake the pie for 45 to 55 minutes, or until the filling is puffy and lightly browned, and the center slightly jiggles when you lightly shake the pie (don't worry if the top is cracked). Gently insert a toothpick into the center of the pie-it should come out clean. Transfer the pie, still on the baking sheet, to a cooling rack. Let cool to room temperature. (At this point, the tart can be served, refrigerated, or frozen for up to 2 weeks. To freeze, cover it tightly with plastic wrap, not letting the wrap touch the filling. Slide covered pie into a plastic bag and freeze. Let thaw in the refrigerator for 6 hours before serving.)
6.  Before serving, dust pie lightly with powdered sugar and slice.
Makes 1, 9-inch pie.