Two recipes perfect for a Tu B'shvat Seder
Jordan Palmer, Chief Digital Content Officer
Published February 1, 2023
This weekend Jews around the world will celebrate Tu B'shvat, the Jewish new year for trees. In the Torah, fruit bearing trees are revered because of their importance in sustaining life. The name is Hebrew for the 15th of the Hebrew month of Shevat.
In 2023, Tu B'shvat begins at sundown on Sunday, Feb. 5 and ends at sundown on Monday, Feb. 6.
"Tu B'shvat symbolizes the renewal of a tree's life. The sap rises up from deep within the tree as it begins to prepare for the growing of fruits in spring. So, we celebrate by eating fruit," said Jewish cookbook author Naomi Ross, whose latest is called "The Giving Table." She says Tu B'shvat always marks a special time in her household.
"When my kids were younger, I would prepare lots of fruits and come up with trivia games to get them interested," she added. "Now that they are a little older, I prepare some spruced-up fruit dishes. I am aiming to do a Tu B'shvat  'seder' as well."
The Tu B'shvat Seder
In the 16th century, the Kabbalists of Tzfat created a new ritual to celebrate Tu B'shvat called the Feast of Fruits. Modeled on the Passover seder, participants would read selections from the Hebrew Bible and eat fruits and nuts traditionally associated with the land of Israel.
Ross says there are three things anyone can do to conduct a Tu B'shvat seder:
1) Eat of the 7 species of the Land of Israel: wheat (berries), barley, grapes, figs, pomegranate, olives and dates.
2) Have a new fruit and say the blessing of "shehecheyanu"
3) If possible, eat a fruit that was grown in the Land of Israel (a little more challenging!!)."
Two Recipe Ideas
To make things even easier, Ross has allowed us to provide you with two recipes from "The Giving Table" that she says are perfect for Tu B'shavat.
Winter Citrus Fruit Salad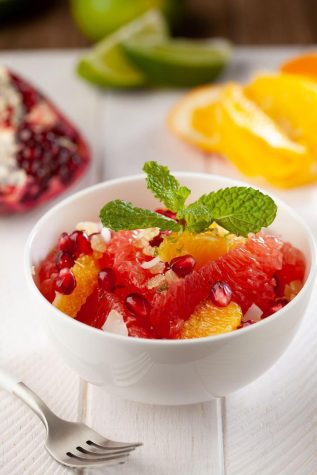 Wonderfully refreshing and beautiful to the eye, this is an impressive upgrade from a sectioned grapefruit as an appetizer. It's also delicious served over Greek or coconut yogurt for a healthful breakfast or brunch!
2 ruby red grapefruits
3 large navel oranges
1⁄2 cup pomegranate seeds (about 1⁄3 pomegranate)
2 Tablespoons flaked coconut
1⁄2 teaspoon grated lime zest (from about 1⁄2 lime)
juice of 1 lime
juice of 1⁄2 lemon
3–4 teaspoons honey, or more to taste (depending on the sweetness of the fruit)
1⁄8–1⁄4 teaspoon cinnamon
2 teaspoons triple sec or orange-flavored liqueur
1–2 Tablespoons finely chopped crystallized ginger
Peel: Cut off the polar ends of the grapefruits with a sharp serrated knife. Following the curvature of the fruit, slice the peel off, being careful not to cut away too much fruit. Trim away the white pith.
Supreme: With a gentle sawing motion, make incisions along each membrane, only going as far as the center of the fruit. Working over a large bowl, gently release the grapefruit sections into the bowl. (You will be left with the empty membranes in your hand; discard.)
Repeat: Repeat the same process with the oranges, adding the orange segments to the bowl.
Add the pomegranate seeds and coconut.
Dress: In a small bowl, combine lime zest, lime and lemon juices, honey, cinnamon, and liqueur. Whisk until well blended. Pour this mixture over the segments; mix to blend. Set aside to marinate for 10–15 minutes. Spoon into dessert cups and top with a little sprinkling of chopped crystallized ginger. Serve and enjoy!
Serving Tips
This salad has gorgeous color contrasts. For an even bolder look, replace some navel orange with blood orange.
Serve in a dessert bowl or hollow out half of an orange and fill.
This salad is simple enough to put together on Shabbos, but make sure to prepare the dressing in advance, to avoid squeezing and grating on Shabbos.
---
Wheat Berry Salad with Grapes and Hazelnuts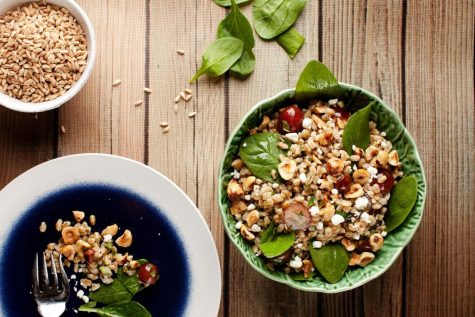 This whole-grain salad can also be made with farro or freekeh — each has their own unique earthy flavor which complements the aromatic hazelnuts.
4 ounces whole hazelnuts 1 cup wheat berries
3½ cups water, or to cover
¼ teaspoon kosher salt, plus more to taste
1½ cups halved red grapes
2–3 scallions, thinly sliced
3 Tablespoons minced fresh mint
2 Tablespoons minced fresh parsley freshly ground black pepper, to taste
⅓–½ cup crumbled feta or blue cheese (optional)
Dressing
2 Tablespoons white wine vinegar
2 Tablespoons freshly squeezed lemon juice (from 1 lemon)
1 teaspoon Dijon mustard
1½ Tablespoons minced shallot (from about ½ small shallot)
2 teaspoons honey
¾ teaspoon kosher salt, or more to taste freshly ground black pepper, to taste
½ cup olive or grapeseed oil (scant)
Toast nuts: Preheat oven to 325°F. Prepare a sheet pan lined with aluminum foil; spread hazelnuts in an even layer on sheet pan. Bake for 12–15 minutes — skins should appear flaking and cracked. Remove from oven, cool, and rub nuts with fingertips or dish towel to remove skins. Coarsely chop and set aside.
Cook wheat berries: Place wheat berries in a large dry saucepan over medium heat. Toast briefly for about 2–3 minutes. Add water to cover and ¼ teaspoon salt. Bring to a rolling boil over medium-high heat, then reduce heat to low, cover, and simmer for 45–55 minutes or until tender. Wheat berries should be tender with a bite, but not mushy. Drain; set aside. (Alternatively, wheat berries can be prepared in an electric pressure cooker on high pressure for 20–22 minutes.)
Prepare dressing: Combine vinegar, lemon juice, mustard, shallot, honey, salt, and pepper in a mixing bowl. Whisk to blend. Slowly drizzle in oil while continuously whisking to blend until emulsified. Season to taste with salt and pepper as needed.
Dress: Pour dressing over warm wheat berries, tossing to coat. Add remaining ingredients and mix to blend. Season to taste with salt and pepper. Fold in reserved chopped hazelnuts. Serve at room temperature.
Cooks Tips
Toasting nuts refreshes the natural oils in the nuts, making them more aromatic and improving their crunch. Toasted pecans can also be used if hazelnuts are not available.
("Both recipes are reprinted with permission from Menucha Publishers")