Gershenson-Andereck Wedding
Published September 9, 2022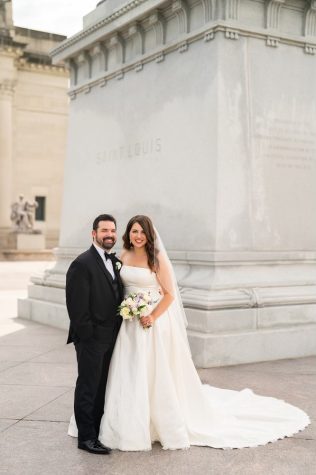 Sarah Gershenson and Andrew Andereck were married June 4, 2022 at the St. Louis Art Museum. Rabbi Howard Kaplansky of United Hebrew Congregation officiated.
Sarah is the daughter of Debbie and Dean Gershenson of Chesterfield and the granddaughter of Harvey and the late Audrey Gershenson of St. Louis, and the late Ruth and Melvin Miller.
Andrew is the son of Debbie and Roger Hunt of Manchester and the grandson of the late Mary Catherine Andereck.
Jennifer Sutton served as Maid of Honor. The bridesmaids included friends Ashley Specter, Caitlin Poelker and Karen Berman, as well as the groom's sisters, Courtney Wells and Kyle McCool. The groom's niece, Campbell McCool, served as the junior bridesmaid.
Andrew Sommer served as Best Man. The groomsmen were friends Matt Specter and Mason Poelker, as well as the groom's brother, Patrick Hunt, and the bride's brother, Scott Gershenson.
Flower girls were Ryann McCool, Winnie Wells, Barrett Wells and Thea Wells, all nieces of the groom.
Sarah and Andrew honeymooned in Punta Cana, Dominican Republic. The couple resides in St. Louis.