Jewish art inside the St. Louis Art Museum: Marc Chagall's 'Temptation'
The St. Louis Art Museum attracts art lovers from around the country.  But, did you know that this treasure located at the top of Art Hill in Forest Park houses a truly impressive collection of Jewish art in many forms. Jewish Art Inside the St. Louis Art Museum is a collaboration between the Jewish Light and Dale Sharon, a 25 year docent at the St. Louis Art Museum, a SLAM Board of Trustees member and an exhibited artist. Dale simply loves art, and through her passion, we hope to learn more about the amazing Jewish connection at the St. Louis Art Museum.
---
What is Jewish Art
Like any definition of art, the possible answers to this question are infinite, but for our purposes here in focusing on the SLAM collection, we are focusing on:
Jewish artists.
Jewish ceremonial art, also known as Judaica.
Art in which the subject matter is the Hebrew Scriptures.
Art depicting Jewish subjects.
Judaism found in history.
Jewish donors to the museum's collection.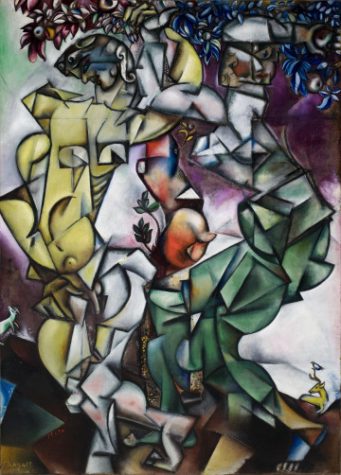 The Story Of Marc Chagall's 'Temptation'
Marc Chagall was born in Vitebsk (Belarus, which was still an integral part of the Russian Empire) on 7th July 1887. He was the eldest of nine children in a poor Jewish family – his father was a herring merchant.
Despite the art world being a far cry from his humble background, he was introduced to painting while going along to the studio of a local painter – Jehuda Pen – after his secondary schooling was cut short. Not long after that he met Bella, the daughter of modest jewellers, who became his fiancée and source of inspiration.
Chagall would travel from Russia to Paris, to Berlin and back again just before the start of World War I. In 1917, endorsing the revolution, he was appointed Commissar for Fine Arts in Vitebsk
and then director of the newly established Free Academy of Art. After the war, Chagall left Russia, settling in France one year later. He lived there permanently except for the years 1941 – 1948 when, fleeing France during World War II, he resided in the United States.
Chagall's horror over the Nazi rise to power is expressed in works depicting Jewish martyrs and refugees. In addition to images of the Jewish world, Chagall's paintings are inspired by themes
from the Bible. His fascination with the Bible culminated in a series of over 100 etchings illustrating the Bible, many of which incorporate elements from folklore and from religious life in Russia.
"Although for a long time many art scholars and critics dismissed Marc Chagall as kitsch or mere interior decoration, I have always felt he possessed a kind of unique genius for expressing the joys of life," said Dale Sharon. "When we think of Chagall, we visualize his fanciful images of blue cows, flying lovers, biblical prophets and green-faced fiddlers on roofs. Just talking about them make you smile."
Throughout his 75-year career, during which he produced an astounding 10,000 works, his pictorial universe set him apart from much of 20th-century art, which focused on abstraction.
"Temptation" is an Oil Painting on canvas, created in 1912, during his first visit to Paris. In this biblical narrative, Eve grasps the forbidden apple, which she will hand to Adam. Animal figures are dotted throughout the composition, including a bird perched on the antlers of a deer to the bottom right. Chagall treated this traditional subject in a highly modern, Cubist style, which he encountered after moving to Paris in 1910. Forms are broken down into faceted planes; the Cubist device of the split face allows Eve to look at both the apple and its destination.
According to the St. Louis Art Museum, there are three Chagall works in the collection. The Pink Cow, also painted in 1912, and the Russian Village from 1921. We will focus on these works in a future article.
---
Last month Dale Sharon began hosting a four-part series for the Mirowitz Center on Zoom that will look at Jewish Touchpoints at the St. Louis Art Museum. The zoom sessions will occur on four Mondays at 10 a.m.  The series will continue on July 19, Aug. 23 and Sept. 20.
Over the course of this series, which will be offered monthly through September, participants will "brush up" on Judaica, on Jewish artists and on Biblical stories, all in the context of works from the permanent collection of the St. Louis Art Museum. The series will also "fill in the picture" with a look at Jewish donors, Jewish subjects and Jewish history, as they link to and connect with the art at SLAM.  Each work that will be spotlighted is, in some way, an expression of Jewish experience, history or culture.
Register online, call 314-733-9813 or email [email protected].