Jewish art inside the St. Louis Art Museum: Rembrandt
The St. Louis Art Museum attracts art lovers from around the country. The museum's collections and special exhibits showcase a wide variety of paintings, sculptures and more. But, did you know that this treasure located at the top of Art Hill in Forest Park houses a truly impressive collection of Jewish art in many forms. Jewish Art Inside the St. Louis Art Museum is a collaboration between the Jewish Light and Dale Sharon, a 25 year docent at the St. Louis Art Museum, a SLAM Board of Trustees member and an exhibited artist. Dale simply loves art, and through her passion, we hope to learn more about the amazing Jewish connection at the St. Louis Art Museum.
On June 28th, Dale Sharon will begin hosting a four-part series for the Mirowitz Center on Zoom that will look at Jewish Touchpoints at the St. Louis Art Museum. The zoom sessions will occur on four Mondays at 10 a.m.  The series will continue on July 19, Aug. 23 and Sept. 20.
Over the course of this series, which will be offered monthly through September, participants will "brush up" on Judaica, on Jewish artists and on Biblical stories, all in the context of works from the permanent collection of the St. Louis Art Museum. The series will also "fill in the picture" with a look at Jewish donors, Jewish subjects and Jewish history, as they link to and connect with the art at SLAM.  Each work that will be spotlighted is, in some way, an expression of Jewish experience, history or culture.
Register online, call 314-733-9813 or email [email protected].
---
What is Jewish Art
Like any definition of art, the possible answers to this question are infinite, but for our purposes here in focusing on the SLAM collection, we are focusing on:
Jewish artists.
Jewish ceremonial art, also known as Judaica.
Art in which the subject matter is the Hebrew Scriptures.
Art depicting Jewish subjects.
Judaism found in history.
Jewish donors to the museum's collection.
Old Testament Art: Rembrandt
There are few artists more universally known as Rembrandt.  The St. Louis Art Museum is home to 35 works of art from the Dutch master, including "Abraham Entertaining The Angels," and "David in Prayer."
Born in Leiden, Holland, Rembrandt Harmenszoon van Rijn moved to Amsterdam in 1631. He lived in the quarter that was also home to prominent Sefardim and poor but learned Ashkenazim. He is supposed to have been friendly with philosopher Baruch Spinoza and used his neighbors as models. 400 years later, is Old Testament and Jewish themed work is getting a fresh look. In Amsterdam, the Rijksmuseum has explored how the artist retold Bible stories in his Old Testament etchings and drawings, and an exhibit at the Biblical Museum will survey his. Several new books also discuss Rembrandt's relation to his very Jewish milieu.
Abraham Entertaining the Angels
According to the Jewish History Museum in Amsterdam, there is a story "that Rembrandt went to visit a synagogue, and in the synagogue he saw such interesting faces and he is presumed to have thought this is how Jesus must have looked," said Edward van Voolen, curator at the JHM. "Jews have been fascinated by Rembrandt at least since the mid-19th century and all through the 20th, up to today. That is why we have his dark-haired and dark-eyed, Jewish-looking Jesuses."
Historians believe Rembrandts focus on religion and Old and New Testament stories began around 1642 after the death of of his wife. This however was not the taste of Holland at the time and so by 1656 Rembrandt was penniless and moved to a poorer district of the city, in the Jewish section. Here his work grew in human understanding and compassion. Living in the Jewish quarter of Amsterdam, he began his greatest series of images – his biblical oil paintings and prints.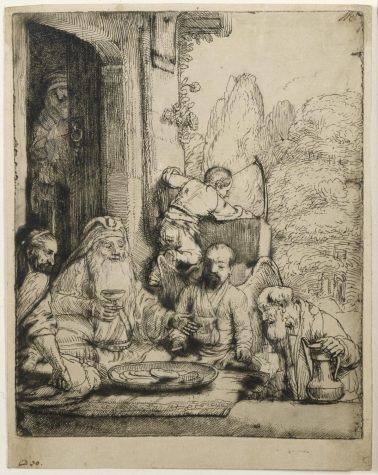 In this print from the SLAM collection, Rembrandt presents God, the bearded gesturing figure at left, when he tells Abraham that his elderly wife Sarah "shall have a son." Sarah, the eavesdropping figure at the cottage door, laughs in disbelief. Rembrandt's masterful use of tone, paper, and drypoint technique enhance the narrative; in this instance, Rembrandt carefully wiped the surface of the plate with ink to veil further the figure of Sarah in the doorway. This not only accentuates her hiding but also points out her ignorance about her visitors, their message, and her fate.
"Rembrandt's use of a golden Japanese paper contributes a sense of warmth and intimacy to the image," says Dale Sharon of the piece. "This impression is one of the earliest printed from the copperplate."
David in Prayer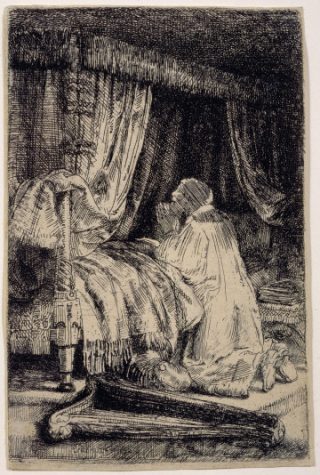 The subject of this print on the looks deceptively simple: a man in his nightshirt kneels in prayer by his bed. The harp, however, identifies him as King David, the singer and writer of the Psalms. A large pillow at his knees and the unmade bed hint at specific penitential psalms in which David confesses his adultery with Bathsheba: "I am weary with my moaning; every night I flood my bed with tears" (Psalms 6:6).
Rembrandt added emotional and psychological depth to his subjects through expressive faces, dramatic body language, and his bold use of shadow and light.
"Rembrandt made close to 350 etchings during his lifetime," said Sharon." He reworked his copper plates, adding new details, thus creating several unique versions (or "states") of a given work of art. He was so imaginative and skillful that even scratches and accidents with the acid wash would be used to his advantage."
---