The secret Jewish history of the famous Easter treats "Peeps"
Just as ironic as the fact that "White Christmas" was written by a Jewish composer named Irving Berlin, Peeps, those famously neon-colored marshmallow Easter treats, are also produced by Jews. Based in Bethlehem, Pennsylvania, Just Born Quality Confections has been churning out these decidedly non-kosher sugary sweets since 1953 when it purchased the Rodda Candy Company. While Roscoe Rodda had come up with the original concept of "3D marshmallows," Jewish immigrant Sam Born developed the Peeps we know today.
Educated at rabbinical school in the Ukraine, Sam Born learned the candy business as a teenager when his family fled to France. In 1910, he arrived in the United States and just six years later was awarded the key to the city of San Francisco for his invention of a machine that inserts sticks into lollipops. Joined by his brother-in-law Jack Shaffer and Jack's brother Irv, Sam Born opened candy stores that emphasized freshness with the tag line, "Just Born."
Just Born prospered even during the Depression and in 1932 moved to a large manufacturing facility in Bethlehem. From there, the company introduced such brands as Mike and Ike's and Hot Tamales.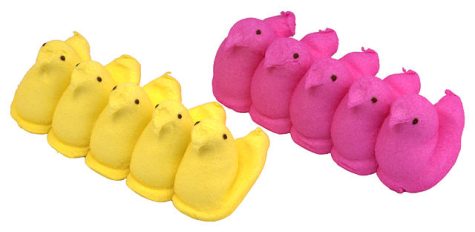 But Peeps are the true cultural phenomenon. While it took Rodda 27 hours to make one Peep by hand, Born and his son Bob mechanized the process so that it took just six minutes. By the 1960s, shapes other than the iconic chick were introduced and today over 50 varieties are offered year-round, many in conjunction with holidays like Halloween and Christmas. A staggering 5.5 million Peeps are produced every day! The company has three Peeps retail stores with t-shirts declaring "Imagine World Peeps." Fans can also participate in annual Peep diorama contests held across the country where scenes are recreated using Peeps. The Washington DC area hosts one of the better-known of these competitions. This year's winner? "The Peeple Vs. O.J. Simpson."
The Born family has a strong tradition of supporting Jewish causes and have been honored by the Federation of Jewish Philanthropy, the United Jewish Appeal and the Israeli government's Shema Yisrael Award. Not to mention the Candy Hall of Fame. Today, Sam's grandson Ross Born and Irv Shaffer's son David serve as co-CEOs.
So what is it about Peeps' lasting appeal? A company spokesperson tells us, "Peeps have been around for more than 60 years, so generations of family members are passing on their love to their kids. They are practically synonymous with spring."