Rebellious retiree not ready to be put out to pasture in Israeli comedy
CATE MARQUIS, Special to the Jewish Light
Published February 22, 2022
In the delightfully funny Israeli comedy "Greener Pastures," a retiree named Dov (Shlomo Bar-Aba) feels like he has been put out to pasture, and not a greener one. The widower grandpa in his 70s is dismayed that his daughter, who lives out of town, has moved him to a retirement home and out of the house he loves. A retired postal worker, he has been done out of his pension following privatization.
Sure, the retirement community he's in is nice, but it's not home, and he hates it even though he has only been there one week. Dov is determined to find a way to buy his house back, intending to move back and stay there until he dies. Dov's grandson shows little interest but his girlfriend Dana (Joy Rieger), a lawyer, is a more sympathetic ear.
Enter the grass — the medicinal marijuana that all Israeli seniors are eligible to get through prescription. While pot is illegal in Israel, it is easily available to its senior citizens. Dov isn't interested in smoking it, but he recognizes selling it could help him raise the funds to buy back his old house. A colorful old pothead, now in a wheelchair, Yehuda (Doval'e Glickman), who lives nearby, helps with getting the business rolling. A friend of Dana helps as well. Soon, Dov is well on the way to funding his plan to buy back his home, if he can just stay out of jail.
A nosy cop and a pair of sinister gangsters are all part of this tale of a rebellious retiree who is not content to accept what fate has dealt him.
This film is superbly acted, with an ensemble cast on their toes with comic timing. Assaf Abiri and Matan Guggenheim co-wrote and co-directed this sly comedy, which has been nominated for 12 Ophirs, Israel's version of an Oscar. Crackling comic dialog blends humor with family drama, thriller and even romance, along with some social commentary, and it's all topped with a clever twist at the end.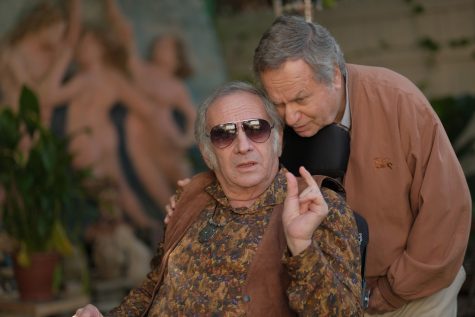 It is a big plus that seniors are treated with respect in this comedy, as smart resourceful people and not objects of fun themselves. "Greener Pastures" uses its humor to tackles the issue of cannabis in modern Israel, as well as attitudes toward senior citizens, the impact of privatization, and even government corruption, all done with the satiric humor. "Greener Pastures" also spotlights friendships across generations and finding a second chance late in life.
But it's the cast that really makes this film.
Shlomo Bar-Aba as Dov is delightfully droll, deadpanning in scene after scene. His slightly sarcastic delivery is particularly funny against the broad humor of Doval'e Glickman as Yehuda, an older wheelchair-bound rock star wannabee, whose slangy speech and kingpin posing have Dov rolling his eyes and us guffawing.
By contrast the warmth that grows between Dov and his grandson's girlfriend Dana, played with charm by Rieger, is appealing, and a dash of romance is added by Dov's relationship with the retirement home's doctor.
While things go smoothly in the pot biz at first, and Dov is on the way to having enough to buy back his house, a bumpier ride is in the offing when a cop starts sniffing around and a powerful gangster enters the picture. The film develops a little thriller side as the story progresses and Dov and his friends find themselves in a tight spot.
"Greener Pastures" is filled with comic delights, snappy dialogue, fine performances, some thought-provoking subtext and nice final twist to cap it all, making it one enjoyable film.
---
'Greener Pastures'
Part of the St. Louis Jewish Film Festival
In Hebrew with English subtitles; running time: 1:28
For more information on the 2022 festival, read our overview story here.