Marin Alsop leads the way in uplifting documentary 'The Conductor'
CATE MARQUIS, Special to the Jewish Light
Published March 2, 2022
Joyful is a good word for Bernadette Wegenstein's delightful, inspiring biographical documentary "The Conductor," about Marin Alsop, the first woman conductor of a major American orchestra, the Baltimore Symphony Orchestra. It is still an exceedingly rare thing, even in the 21st century, for a woman to lead a major American orchestra, even rarer than a woman leading a nation. 
The documentary, one of the featured films at the 2022 St. Louis Jewish Film Festival, spotlights the career and life of Alsop. She has led a life of firsts and impressive accomplishments, including winning a MacArthur "Genius Grant." This enjoyable, informative documentary also offers insights on what conductors do and why they are necessary, and features including some archival footage of Leonard Bernstein speaking on the subject. 
It was Bernstein who inspired Alsop to want to become a conductor, and later became her mentor. We get plenty of Bernstein in archival footage encouraging young Alsop.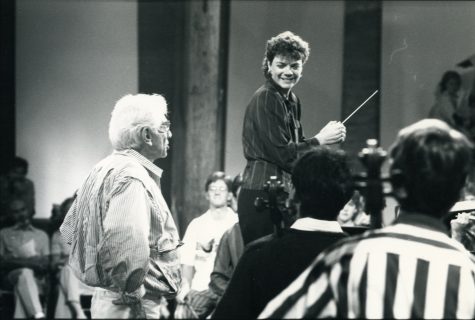 Alsop herself is a funny, smart, charismatic woman who projects immense charm and down-to-earth wit, and an amazing commitment to music. Even if you are not much of a classical music fan, the documentary still delights. However, for those who are serious aficionados, endless pleasures fill this excellent documentary – it is full of glorious music alongside insights on conductors, and one heck of an underdog story. 
The beautiful music in "The Conductor" will lift hearts, just as Alsop's remarkable story — of a woman musician who dreamed of being a conductor and just wouldn't take no for an answer — will inspire viewers. 
As the only child of struggling Jewish professional classical musicians in New York City, it was often a lonely childhood for Marin, as her freelancing parents worked as many as four jobs a day. It was a foregone conclusion Marin would be a musician, but at about age 9, she had a life-altering experience when she attended a children's concert led by Bernstein. The famed conductor spoke directly to the young audience about the music and, immediately, he became her hero. She knew instantly what she wanted to do in life: become a conductor. 
However, when she excitedly shared her new ambition with her teacher at Juilliard, she was told flatly women couldn't be conductors. It seemed everyone opposed the idea — except her musician father. And later, her mentor, Leonard Bernstein. 
Alsop's love of music, and people, is infectious and her personal charm is part of the appeal here. The music is woven throughout this wild but true story, much of which is told by Alsop herself. She is a spellbinding speaker, quick-witted and accessible. Director Wegenstein combines those wonderful scenes with archival stills and footage, additional interviews and a few scenes dramatically recreating Alsop's childhood experiences.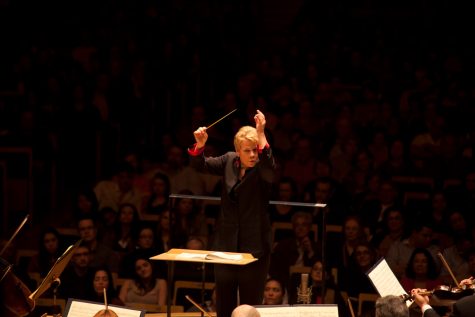 Alsop is also determined and stubborn. At one point, she tells us that the best way to get her to do something is to tell her she can't.
Although music seemed always in her future, Alsop's journey was no straight shot. "I tried to turn every struggle into an opportunity," Alsop says at one point. Chafing under the strict rules and controlling teachers at Juilliard, where she felt smothered individuality, Alsop suddenly veered from the Julliard track. She switched to attend Yale, considering pursuing a career outside music. 
Breaking away from classical, she decided she wanted to play rock and roll violin (something unheard of at the time, she notes) but instead paired with a jazz composer and started a Swing-style jazz orchestra, even assembling an all-woman band, named Swing Fever. 
Trying to return to Juilliard to study conducting, Alsop found her way blocked. So with the help of a Japanese businessman investor, she formed her own orchestra, began to conduct and gain experience. In 1989, she won a prize to be a student conductor at Tanglewood, which brought her back to her hero, Leonard Bernstein, who became her mentor.
The documentary not only details Alsop's professional triumphs but aspects of her personal life, and her commitment to opening doors for others. There is footage of Alsop teaching and her mentorship projects, including a music program for disadvantaged city kids. 
"The Conductor" is exhilarating in its uplifting, underdog story, made even more heartwarming by the presence of the charming Marin Alsop and backed by wonderful music. It is nearly impossible to leave this film without a smile on your face. 
---
'The Conductor'
Part of the St. Louis Jewish Film Festival
When/Where: Films are available online, March 6-13
Running time: 1:30
More info: Visit stljewishfilmfestival.org to purchase tickets or to access a prerecorded virtual discussion between the film's director, Bernadette Wegenstein, and Erik Finley, Vice President and General Manager of the St. Louis Symphony Orchestra.