'Licorice Pizza' Review: Paul Thomas Anderson's immensely personal film is one of 2021's best
Dan Buffa, Special to the Jewish Light
Published December 22, 2021
Gary and Alana are the best friends who constantly flirt with the idea of being something more. Like a future couple having to get to know each other first in relationship customs, they are oddball personalities that somehow sync up every time they are within six feet of each other. Finishing each other's sentences, knowing how to burn each other, and being there in case of harm starts to come easy to the two of them: a 15-year-old and a 25-year-old.
Disclaimer: Yes, there's an age gap between the two characters at the heart of this film. It's a movie, and in this land, people don't have to follow the contemporary rules of society. Why should two consenting young people have to ask the world if they are allowed to one day be together?
The actors
The younger Gary, played by newcomer Cooper Hoffman (son of the late, great Philip Seymour), looks and talks a lot bigger than his age. The older Alana (introducing Alana Haim, who is Jewish) prefers to hang with the younger generation, getting lost in their adventures and passions. When they aren't flirting with each other, Alana and Gary bat their eyes at show business–an area that exists for them on the fringe of Encino, Calif. in the 1970s. He's always looking for the next best thing–like waterbeds or pinball machines– while she learns multiple skills on the fly while carrying the alluring eyes of an actress who wants to know more.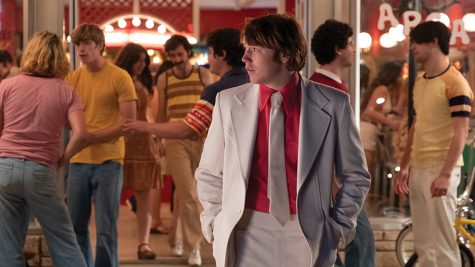 What I liked about Paul Thomas Anderson's "Licorice Pizza" is that it felt immensely personal. Arguably his most accessible film, it has so many different cinema flavors that it can be exhausting at times to take in.
The 134-minute running time never becomes too heavy though, carried well by a soundtrack that kicks and surprises. Several audacious cameos commence, ranging from Sean Penn's wild take on Jack Holden to Maya Rudolph as a casting agent. Bradley Cooper steals every second of screen time he's in, even if it's no more than 10 minutes of scattered moments. He's hilariously unhinged as Jon Peters, who teaches Gary how to properly pronounce "Streisand."
Haim's breakout role?
From the moment she hits the screen as a photography assistant offering a comb and mirror to teenagers, Haim has our attention. Her heroine is enigmatic yet fascinating–a woman who isn't exactly searching for love yet craves connection. After starting her career in fashion and music (where she plays in a band with her two sisters that carry their surname), Haim worked with Anderson on several music videos before breaking through in this film.
And believe me, it's a breakthrough role. Whether it's her eyes playing tricks on you or her youthful body (she could walk into high school and fit right in), we quickly understand why Hoffman's Gary is so taken. Like a vulnerable piece of metal trying his best to not look directly at a magnet, Hoffman is very impressive in his debut, too.
Carrying a dangerous amount of charisma, the actor allows facial features (a flush face, especially when love is present) and expressions to carry some of his scenes. You can see a good amount of his dad in his acting choices. The facial expressions that hide a wounded masculinity, and the wide shoulders meant for hugs instead of teenage shrugs.
Alana and Gary
While the support is there in spades from a decorated cast, the film is owned by the two leads. Haim and Cooper's experience before "Licorice Pizza" was minimal, so you can tell they're drawing from some of their personal lives in Alana and Gary.
While the movie's title comes from an old band duo sprinkling sesame seeds on an album (or a place from the director's youth), I see Anderson's tale a different way. In this world, she's the licorice and he's the pizza. Alana is the more versatile human and advanced human being who can fit in just about anywhere–without feeling the need to stand out. Gary is the overwhelming yet enriching pizza part of the combination, the one who aspires to stand out.
Both are walking wounded and help each other at a crucial moment in each other's lives. For her, it's a time where she thinks life is starting to speed up on her, so Gary's youthful world carries the escape. Anderson's film doesn't force them to find a useful label for the audience, just themselves. Are they a couple? Are they best friends? What about the age gap? In "Licorice Pizza," they get to be whatever they want.
Anderson's films don't always float my boat. Easier to admire than truly exist inside of for an extended period of time, his movies are museums of bizarre cool that can sometimes fade upon exit. But this one felt like more than just "his latest movie," like a part of his past unfolding on-screen with some extra flair–and intoxicating tunes.