'Let It Be Morning,' Israel's 2022 Oscar entry, comes to St. Louis screens
Cate Marquis , Special to the Jewish Light
Published February 9, 2023
The perhaps unlikely combination of a Jewish Israeli director adapting a Palestinian Israeli's bestselling novel yielded a film so good that it was named best picture (and won other awards) at the 2021 Ophir Awards (the Israeli Oscars) and became Israel's official entry for the 2022 Academy Awards.

The wry, satiric drama "Let It Be Morning" is directed by Eran Kolirin, whose film "The Band's Visit" about an Egyptian band stranded in an Israeli village was an international hit and was made into a Broadway musical that played the Fox Theater in 2020. 
"Let It Be Morning" mixes absurdist humor, social commentary and the drama of a dysfunctional family. 
It has a St. Louis connection as well: The author of the novel on which the film is based is Sayed Kashua, who is a doctoral candidate in comparative literature at Washington University. 
The main character is Sami (Alex Bakri), a rather smug Israeli Palestinian who thinks he has escaped the small Palestinian village where he grew up, finding success working for an Israeli software company in Jerusalem (and cheating on his Palestinian wife with a Jewish co-worker).
Sami has reluctantly returned to his home village for his brother's wedding but plans to leave as soon as possible. 
At the wedding, he is distracted, disconnected from people and dodging his childhood friend Abed (Ehab Salami), who hasn't done so well in life. Periodically, Sami wanders off to text or call his girlfriend. 
The wedding is supposed to end with the release of white doves, a symbol of peace, but the doves refuse to leave their cage and, when pushed out, refuse to fly. Comedy and symbolism combine that way throughout this smart, dryly funny but ultimately human drama.
When Sami, his wife, Mira (Juna Suleiman), and young son Adam (Maruan Hamdan) finally start to drive back home, they are shocked to discover that the Israeli military has closed the road to Jerusalem. The guards offer no reason for the closure, and Sami, who has to give a work presentation in the morning, tries to persuade them to let him through, offering his Israeli ID, but they refuse. Driving back to his parents' home, he discovers cell phone service is cut off, so he can't call work. 
Soon, the village is in lockdown. No one is allowed in or out, including delivery trucks. Then electricity is cut off. During the first day of lockdown, the villagers, who are all Israeli citizens, rail at the guards at the roadblock. But soon they return home to wait things out.
Sami is forced to confront his own life and long-buried issues, as well as dysfunction in his family. Others in his family and the village confront their own issues. The village council is little help and some people quickly take advantage of the situation. 
Residents begin to speculate that illegal workers, Palestinians in the village without Israeli papers, might be to blame for the lockdown  and decide to round them up and turn them in. 
Sami's father Tarek (Salim Daw) is angered by the villagers' lack of community, recalling protests back in his day. The villagers are so divided, Sami says, that "you can't even get two people together to play backgammon."  
As supplies dwindle and the lockdown drags on, personal and community conflicts surface. And those white doves at the start of the film? They still refuse to fly. 
Director Kolirin was surprised when Kashua approached him to adapt his novel for the screen, a novel that Kolirin describes as a "beautiful, funny, cruel, absurd and sad tale." It was a bold idea to cut across the lines of Jewish and Palestinian Israeli culture to reach the human heart in both. A risky one, too, considering the polarized state of things, which made the director wonder whether he was committing professional suicide. The film's success and awards say otherwise.
The novel was written in Hebrew, although the film is mostly in Arabic. Kolirin describes his adaptation as "an absurd Jewish tale set in a Palestinian village, or an Arabic tale told in some Yiddish dialect. Or maybe it's just a human tale that people have been telling and retelling for generations, about a cruel theater of humanity, under siege and besieging, where the only thing that changes are the roles they play."  
This is not always an easy film to watch, but it is less about the political situation in Israel and more about the human sides in any conflict. In the end, the film offers great rewards.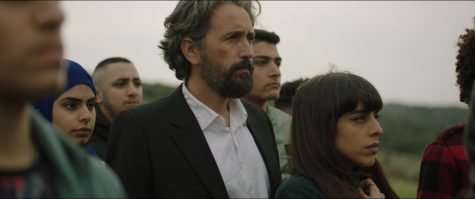 The acting is excellent, particularly Bakri as Sami, with his inner turmoil played out on the actor's expressive face. Other actors also deliver fine performances, notably Daw as Sami's father, representing an earlier generation as well as any loving father, and Salami, who gives a touching performance as Abed, a sunny-natured man whose life has gone wrong in so many ways. 
But after shining a light on the worst of human behavior, the film shifts, as the main character Sami gains insights and people start to find their inner goodness. Not everything goes smoothly after that, but people start to embrace their better side and their neighbors. It is a deeply human message that reaches beyond politics or particular conflicts.