"I was able to create all these relationships that were solely mine – with factories and pattern makers, using the resources already in place," Shatken says. "And I was young and just very honest about my level of experience, and that gave partners a lot of space to teach me what they knew."
So much so that Shatken established solid relationships in the industry. In 2014, when Dolce Vita was sold and its new owner didn't want the clothing line, she knew exactly what to do. Shatken partnered with a colleague, Patty Moran, and the two women decided to restart their own collection, tapping into their own experience and working off relationships already formed.
Shatken creates Saylor
The result was Saylor. "Everything was already in place – factories, materials, customers," she says. "It was just a matter of starting it back up again." She makes it sound easy, but there was much to do, and Shatken was at the helm, tapping into skills formed as a fashion design student at WashU: creativity and efficiency.
"I remember I was always pretty fast at finishing my work as a student," she says. "Sometimes a lot of what holds progress up is indecision. You can look at a garment for hours and overthink it. But I have a vision, and I execute it. In this industry, you have to make quick decisions every day."
The company was thriving when the pandemic hit – but she kept it going, even with a lot of fashion production dependent on overseas factories. "When the pandemic shut [factories] down, we had huge orders that had to be canceled, but we just said, 'Hold all the fabric. We will get back to you.' We managed.
Managing Motherhood
Now, Shatken is managing with a new view on the world: She is a new mom with a baby girl – a reason why sustainability is more important than ever.
"It's her world now," Shatken says. "We have to be responsible and strive for sustainable fashion. In this industry that's not always possible, but it's not necessarily an all-or-nothing enterprise. You can take small steps, too, that can make a difference."
It can be tough in New York's fashion industry, but Shatken doesn't think it has to be ruthless. "The fashion world can be very exclusive," she says. "People don't necessarily like to share secrets or even resources at times, but that's just never been the way I approach things.
"I look at my career as an open book," she says. "If you need a good button person or a good overseas factory, I'll share it with you. Everybody gains from that."
Making Judaism Fit
In 2019, Shatken and her fiance Elias Mableko tied the knot.
The couple chose to exchange traditional Jewish vows. "We followed the Jewish tradition of spending a few minutes in private directly after the ceremony, and used that time to share wedding notes we'd written to one another, which included more personal vows," Jillian said in an interview with Bride Magazine.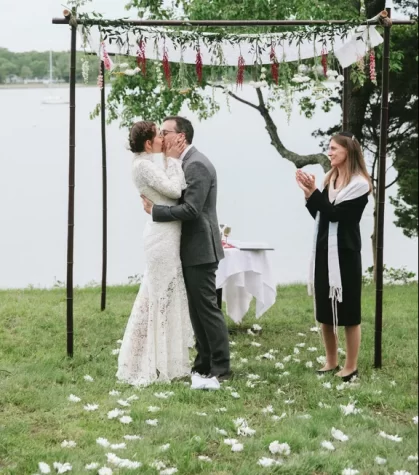 "My husband is not Jewish but did the conversion class before we got married but never officially converted. Regardless he learned to read Hebrew and all the Shabbat prayers, so he feels very comfortable following all the traditions," said Shatken. "We light the candles most Shabbat and celebrate all the holidays with my family.
The family now lives in Crown Heights in Brooklyn, which is a very Jewish neighborhood and their next-door neighbors are Modern Orthodox.
"They are very active in the community here and brought us hamentashen last week for Purim. We feel very lucky to have met them, their warmth and generosity made us feel at home right away," said Shatken.
Portions of this article first appeared on The Source, on February 14, 2022