Meet Zach Wurtenberger, Jewish Wash U student on "Survivor 42"
Jordan Palmer, Chief Digital Content Officer
Published March 8, 2022
CBS' "Survivor" is returning this week with its 42nd edition. Among the new players is a fresh face who has called St. Louis home for the past four years. Zach Wurtenberger, a Jewish senior at Washington University, is set to make his debut on March 9th at 7 p.m. CST on KMOV as one of 18 castaways stranded in the beautiful islands of Fiji.
There they will compete against one another in a number of mental and physical challenges in the hopes of surviving – as in not being sent home by a jury made up of the other contestants– and eventually winning the grand prize of $1 million.
Meet Zac Wurtenberger
A native of Weston, Fla., a Miami suburb, Wurtenberger grew up in a Reform home, and celebrated his bar mitzvah at Temple Kol Ami Emanu-El in 2013. The synagogue was a major factor in his life growing up, as both his grandmother and mother worked there.
"Judaism has always been a huge part of who I am," said Wurtenberger, an English major. "I grew up knowing the importance of our traditions, our culture and what it meant to be Jewish. There has always been that connection for me, and while I can't always put my finger on what that means, I know it's there."
Coming to Wash U
Ironically, Wurtenberger had never heard of Washington University before he began researching colleges.
"But I had a cousin who went there, and my father suggested I check it out," said Wurtenberger. "I visited and fell in love. I worked very hard, but was lucky to get in, and now I love it here. St. Louis and Wash U is a perfect fit for me.
During his time at school, Wurtenberger has competed and won in the Tournament of Champions, a university debate tournament as well as sketch comedy writing.
"I'm really proud of this one sketch I wrote for our spring comedy show, titled 'Skate Park.' There was no trophy or award or anything, but I worked extremely hard on it, and it absolutely killed. It was really rewarding," said Wurtenberger.
Chosen for 'Survivor'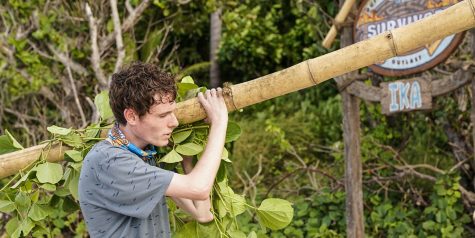 Wurtenberger caught the "Survivor" bug early on. He remembers being captivated by former contestant Ethan Zohn.
"He was the first Jewish person I ever saw on TV, which was so insanely cool for 5-year-old me," he said. "And beyond that, he's just such an inspirational person."
Studying Zohn was a part of Wurtenberger's strategy going into the show.
"He was a likeable guy, and understood the game is about the jury," said Wurtenberger. "Being a good person out there was important.  Ethan was a shining example and the jury loved him. I wanted to make sure people liked me out there."
Another inspirational Survivor for Wurtenberger is Todd Herzog, the winner of "Survivor: China" in 2007, when he was just 22, the same age as Wurtenberger.
"He played a brilliant game in China, where he controlled every single vote from the shadows. Todd managed to keep his threat-level low while subtly manipulating every facet of the game and revealed everything at final tribal council," said Wurtenberger.
In preparing for the show, Wurtenberger says COVID was a mixed blessing, allowing him plenty of time to ready himself both mentally and physically.
"I'm a skinny guy, so physical training was important," he explained. "I also had plenty of time to develop my camping skills, such as lighting fires, tying knots and general outdoor survival skills."
Being Jewish on 'Survivor' 
Growing up in a predominantly Jewish community, attending Jewish camps, and going to college in St. Louis, where he found a vibrant and supportive Jewish community, Wurtenberger says, the experience of "Survivor" gave him a new perspective on his own Jewishness.
"'Survivor' is designed to be a cross-section of America, so one of the really interesting things for me as a person was being only one of two Jews on the show. That was a unique experience, to not be surrounded by Jews, but people from all different walks of life, and learn from them," said Wurtenberger.
He says he found himself sharing his Judaism with his fellow castmates as well as learning and developing a new appreciation for other walks of life and how they all experience the world.
In an interview with The Source, the Wash U website, Wurtenberger said of the entire experience, "It honestly feels like a second bar mitzvah. It's a very weird thing, but I'm excited."
Keeping posted on Wurtenberger's progress
"Survivor 42" will air on Wednesday nights on KMOV, Channel 4 at 7 p.m. You can also keep up with Wurtenberger on social media. Follow him on both Instagram and Twitter through his handle @zachwurt