Jewish Light Exclusive: Check out episodes 1-3 of hit Israeli Comedy "Checkout" for free
Jordan Palmer, Chief Digital Content Officer
Published June 8, 2022
Israel's most popular comedy of recent years does not focus on the peculiar or the exotic, but rather the most mundane of settings — the Israeli supermarket.  With a diverse cast of characters, "Checkout" satirizes both the differences and common ground Israelis share with each — resulting in a lot of laughs and chutzpah to go around.  Over its 3 seasons, "Checkout" became the most viewed show on Israel's Public Broadcasting Channel and earned several TV awards in the process including this year's best Comedy Series Award. 
Both seasons of the series are now streaming exclusively on ChaiFlicks, a streaming service dedicated to Jewish content, with the third expected to be added soon. St. Louis Jewish Light readers can now stream the first three episodes of "Checkout" for free, and receive an exclusive 30% discount on annual subscriptions with code 'JLIGHT30'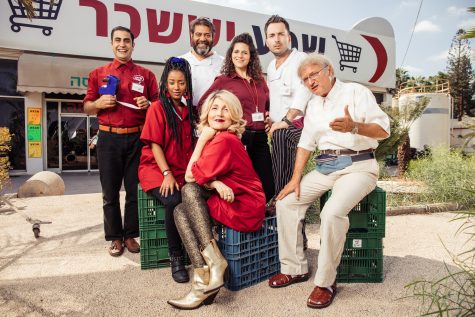 "Everything is a competition in Israel"
Headed by the overly eager general manager, Shira (Noa Koler, "The Wedding Plan", HBO's "Our Boys") and her Israeli-Arab assistant Ramzi – for whom no job is too small – the store's staff is always looking to cut corners while eccentric customers look for more than just to complete their weekly shopping.
Nadav Frishman and Yaniv Zohar, the creators behind "Checkout", say they chose the supermarket as a backdrop because it truly reflects Israeli society in many ways. 
"People are funny and people are in the supermarket with an attitude," they said. "Everything is a competition. It's like a 100-meter race; every person for themselves."
As "Checkout" follows the staff and customers of fictitious supermarket chain "Isaschar Bounty", each character's unique identity and humor adds up to a fascinating, if hilarious, mosaic of Israeli society. And while the show's satirical streak often contains a nod to larger social issues, Frishman and Zohar say the show eschewed politics in favor of pure, laugh-out-loud shot at comedy.
"I'm almost ashamed to say it, but we have no interest in the news," says Zohar. "We're more interested in the character's psychology and development than their politics."
Actor Amir Shurush, who himself is Israeli-Arab, says portraying perfectionist assistant manager Ramzi allowed him to bring his authentic self to the screen. 
"I'm just like Ramzi because he wants everything to be perfect," says Shurush. "He wakes up in the morning in high spirits, and sings about going to work on his way to work. He feels like he's in Hollywood even if he's just a supermarket employee." 
While it's true the town of Yavne where the supermarket is located is no Hollywood, the series' nomination for an International Emmy Award certainly brought Ramzi and the staff as close as possible to the real thing.