Jewish Light Exclusive: Check out episodes 1-3 of hit Israeli Comedy "The New Black" for free
Jordan Palmer, Chief Digital Content Officer
Published June 1, 2022
American audiences have long been fascinated by TV series exploring life in the Orthodox Jewish community. Be it the storied "Shtisel" or Brooklyn's "Unorthodox", these tales have typically taken a searingly dramatic look at the Hasidic way of life.  "The New Black" took the exact opposite approach — becoming one of Israel's most popular comedies in the process. 
Known as "Shababnikim" in Hebrew, "The New Black" is a laugh-out-loud comedy that follows four rebellious students at a prestigious Orthodox Yeshiva in Jerusalem as they try to reconcile their desire for modern life with their religious upbringings. 
Both seasons of the hit comedy series are now streaming exclusively on ChaiFlicks, a streaming service dedicated to Jewish content. St. Louis Jewish Light readers can now stream the first three episodes of "The New Black" for free, and receive an exclusive 30% discount on annual subscriptions with code 'JLIGHT30'.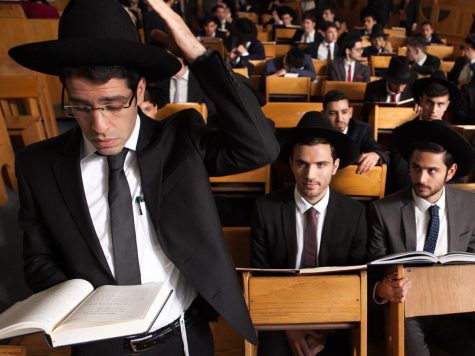 'The New Black' does with comedy what 'Shtisel' and 'Srugim' did with drama
If there was an award for a most surprising opening scene, the Israeli hit comedy "The New Black"—in Hebrew, "Shababnikim"—would win it by a mile. The series, which finished its second season in Israel begins with an ultra-Orthodox yeshivah head recounting being asked if students on a ski trip at another yeshivah should be punished.
Then something crazy happens.
"I wanted it for the first two minutes to look like a show you've seen 2,000 times and then kill that option," said creator Eliran Malka. "This is saying we are not a normal show. We mean business."
In that scene, expectations are shattered. Malka, the writer and director of the series who created the show with Danny Paran, acknowledges that there will naturally be comparisons made to the Israeli TV shows "Shtisel" and "Srugim," which respectively focused on the ultra-Orthodox and Orthodox. But Malka says these comparisons need not be made.
"I think it's not good to compare "Shtisel" and "Srugim" (which were both dramas) because not all ultra-Orthodox shows are the same," he says.
The show won Best Comedy and Best Direction Best Screenplay, and Ori Laizerouvich won Best Actor, playing Gedaliah as part of the Israeli Academy of Film and TV Awards while garnering four other nominations.
'They had the same conflict I had all my life'
"The New Black" revolves around four yeshivah students at a haredi yeshivah. Gedaliah is nerdy, fearful of the opposite sex and extremely devoted to learning. He's gone out with 34 women, and none asked for a second date with him. He's gifted at learning, but since he's a bit stiff in terms of personality, he's moved to live with three rebellious students, and he finally meets a young woman he meshes with but there's an obstacle he has to overcome.
Laizerouvich's humor is on display as he often raises his voice for no reason, has trouble looking at women and constantly gets into absurd arguments. He is must-see TV. (In fact, his performance made me laugh so hard that my shoes fell off in a scene where he and his friends are challenged by play football by "regular" guys.)
Daniel Gad plays Avinoam Lasri, the leader of the quarter. He's good-looking, smokes fearlessly, and his father is a big shot in the Israeli government so he can't be thrown out of yeshivah. He takes a liking to a modern pretty young woman named Shira, who wants to kiss him but he knows that doing so will be breaking the rules (shomer negiah) whereby he is not supposed to touch a woman before she is his wife. Israel Atias plays Meir Sabag, a guy who a matchmaker says looks like an electrician, and he gets set up with women he finds unattractive. He finally meets a woman he thinks is pretty and she happens to be from a rich family, but he wonders if she's out of his league. And then she makes him an offer that brings him uncertainty.
Omer Perelman Striks plays Dov Laser, a guy who comes from a rich New York family, and his parents want him to join a law firm. When the headmaster does something he thinks is wrong, he declares war and takes him to a high-level rabbi to adjudicate the matter. Dov's sister Deborah (an impressive Maya Wertheimer) loves to study Torah; her argument with Gedalia at a restaurant is one for the ages and shows that the two have chemistry, but questions arise over whether Gedalia is ready for a real woman. Zohar Strauss, who starred as Lipa Weiss in "Shtisel," guest-stars here in an episode where he investigates the burning of a billboard featuring a scantily clad woman that is located across from the yeshivah. Rotem Keinan nails his role as a power-hungry headmaster, and Shely Ben Joseph is on point as a privileged young woman who sees potential in Meir.
Besides the issue of yeshivah students having the deal with temptations of the modern world, the issue of Ashkenazim vs. Sephardim also comes up.
The show's creator, who is Orthodox and moved from Nahariya to Jerusalem about 15 years ago, never had to worry about a matchmaker. He met his wife when he was about 17, and she was about a year younger.
"We were friends for four years, and it was the best logical next stage of our relationship," he says.
As for the idea for the show, he says he saw "these guys with skinny Zara suits and branded ties eating sushi. They wore a black hat and suit, but they were like me. They had the same conflict I had all my life—half of my heart in the religious world and half of my heart in the Western world. The question is, 'how do you cope with the gap?' So basically, I did a show about myself."
He notes that a similarity exists between his show, and "Shtisel" and "Srugim," in the sense of a capacity to bridge the gap between those who are religious and those who are not, and for the outside world to see those who are religious face similar challenges as all people do.
Asked if he thought his first try at a sitcom would be a success, the creator and director says he believed that it would be a hit because it allows haredim to see themselves as cool, and allows the secular to see things they liked and a different image of the haredim.
"I knew it would be a hit," he says. "Usually, we see [haredim] in political aspects or demonstrations against the [Israeli] army." But here, he says, "it's cool yeshivah guys, and it's like a college series but the Jerusalem version."
'We need to tell a new story'
Some in Israel dressed up as the cast for Purim, and some of them can certainly be heartthrobs. Gad anchors the cast as a kind of Chassidic Zack Morris from "Saved by the Bell."
The actors are not ultra-Orthodox, but they know what they are doing. Atias is excellent as the weakest of the learners who has to work harder than everyone else. Striks nails the role of an arrogant guy who thinks he is better than everyone and is a gift to the world. Shira Naor is excellent as Shira, an open-minded and pretty young woman who sees that Avinoam is not like other guys. Avinoam is tasked with not letting the new headmaster walk all over them. He's shut power and hot water. Does this mean war? If so, what's the best way to wage it?
Malka says he believes that the show helps in a small way to unite the religious and non-religious through humor. The title of the show comes from the word shababnik, which refers to a young haredi person who bends the law but doesn't leave religion.
"This is the purpose of art and as storytellers; we need to tell a new story," he says. "When you see the news, they gain power from dividing, and I think we do a tikkun (a "change" or "correction"). This is my hope, and in some aspects, what has happened with the show."
This show is one of the best comedies you will ever see, and the four actors have an uncanny ability to make the show unforgettable. Malka has made himself writing royalty, and if you haven't seen it, Purim is the perfect time to get started. And a warning but not spoiler alert: The finale of the first season has a surprise you won't be able to predict.