Happy Birthday! 3 essential Jake Johnson roles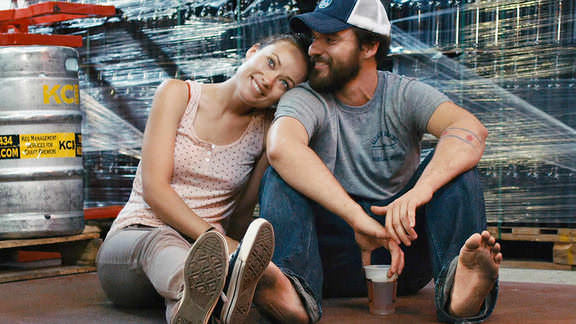 DAN BUFFA, SPECIAL TO THE JEWISH LIGHT
Published May 28, 2021
Comedy actors have it tough. The Academy doesn't take them seriously, and the Golden Globes honor dramatic performances that carried a laugh or two over their work. Finding laughs is much harder than finding tears, though, any actor could assure you of that.
When it comes to making you laugh with some sophistication thrown in, Jake Johnson is one of the best at it in Hollywood today. Johnson's father is of Ashkenazi Jewish descent, while his mother's ancestry is English, Irish and Polish. It's his birthday, so let's celebrate the actor's body of work with a spotlight on three essential roles.
Luke in "Drinking Buddies"
This 2013 romantic comedy flew over most people's heads. Made for cheap by writer/director/actor Joe Swanberg, this edgy and well-written film centered around two best friends (Johnson and Olivia Wilde) who constantly tiptoe around the idea of a different relationship.
Better yet, they work at a brewery, which means they are always drinking and flirting with that line between friend and romantic partner. Johnson got to show off his dramatic chops here while mixing in his trademark humor. The script doesn't go exactly as you'd think, either. Also, Anna Kendrick and Ron Livingston co-star.
(Available on Amazon Prime Video with premium subscription)
Jeff in "Safety Not Guaranteed"
What if you saw an ad in the paper from a guy asking for a companion to tag along on some time travel?! That's the setup in Colin Trevorrow's eccentric comedy, which co-stars Johnson as one of the journalists trying to track him down.
Most actors would have just treated this like a throwaway role, but he imbues it with a wild-eyed hilarity that starts at disbelief and ends somewhere entirely different. Johnson gives his scenes a tongue-in-cheek flair that helps lighten up the rest of the movie. Sharing the screen with Aubrey Plaza and Mark Duplass doesn't hurt.
(Available on Netflix)
Peter B. Parker in "Spider-Man: Into the Spider-Verse"
Ingenious casting here, with Johnson playing just one of the many variations of Spider-Man. He's the retired crimefighter who is cynical about crime but sentimental about love, which halfway dooms his legacy as Parker. When he has a chance to train a much younger Spidey in Miles, something awakens in him.
Animated voice roles can either be great or come off as robotic, with an actor just reading lines in an air-conditioned studio. But Johnson unleashes his comic timing here, waxing on and on about Spider-Man's weight gain and broken heart. It's nice and easy material that comes off sharper due to the actor.
(Available on Hulu with subscription, for rent on Amazon Prime Video)
There are more good Johnson roles out there, but these three stand out to me. Roles where he presented something new to the audience, kicked his feet up in his comedic gifts, or brought them together. Sorry, "New Girl" fans: That one didn't make the list.
What are your favorite Jake Johnson roles?