A pre-WWII 'What if?' at heart of spy thriller
CATE MARQUIS, Special to the Jewish Light
Published January 19, 2022
We know the outcome after the 1938 Munich Agreement, which was signed after British and French leaders met with Hitler and agreed to let Germany take the mostly ethnically German Sudetenland region of Czechoslovakia, in a failed bid to head off World War II by appeasing Hitler, who claimed to have no further territorial ambitions. But what if British Prime Minister Neville Chamberlain knew about Hitler's true, bigger plans for conquest? That is the "what-if" premise of "Munich: The Edge of War," a smart, entertaining and well-researched mix of history and ticking-clock spy thriller, starring George MacKay (star of the Oscar winning "1917") as a young British diplomatic aide and Jeremy Irons as British Prime Minister Neville Chamberlain.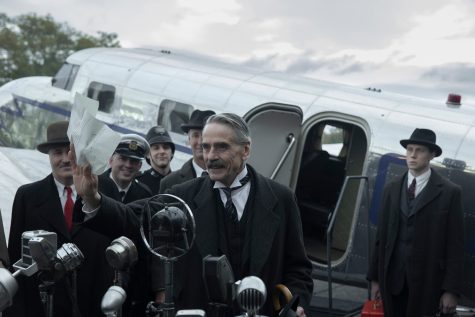 The story is set mostly around the 1938 Munich Conference, where the British and French prime ministers, Neville Chamberlain (Jeremy Irons) and Edouard Daladier (Stephane Boucher) are trying to hammer out an agreement they hope will prevent the war they fear will follow if Hitler invades Czechoslovakia, as he has announced. Two former friends, who attended Oxford together, but who now work for opposing governments, British Hugh Legat (MacKay) and German Paul von Hartmann (Jannis Niewohner), must reconnect and covertly work together to deliver a document to the British Prime Minister that reveals Hitler's true plan for territorial expansion. 
Niewohner's von Hartmann is an anti-Hitler German who is part of a German plot to remove the Fuhrer, led by General Hans Oster. But the plot can't move forward unless Hitler invades Czechoslovakia, exposing his intentions to the German people, who fear another war. When von Hartmann comes in possession of a document detailing Hitler's plan for European conquest, he hatches a plan to get the document to the British Prime Minister through his former friend Legat, who is a minor diplomat with Chamberlain's staff. 
While the central story is fictional, there is a lot of real history here. There really was a German plot to remove Hitler from power, led by General Hans Oster, in 1938, and Niewohner's character is partially inspired by the diplomat Adam von Trott zu Solz, who was part of that. But the film's plot about getting secret information to Chamberlain is fictional.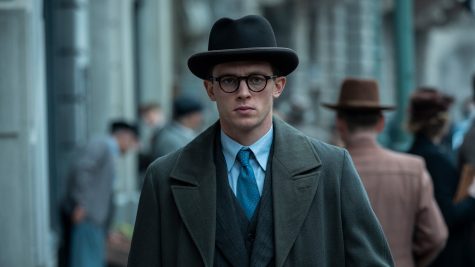 In September 1938, after several attempts to negotiate with Hitler over plans to invade Czechoslovakia over the Sudetenland, British, French, Italian and German leaders met, without the Czechoslovakians, in another attempt to dissuade Hitler from invading Czechoslovakia, something the British and French feared would trigger a new world war. With assurances from Hitler that he had no other territorial ambitions, Chamberlain signed the 1938 Munich agreement that allow Germany to take the Sudetenland without an invasion. Chamberlain's appeasement of Hitler was a critical turning point in the events leading to WWII, encouraging Hitler to put his plans for conquest in motion, and it sealed Chamberlain's legacy with the stamp of appeasement.
This is a handsome, polished production, partly filmed on location in Munich, well-acted and well-directed, that builds good thriller tension while looking beneath the surface of the action. Based on Robert Harris' novel "Munich," Christian Schwochow directs from a screenplay by Ben Power.
We know what happened at Munich in 1938 so the real focus is on what happens to the two young diplomats, former classmates at Oxford. A big theme in the film is how Paul von Hartmann transformed from a Hitler supporter to a fervent opponent willing to risk everything to remove him from power.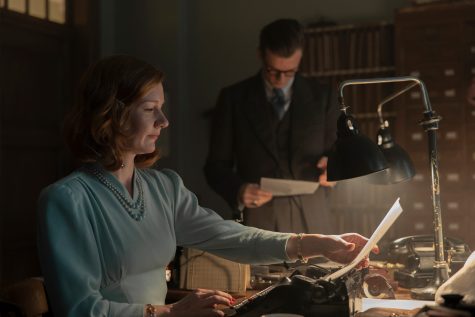 At the beginning of the film, set in Oxford in 1932, we meet the three friends, Hugh, Paul and his German girlfriend Lena (Liv Lisa Fries) at a celebration. Paul drunkenly praises Hitler, enamored of his promotion of German national pride, and gets a scolding from Lena, who calls Hitler's Nazis "thugs and racists." But Paul waves that off, choosing instead to be dazzled by his own dreams of a proud "new Germany." Later, we learn Lena is Jewish, which will force hard truths on Paul. 
While George MacKay gets top billing and delivers his usual fine performance, his tight-lipped character is less the focus than his German former classmate. Niewohner's Paul von Hartmann undergoes such a radical change of heart, a key theme of the film, and Niewohner gives an excellent high-octane performance in his transformation. 
The fine cast all deliver in this film. Jeremy Irons gives a strong and surprisingly sympathetic performance as Chamberlin, the British Prime Minister. Ulrich Matthes is chilling as Adolf Hitler, particularly so in his scenes with Niewohner, where he alternates between instilling fear and attempting to charm. Sandra Huller, who was so wonderful in "Toni Erdmann," is perfect as von Hartmann's married lover and fellow conspirator Helen Winter, while August Diehl is intimidating as Nazi officer Franz Sauer, the head of Hitler's personal security team, who is a bullying former schoolmate of von Hartmann.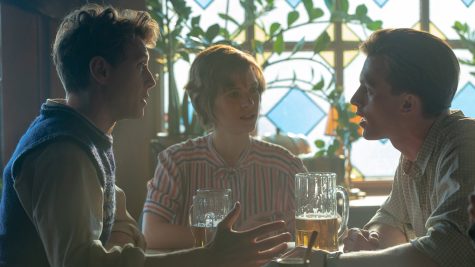 As Paul and Hugh try to bridge the gap to get the German's damning information to the British Prime Minister, a ticking-clock urgency drives in this fine British film, but the film is deepened by both its real history and the personal journeys of the two young men. "Munich: The Edge of War" does a good job of balancing thriller entertainment with its historical basis, and is aided greatly in that by a very strong cast, both British and German, and its thoughtful approach. 
"Munich – The Edge of War" is playing at Landmark's Plaza Frontenac Cinema and debuts for streaming on Netflix starting Friday, Jan. 21 The film is in English and German with English subtitles.