80,000 viewed German photographer's Holocaust exhibit on WashU campus
By Bill Motchan , Special to the Jewish Light
Published November 15, 2022
Earlier this month, on the eve of the 84th anniversary of Kristallnacht, a major Holocaust remembrance exhibit at Washington University came to an end. The "Lest We Forget" exhibit was a series of portraits of survivors photographed by the noted Italian-German photographer and filmmaker Luigi Toscano.
Growing up in Mannheim, Germany, Toscano was dismayed and frustrated by the lack of educational resources about the Holocaust. He began researching the rise of the Nazis, and in recent years, he sought out hundreds of survivors to photograph them for his traveling exhibit.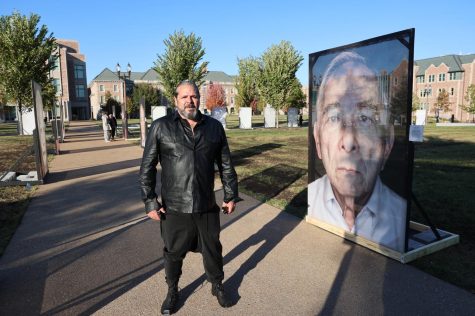 "Lest We Forget" was on display at Tisch Park on the Danforth Campus from Oct. 20 through Nov. 6. Toscano was on hand during that time to install the exhibit, disassemble it, and field questions from visitors about the project. An outdoor art exhibit has some inherent challenges. The set-up required Toscano and the event organizers to scour St. Louis-area hardware stores for weights to anchor the portraits on windy days.
During his St. Louis residency, Toscano received a proclamation from the Missouri Senate (signed by Sen. Jeanie Riddle, R-Mokane, and Sen. Jill Schupp, D-Creve Coeur) honoring his work. Toscano previously received the Order of Merit of the Federal Republic of Germany, the country's highest honor. The Jewish Light caught up with Toscano while he was on the road after his St. Louis visit.
How many people viewed "Lest We Forget" during its Washington University showing?
We estimate approximately 80,000. Over the the weekends, there were a lot of people, especially parents with children and university students.
What happens to the photos from the exhibit now?
We are going back to Philadelphia now, bringing the portraits back to our main storage facility, and checking everything. If any of the pictures are broken or dirty, we replace them and store them with the other portraits.
What kind of feedback did you receive from visitors to the exhibit?
It was really calm, a beautiful exhibition. I was in contact with hundreds of visitors and I got positive feedback. Sometimes you have a discussion with Holocaust deniers but that wasn't the case in St. Louis.
Were there any especially meaningful reactions you received from the St. Louis Jewish community?
St. Louis was great for me, to have a big exhibition in America was really, really beautiful. [Survivor] Rachel Miller was really proud that she was part of this exhibition. She and her son liked it so much.
What's next for you?
I am open to coming back to America with the exhibit. We have an offer from Miami. Now I am preparing the exhibition for France and we also use this exhibition on a smaller format for schoolyards. Next we will be going to three schoolyards in Germany. One of my wishes is to bring the exhibition to South America, possibly Argentina or Brazil.