Adult founders, co-chairs help teen journalists bring 'New Light' to readers 
Mia Kweskin doesn't actually work in journalism per se, but as senior communications strategist at Edward Jones, strong writing and interviewing skills are vital to her job. She credits working on the Jewish Light's Ohr Chadash teen page during her four years at Parkway Central High School with helping her to develop those skills and hone them.
"Being part of Ohr Chadash gave me the opportunity to write for a professional newspaper and have professional clips at a young age," said Kweskin, 27, who belongs to Congregation Shaare Emeth. "That really helped in terms of applying to colleges and, later, in getting internships. Also, the process of raising my hand for the opportunity to become an editor for Ohr Chadash taught me how to advocate for myself, which is important in any career. It was an amazing launch pad."
Since its inception 14 years ago, the Jewish Light's Ohr Chadash teen page has been a volunteer conceived and led effort. It began when Light board member Jenny Wolkowitz suggested a section in the paper for teen-focused news after seeing something similar in her hometown paper, the San Antonio Jewish Journal — except that those teen stories were written by adults. 
Wolkowitz wanted to take the concept further by recruiting high school students to write and edit stories, take photographs, and design and lay out their own pages. But before recruiting local teens, Wolkowitz thought it best to recruit a partner. She turned to Mimi Pultman, who had just joined the Light board and was also a good friend. 
"Like Jenny, I thought giving these teens real-world journalism experience, with real-world deadlines, having them work at a professional publication, would be an incredible opportunity," said Pultman, 58, who belongs to Young Israel and U City Shul. 
And so, at the start of the 2008 academic year, the Light launched a monthly section touting teen news for teen Jews. The teens named it Ohr Chadash ("New Light") because it was highlighting a new generation of journalists in the Light.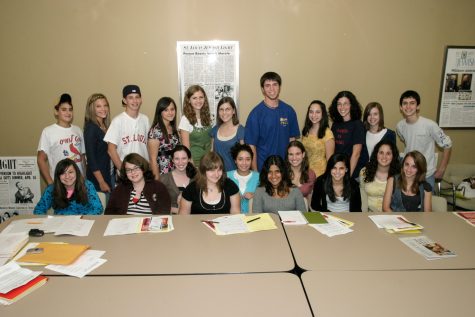 Its first year attracted enough attention to garner an Innovation Award for Best Ideas from the National Newspaper Association.
Wolkowitz and Pultman, neither of whom had journalism experience, enlisted the help of Jewish Light staff to provide some training and oversight for the teens. But the volunteer co-chairs did — and continue to do — the bulk of the work, recruiting and vetting staff, appointing teen page editors, organizing monthly meetings, and being available to help the teens plan and execute their stories and their pages each month.
When Wolkowitz, 54, who belongs to United Hebrew, became president of the Light board, Peggy Kaplan stepped in to co-chair with Pultman. When Pultman left after five years, Lauren Sagel came on. Before Kaplan moved to California, where she lives for part of the year, she recruited Caroline Goldenberg, who is the current teen page chair. None of the co-chairs are journalists or have much journalism experience.
Mike Sherwin, managing editor of the Light, and I have worked with all five of these women and know first-hand the time, energy and dedication they give to this effort.
It's rarely easy, either, especially when it comes to recruiting teens and ensuring deadlines are met. Some years, the teen staff numbers 15 to 18; other years, it's more like seven or eight. Some years, the teen editors are natural leaders with solid writing skills; other years, less so.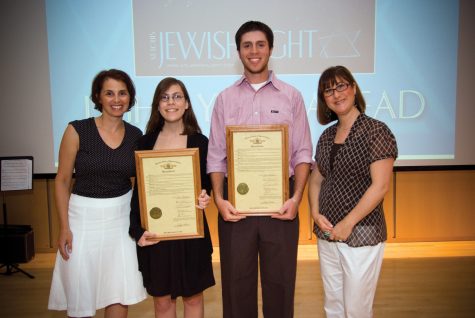 And yet, with the guidance and mentoring of these co-chairs, Ohr Chadash continues to appear as part of the Light monthly, usually from September through May.
"It's unbelievable how many hours the teen page co-chairs put in overseeing teen staff members, responding to calls and emails, coming to monthly meetings and helping to oversee them, brainstorming story ideas, ensuring deadlines are set and met, that stories are edited in a timely manner," Sherwin said. "They go above and beyond arranging for year-end recognition for the teens, hosting pizza parties for them and so much more." 
None of the co-chairs have actually had a child taking part in the teen page. In interviews with the co-chairs, each cited her enjoyment working with the teens as the main reason she got involved.
"I loved their enthusiasm, intelligence and creativity," said Sagel, 51, who belongs to Central Reform Congregation. "I mean, they were just so much fun to be with. I also liked how they came from all corners of St. Louis. It was a great way for Jewish kids from around the area to come together for a common interest."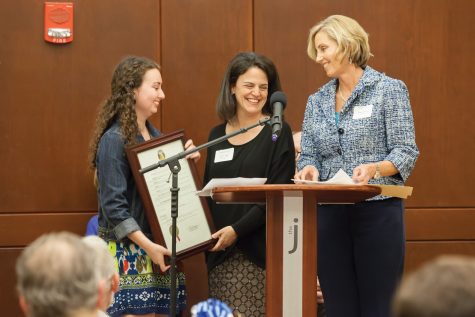 Kaplan, 62 and a member of Temple Emanuel, said she especially liked the brainstorming story sessions she and the teens would have at monthly meetings. 
"They wanted to tell stories," Kaplan said. "They wanted to find stories about Jewish teenagers and tell them. You'd watch the light in their eyes when they really connected to a story."
Goldenberg, 39, who has four children ranging in age from 18 months to 10 years, recalls texting with her teen page editors from her hospital bed, getting ready to deliver her third child. 
"My husband is like, 'What are you doing?' " Goldenberg said, laughing. "I'm like, 'They're in a meeting and have some questions.' At some point, I remember actually getting on the phone with one of them to say, 'I can't talk anymore. I'm going to have my baby very shortly.' "
Nevertheless, a week or two after delivering her daughter, now 3, she was back answering emails with teen editors and writers, helping them with questions on their stories and bringing her newborn into the Light office to attend teen page meetings.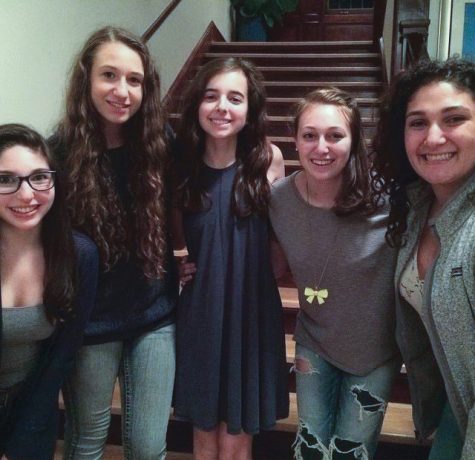 "One thing I really like about the teen page is that they get the chance to participate Jewishly in something that doesn't focus on Judaism in any kind of denominational way," said Goldenberg, who is also on the Light board. "Personally, it's also a fun way to engage with the Jewish community because the Jewish Light is a great connector."
Jordan Eisen, who is a freshman at Northwestern University, worked with Goldenberg last year as teen page editor. He said that among the many qualities he appreciated about her was her understanding of how busy most students are these days.
"She took my needs as a high school senior into account and recognized how much I had going on between homework and studying, college applications, extracurriculars and so forth," Eisen said. "She really helped us with prioritizing and planning so that none of us felt overwhelmed with (teen page) stories. If I needed her help, she always stepped up, but she also left a lot of the decision-making to the teen editors."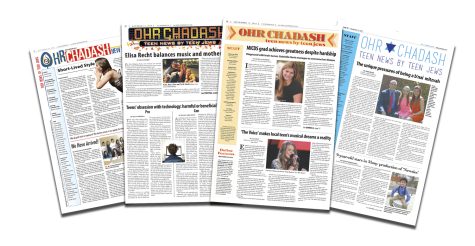 It is a testament to Wolkowitz's idea and the groundwork she and Pultman laid that the teen page continues to endure today. Tweaks have been made along the way — eighth-graders can join now whereas, in the early days, it was only high school students — and technology has open doors to more digital and audio storytelling in addition to print. 
Nevertheless, Ohr Chadash is alive and well.
"When you get something off the ground, you're never sure it's going to have staying power," Wolkowitz said. "I would give total credit to Jewish Light board leaders and staff who value it and to the teens who continue to make it happen, even with all they have going on. They are the true heroes."