Three events on our must-see/do list
There is no lack of fascinating art and photography exhibitions by members of the St. Louis Jewish community throughout the area this month and next. Here are three to put on your must-see list.
---
"Wise Women, Resilient Lives" at the Ethical Society, a new photography exhibit by Temple Israel congregant Cathy Lander-Goldberg, gives voice to a diverse demographic that is often ignored or overlooked.
Lander-Goldberg, who is a clinical social worker in addition to professional photographer, focused her lens on 14 older women, including two in the local Jewish community, from their upper 70s to 90s, who come from all different stations of life, ethnicities, careers, backgrounds and sexual orientations.
She found what they have in common is their willingness to share their perspectives on living meaningful lives through volunteering, advocating, writing, working, learning, teaching, traveling, creating, physical activity, humor, gratitude, faith, patience, self-kindness, hope, pleasure, positivity, problem solving and connecting with others.
"I asked what advice they had on aging, what's different than they thought it would be and to talk about sense of purpose," said Lander-Goldberg, who is also the director of Photo Explorations, which collaborates with organizations to offer workshops for all ages using photography and writing to help participants tell their stories and build self-awareness.
The exhibition includes a recent portrait by Lander-Goldberg as well as a copy of a past photo provided by each participant.  The past image helps to tell her story and is sometimes tattered by the years it has been in a wallet or an old adhesive photo album. Lander-Goldberg collaborated with each participant to capture their story, publishing an excerpt of their conversation alongside their photos. Featured in the display are two Meg Selig and Arlen Chaleff, both Jewish St. Louisans.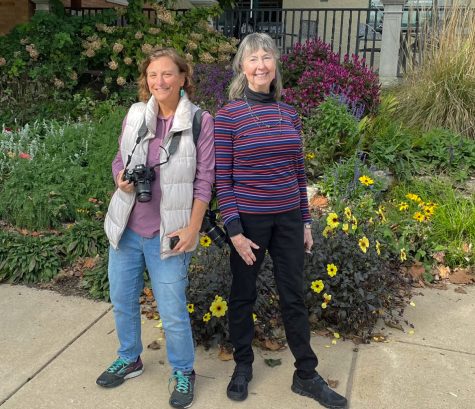 Selig, who is shown holding her two-year-old daughter Elizabeth in 1979, was a school counselor for many decades. It wasn't until she was in her 60s and near retirement from St. Louis Community College at Florissant Valley, that she began working on her "next chapter" as a writer, with more than 200 blogs for Psychology Today. She also wrote two books, "Silver Sparks: Thoughts on Growing Older, Wiser, and Happier" and "Changepower! 37 Secrets to Habit Change Success."
Chaleff was named a Jewish Light Unsung Hero in 2021 for her impact in mental health awareness. Her original photo was taken in 1975 when she was suffering from severe despair related to a relationship break up and a diagnosis of manic depression, now known as bipolar disorder. After years of treatment, she has dedicated her life to ending the stigma of mental health disorders and is a board member for Jewish Family and Children's Services and the St. Louis Chapter of the National Alliance on Mental Illness (NAMI).
The exhibit will run through April 23, at the Ethical Society Gallery, 9001 Clayton Road. Doors are open to the public every Sunday from 9 a.m. to 1:30 pm.  The exhibit also can be viewed Monday to Friday from 9:30 a.m. to 3 p.m., by calling ahead to arrange a time at 314-991-0955 ext. 214 or emailing [email protected] or [email protected] You can also view a virtual gallery at www.CLGPhoto.com (Click "Wise Women").
If you aren't able to make it to the Ethical Society before the show closes, it will be presented starting June 2 at the Webster Groves Public Library, 301 E. Lockwood Ave. and run through the end of the month.
---
"Unspecified Botanicals and Their Allies," which features new works by St. Louis Jewish painter and sculptor Barry Leibman, opens Friday, March 24th, from 6 to 9 pm. at Hoffman LaChance Contemporary, 2713 Sutton Boulevard, in Maplewood.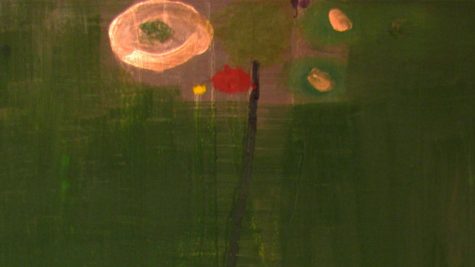 "The paintings in 'Unspecified Botanicals' are representations of imaginary flowering plants—they do not have any official scientific family, genius or species," said Leibman, who in addition to pursuing his art, was a co-owner of Left Bank Books for many years. "They are imaginary and unspecified.  They are often accompanied by various allies, such as seeds, planets, vases or a general sense of atmospherics, like a particular season of the year."
The exhibit runs through April 22nd with gallery hours on Fridays and Saturdays from 12 to 3 p.m., or by appointment, 314-960-5322.  www.hoffmanlachancefineart.com.
---
Last, but certainly not least, are the works of four St. Louis Jewish artists that will be featured at Congregation B'nai Amoona's Art Gallery – fine art photographers Bob Denlow, David Capes and Neshama Roash as well as ceramic sculptor Sandy Kaplan.
Their exhibition opens on March 27, with an opening reception from 1:30 to 3:30 p.m. Sunday, April 2, and runs through June 9. For hours and more information, call 314-567-9990 or www.bnaiamoona.com. B'nai Amoona is located at 324 S. Mason Road.