Personal letters from legendary leader of Ultra-Orthodox Jewry on display
Zach Robart, National Library of Israel
Published October 16, 2021
Fourteen letters penned in the 1940s by the legendary rabbi known as the 'Hazon Ish' have been donated to the National Library of Israel in Jerusalem by the family of their recipient, Rabbi Zvi Yehuda, one of the rabbi's students.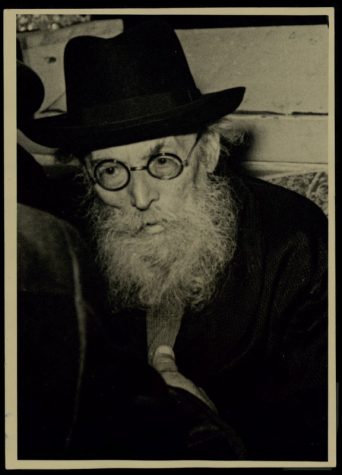 The Hazon Ish (Rabbi Avraham Yeshaya Karelitz, 1878–1953), is considered to be one of the most influential rabbis of the 20th century. The letters to Yehuda reveal a very personal side to the revered spiritual leader.
In one instance, relating to Yehuda's decision to join the army and enroll in secular studies, Karelitz responded, "I am rich with love for others, particularly toward you, a young person armed with talents and with an understanding heart… But when I saw the sudden change in you recently… I had to wait and process my great pain."
Born in what is now Belarus, in 1933 Karelitz moved to the Land of Israel, with the help of Rabbi Abraham Isaac Kook, the first Ashkenazic Chief Rabbi of Mandatory Palestine, and a formative figure in the modern religious Zionist movement. Countless visitors flocked to Karelitz's humble home in Bnei Brak during the last two decades of his life, from simple devout Jews to the leaders of the secular Zionist movement, including David Ben-Gurion, despite the fact that Karelitz was an opponent of Zionism.
As a teacher and halakhist (expert in Jewish law), Karelitz left an indelible mark on modern ultra-Orthodox Jewish thought and culture, which endures until today.
The letters have been donated to the National Library of Israel by Rabbi Yehuda's widow, Hassia Yehuda, and his children Rachel Yehuda, Talli Yehuda Rosenbaum, and Gil Yehuda.
"These letters represent a bond between two remarkable individuals; an unlikely teacher-student pair. We invite laypersons and scholars alike to access the letters, and learn about the teacher, the student, and their special connection," said a member of the Yehuda family.

Dr. Yoel Finkelman, curator of the National Library of Israel's Haim and Hanna Salomon Judaica Collection said, "We are grateful to the Yehuda family and pleased that these letters will now be safeguarded among the National Library of Israel's collections, alongside treasures from countless other significant Jewish and Israeli culture figures from Maimonides to Ben-Gurion."
About the National Library of Israel
Founded in Jerusalem in 1892, the National Library of Israel (NLI) serves as the dynamic collective memory of the Jewish people worldwide and Israelis of all backgrounds and faiths. While continuing to serve as Israel's pre-eminent research library, NLI is now in the midst of an ambitious journey of renewal to encourage diverse audiences in Israel and around the globe to engage with its treasures in new and meaningful ways. This is taking place through a range of innovative educational, cultural and digital initiatives, as well as through a new landmark campus designed by Herzog and de Meuron, with Mann-Shinar serving as the Executive Architect. The new campus is currently under construction adjacent to the Knesset (Israeli Parliament) in Jerusalem, and is on schedule to open its doors in 2022.
NLI collection highlights include significant handwritten works by luminaries such as Maimonides and Sir Isaac Newton, exquisite Islamic manuscripts dating back to the ninth century and the personal archives of leading cultural and intellectual figures including Martin Buber, Natan Sharansky and Naomi Shemer. It also holds the world's largest collections of textual Judaica, Jewish and Israeli music, and maps of Jerusalem and the Holy Land, as well as world-class collections of manuscripts, ancient maps, rare books, photographs, communal and personal archival materials, and more.
The new NLI campus, currently under construction adjacent to the Knesset (Israeli Parliament) in Jerusalem, is on schedule to open its doors in 2022. The building and its surrounding gardens and plazas will reflect the central values of democratizing knowledge and opening the National Library's world-class collections and resources to as broad and diverse an audience as possible. Within its 45,000 square meters (480,000 sq. ft.) of space, it will provide venues for exhibitions, as well as cultural and educational programming in a secure, sustainable and state-of-the-art environment. Partners in the building renewal project are led by the Government of Israel, the Rothschild Family through the auspices of Yad Hanadiv, and the David S. and Ruth L. Gottesman Family of New York.