'It's so easy to lose touch': Recovering the history of David Duchovny's grandfather, a Yiddish writer
By Chana Pollack, The Forward
Published October 19, 2021
"This story was originally published on Oct. 17, 2021 by The Forward. Sign up here to get the latest stories from The Forward delivered to you each morning."
---
Welcome to Ask the Archivist, where Chana Pollack, the Forward's archivist for the last 21 years, hunts down some mystery from our 125-year history. We can't promise we'll find exactly what you seek. But unearthing something amazing along the way — a story to make you laugh, cry or wish you could just speak to bubbe? — is guaranteed. Send your query to [email protected], subject line: Ask the Archivist.
The ask
David Duchovny, the actor-author-musician best known for "The X-Files" and "Californication." wrote in an Atlantic article earlier this year that his grandfather was a Yiddish language journalist.
The grandfather's name was Moshe, and he died when David was three months old. In the article, David Duchovny said Moshe wrote for the Forward and The Morning Journal, and mourned that "none of his writing survives," adding: "I can only guess at him." We took that as a challenge — to find it, or at least find out a lot more about him.
The archivist's assessment
Moshe Duchovny was not a name I'd ever heard, which, after my 21 years spent mining the archives, made me doubt whether he'd been on staff or done much writing at the Forward. But the mention of The Morning Journal suggested that there may have been confusion in the family's understanding, generations later, of where, exactly, he had published.
Beyond that, there were a few basic facts I needed to frame the search. What kind of writing did Moshe Duchovny do? Was his beat more focused on news or culture? What decades would he have been working? Often the best place to start looking for answers to these questions is in an obituary, which, in the Yiddish press, typically reveals not just the facts of a life, but also a person's religious and political affiliations.
The quest
Jackpot! Duchovny died suddenly on Nov. 2, 1960, and his obit appeared in the Forward the next day — as it did in papers across town, including The New York Times.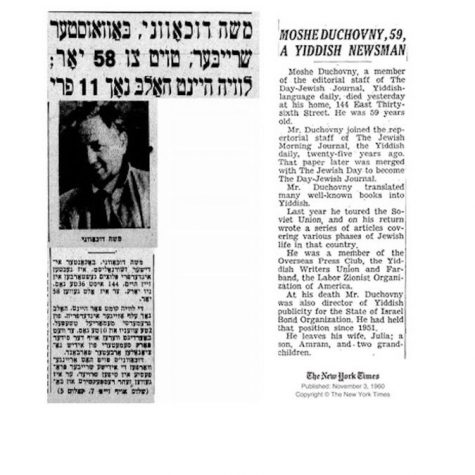 "Duchovny's death threw the Yiddish writer's profession into deep grief," our article said. "He was very well respected and beloved by his writer-colleagues and scores of personal friends and acquaintances."
And then came the clue I needed. Duchovny had been a longtime staff writer — for a quarter of a century! — at the Orthodox, Zionist-leaning Morgn-Zshurnal, which later merged with Der Tog to become Der Tog-Morgn-Zshurnal. Duchovny's work had clearly been widely loved. On Nov. 4, 1960, we reported that several hundred people, "mostly writers and communal leaders" had attended his funeral at Gramercy Chapel on Second Avenue and 10th Street.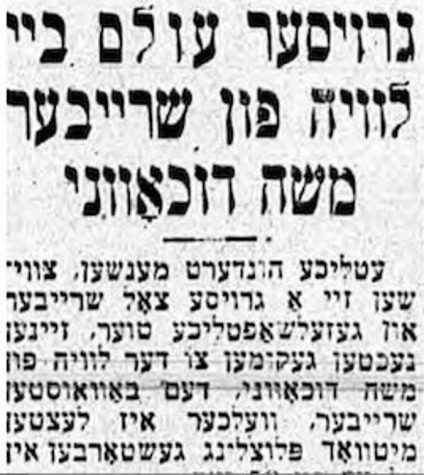 If any of Moshe Duchovny's journalism survived, it would be in the back issues of Der Tog-Morgen-Zshurnal, which stopped publishing in 1971 and are only partially digitized. So to the microfilm back issues of Der Tog I would go.
The Tog-Morgn Zshurnal's obituary said Duchovny was a novelist who had serialized fiction in the paper for over a quarter century. In our own archives, I saw that Duchovny was also a playwright. In 1936, the Forverts reported on a planned production of a of Duchovny's play "Hitler's Downfall": The piece would be performed at Borough Park's P.S. 192 by children of the Workers Circle.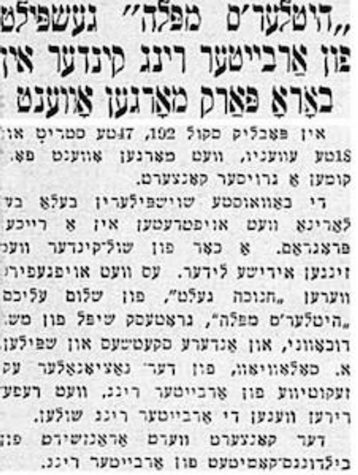 I also found in the 1963 memoir of Gershon Einbinder, who wrote under the pen name Chaver Paver, a description of Duchovny as "a chasid of Marcel Proust," meaning that he artistically idolized Proust.
As I searched, it became clear that Duchovny hadn't just been any Yiddish journalist; he had been central to the Yiddish literary community. In the June, 1948 edition of The Yiddish Farmer — yes, really, The Yiddish Farmer! — I found a photograph of him on a panel with some of the foremost Yiddish editors and writers of the day. He looked completely at home — and, notably, very much like his famous grandson.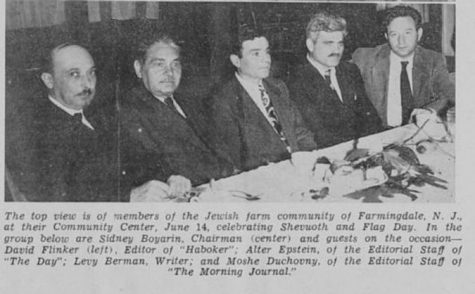 I thought the serialized fiction would be the key to understanding just what his place was. So off I went to see if I could find it.
Der Tog's back issues are held at the New York Public Library. One warm day in early October, I began the search, knowing as I did that one day would never be enough to find all that was there. But it was a start.
Just a year's worth of Tog-Morgn-Zshurnal microfilm overwhelmed the modest desk I sat at — even with several rolls that had started to crinkle out for repair. It was then that I realized I was trying to unearth a quarter century's worth of the Duchovny oeuvre — with no clue as to his publishing schedule.
Did he publish daily? Weekly? Only on the Shabbat or Sunday supplements? I'd known looking for Moshe Duchovny's lost work would be a big task; it was only now I began to understand just how enormous it really was.
The find
The bad news first: I haven't found the novels yet, although I'm still sure they're there. My tips for the next archivist to go looking for them: Start at the time of Moshe Duchovny's death, and scan backwards through the back issues — that's a good way to stay organized. And make time to read through Der Tog's records at YIVO, where you can find staff meeting notes, photographs and several manuscripts, including a slush pile of pieces with no byline.
The good news: I did find surviving items of Duchovny's writing. See, for instance, this April 1953 story in Der Tog-Morgn-Zshurnal announcing that the Yiddish theater star Joseph Schildkraut would follow in the footsteps of his famous father, the actor Rudolph Schildkraut, and appear at the Second Avenue Theatre, one of the main stages of New York's Yiddish theater world.

And I found one particular item that was too juicy not to translate. Jan. 4, 1958: A banner headline blared "JEW THAT EXPOSED THE LARGEST ART FRAUD."
It was Duchovny's profile of the famous art expert Bernard Berenson. And it had a first paragraph to remember:
"It's been 60 years since a young, Jewish, London-based man upset the European art world, bringing sorrow and grief into the richest and most aristocratic of homes in many countries, as well as bad luck among art dealers at the time."
Wow! I've worked in the journalism world for decades, and that's as good a lede as I've ever seen.
What I love most about answering the Forverts's archival queries is how deliriously high I feel when I get to help return a Yiddish journalist to their family and to the world — like I'm communing with the dead. When we resurface the stories of the lost authors who dreamed, loved and wrote in Yiddish, we create a bridge between worlds.
Moshe Duchovny's piece about Berenson, with its emphasis on Berenson's Jewish roots — he's a Litvak, from a rabbinic family of scholars! — merged the posh, largely gentile world of old master paintings with the pogroms of late 19th-century Vilna. It had created that kind of bridge in its own day, too.
The aftermath
When we showed David Duchovny what we had found, he broke down. He had not known that Moshe's funeral was at Gramercy Chapel — a block from where he himself had grown up — or where he was buried (in Cedar Park, N.J.).
"I'm crying already," he said, looking at the obits. "November 2, 1960," he said. "I'm not even three months old, yet."
Three months old, and making an appearance in the last chronicles of his grandfather's life: As the Forverts noted, Moshe Duchovny left behind "a widow, Julia, and his son, Amram, two grandchildren and three sisters." One of those grandchildren would go on to star in "Twin Peaks," and, most recently, as himself in the Netflix series "The Chair."
"It's overwhelming, really," David Duchovny said. "Just to think of his vitality, and his commitment, and obviously his playfulness, too, his creativity. He's very very busy, he's in many, many places, and obviously he was loved. It's a lot to take in."
---
"The Forward is an independent, nonprofit news organization dedicated to providing incisive coverage of the issues, ideas and institutions that matter to American Jews."