Extreme heat — the "silent killer" of climate change — is coming for St. Louis
The question is what we're going to do about it.
By Kelly Smits, Special To The Jewish Light
Published June 20, 2023
Jeff Gray arrives home on a late Tuesday afternoon as the temperature outside hovers around 90 degrees, hotter than average for early June. After entering, he sits in a chair positioned directly in front of an air conditioner blowing cool air into the room.
Gray has lived in his two-story brick home near Cherokee Street for more than 20 years. He grew up in the infamous Pruitt-Igoe projects but eventually moved into his current house, where he raised his kids. They're now grown up and moved out.
He keeps the doors to his second floor shut and doesn't open his first-floor windows because of crime in the area. Plastic sheeting lines the windows year-round to trap in the heat during the winter and cold during the summer. Like in most of St. Louis' historic brick houses, the sweltering summer heat and humidity amplify and stay around longer without proper insulation.
Gray had old air conditioning units that he was using for years, but despite his efforts to fix them up, after last summer, they were shot.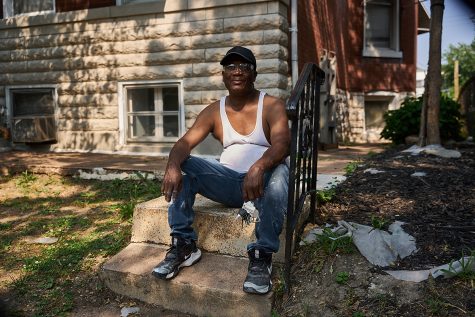 "I was getting really kind of stressed because it is getting humid," he says.
Gray has been on disability since 1993 after a tragedy took his left eye and glaucoma started overcoming the right. He called EnergyCare, one of the local nonprofits that provides energy-related assistance to vulnerable, low-income people dealing with extreme temperatures.
In the past, EnergyCare helped Gray winterize his home and pay for energy bills during hard times. In late May, it installed two new air conditioners on his first floor — one in his living room and another in his bedroom.
"They've been a godsend for me," he says.
Gray is not alone in needing help. As climate change raises temperatures in the St. Louis region, older individuals, people with disabilities and low-income populations are especially vulnerable.
The urban heat island effect and the legacy of redlining — namely an abundance of hard, dark surfaces and absence of green spaces as a result of disinvestment — have also left predominantly Black neighborhoods in St. Louis several degrees hotter than their surrounding areas.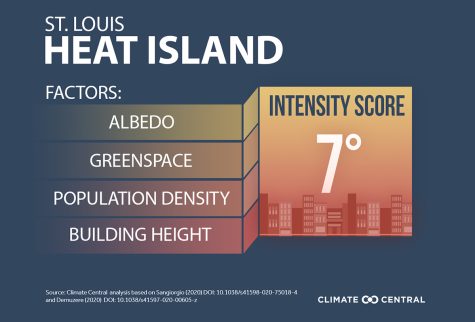 Although St. Louis won't experience much in the way of sea-level rise, hurricanes or wildfires due to its landlocked Midwestern location, the region is far from immune to other climate impacts.
The City of St. Louis — with its first-ever sustainability director, Catherine Werner, at the helm — published its Climate Vulnerability Assessment in 2018 to evaluate the climate-change hazards most likely to impact the city and map the most vulnerable populations. Extreme heat was found to be the region's top climate hazard, alongside extreme cold, tornadoes, drought and flooding.
St. Louisans are no strangers to hot, humid weather, but climate change is projected to make summers longer and hotter than ever before, with heat waves becoming more frequent and intense.
Temperatures in Missouri have risen nearly one degree Fahrenheit since the beginning of the 1900s, according to data from the National Oceanic and Atmospheric Administration, or NOAA.  Anthony Lupo, Missouri's interim state climatologist, says the greatest increase in average temperature has been observed in winter, followed by spring and fall.
The average summer temperature has seen the most modest increase. The summer, however, has experienced the biggest increase in average dew point temperature, which refers to the amount of moisture in the atmosphere. When combined with the air temperature, the dew point gives you the "feels like" temperature or heat index.
Lupo says that this part of the country could see a greater number of uncomfortable heat index days, putting those most vulnerable — including older and poorer populations — at risk.
A study published last summer — based on a moderate emissions scenario in which greenhouse gas emissions peak in 2040 — found that St. Louis will be among the five metro areas most impacted by an "extreme heat belt" projected to emerge across the central U.S. in the next 30 years. This belt shows that much of the industrial Midwest, deprived of the relief brought by coastal breezes, has the biggest risk for "extreme danger days," or days with a heat index of 125 degrees or higher.
It also found that in Missouri, St. Louis County will experience the largest increase in "local hot days," projected to go from seven days over 108 degrees in 2022 to 21 days in 30 years. The city will similarly experience 21 days over 107 degrees in 30 years.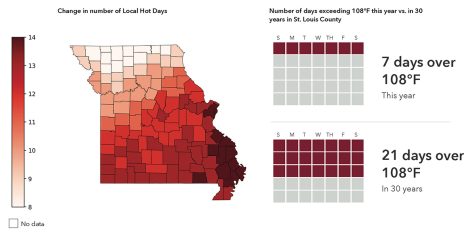 In addition to the increase in average dew point temperature, the average nighttime low temperature in the summer has increased in recent years to the highest on record.
"In the daytime, your body is programmed to put up with heat, but your body expects at night to be able to cool off," Lupo says. "So it's the increase in nighttime temperatures that presents the biggest danger."
"The silent killer"
Heat already kills more people in the United States than any other climate-related hazard. According to the Centers for Disease Control and Prevention, an average of 702 heat-related deaths and 9,235 heat-related hospitalizations occur annually. Many surmise that these are significantly under-reported because of the oversight or misclassification of heat-related illnesses and deaths in medical records. A 2021 study estimated that heat led to around 12,000 premature deaths in the U.S. during the 2010s.
In Missouri, there were 4,377 reported cases of hyperthermia — the technical term for heat-related illness — between 1980 and 2016, according to the Missouri Department of Health and Senior Services. Of these cases, 1,272 were deaths. The City of St. Louis saw the greatest share of deaths at 31.7 percent, followed by Jackson County and St. Louis County. One heat wave in late June and early July of 2012 alone killed 18 people in St. Louis city.
"Heat deaths don't have the drama of tornado deaths or hurricane deaths or flooding deaths. So it's often referred to as the silent killer of climate change," says Andrew Hurley, a historian at the University of Missouri-St. Louis who researches climate change and urban development.
Its effects are cumulative and gradually take a toll on the human body. Heat is also often a secondary cause of death.
"So you do have people that die of heat stroke, which comes on after prolonged exposure, but then you also have people with underlying conditions who are vulnerable to begin with. So they may suffer death from heart attack that is exacerbated by the stress on the body when the temperature goes up. Those aren't recorded as heat deaths, but they're very real," Hurley says.
That said, heat-related illness and deaths have declined dramatically across the country and in Missouri in recent decades, in large part due to the proliferation of air conditioning.
"It's probably the most dramatic historical change in how urban populations have adapted to hot weather," Hurley says. According to U.S. census data from 2011, more than 90 percent of housing units in St. Louis have central air conditioning.
But Hurley thinks disparities in terms of people's ability to survive extremely hot weather have grown alongside air conditioning. He says that before air conditioning became commonplace, people sought refuge from the heat outside, often in collective green spaces like parks. Now, they stay indoors.
The positive result has been fewer heat-related deaths, but the negative has been the loss of social interaction provided by people congregating in green spaces. (And air conditioning has a much worse environmental impact.)
What's more, Hurley says, air conditioning varies in quality.
"What we often find in terms of people who have died in recent heat waves, is they've had air conditioning," he says. But their air conditioning was old and not working well, or they were worried about their electric bills so they didn't turn it on.
"Poor people, and people of color who tend to be poorer, were always more vulnerable to heat across time," Hurley says. "But I think it's intensified since the era of air conditioning."
A legacy of redlining
In recent years, researchers have started looking at the link between redlining policies in cities across the U.S. and the disparate impacts of urban extreme heat today.
Redlining refers to the discriminatory practice of refusing home loans or insurance in neighborhoods deemed "hazardous" based on race or ethnicity, which was outlawed by the Fair Housing Act of 1968.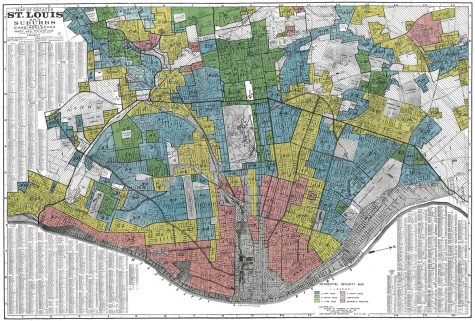 Vivek Shandas, a professor of geography at Portland State University, co-authored a study published in 2020 that looks at whether those decades of disinvestment in communities of color have led to a current-day experience of higher temperatures in neighborhoods in 108 cities, including St. Louis.
"It was pretty remarkable what we found," Shandas says. Their analysis showed that formerly redlined areas were on average about 5 degrees hotter than their non-redlined counterparts.
In the City of St. Louis, they found a temperature difference of 4.7 degrees, "which is higher than many of the cities that we've seen, and it was a very clear signal that St. Louis has actually got areas that have much, much hotter redlined neighborhoods today, even though redlining is no longer part of our official federal policy," he says.
They also found that the redlined areas — which include north city and some parts of south city to the east of Tower Grove Park — lacked tree canopy and were replete with impervious surfaces like concrete and asphalt, as well as "land-hungry development" made of dense materials that absorb and re-emit heat.
EnergyCare also conducted its own analysis in 2020. In partnership with data scientists at Washington University, the nonprofit looked at where its clients live and how their energy burden — that is, their income divided by utility costs — affects their lives.
The analysis found that most of EnergyCare's clients live in the parts of St. Louis "where decades of redlining, disinvestment and racial injustice have produced communities where people struggle to stay warm in their own homes in the winter and cool in the summer."
More specifically, Executive Director Tim O'Dea says, their requests come from north St. Louis and parts of south St. Louis such as Gravois Park, Benton Park East and Dutchtown. They're getting more and more requests from St. Louis County in the older, inner-ring suburbs such as Jennings and Wellston.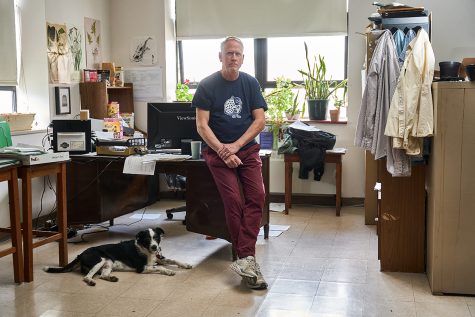 Gentry Trotter of Cool Down St. Louis — another St. Louis-based nonprofit that provides energy-related assistance to vulnerable people in 44 counties across Missouri and Illinois — says they help people most in north St. Louis and a strip of south St. Louis in addition to parts of north county, East St. Louis and St. Charles County near Blanchette Memorial Bridge.
Many of the nonprofits' clients live in older homes where deferred maintenance has compounded their energy burden, making utility bills all the more difficult to pay and disconnections more likely to occur. And both O'Dea and Trotter say the urban heat island effect, which leaves cities significantly hotter than their outlying regions due to the abundance of heat-trapping pavement and buildings and the lack of greenery providing cooling shade and evaporation, impacts their clients.
Climate Central — a nonprofit that researches the impacts of climate change around the world — included St. Louis in its 2021 analysis of the urban heat island effect.
St. Louis ranked 22 out of the 158 cities evaluated for urban heat island intensity, according to Manager of Analysis and Production Jennifer Brady, with the effect making the city around 7 degrees hotter on average than its surrounding areas. The main factor contributing to this stark difference: a low "albedo" score due to the abundance of dark and impermeable surfaces absorbing and retaining the sun's heat rather than reflecting it. The urban heat island effect, she says, is expected to get worse with climate change.
Climate Central ranks St. Louis as one of its top 10 cities for impermeable surfaces, with a remarkable 57 percent of the city being hard, dry surfaces like buildings, roads and parking lots that contribute to higher temperatures. Brady says that many of the older buildings in Midwestern cities were designed to keep heat in during the winter, which requires a lot of retrofitting to fix.
But the analysis only looked at the average for entire cities.
"We know some neighborhoods are much worse than other neighborhoods, there's no denying it," Brady says.
She points to recent NOAA efforts that were spearheaded by Shandas. Since 2017, NOAA has been organizing campaigns in cities across the country to map the urban heat island effect on a more granular level. Kansas City and Columbia have participated, but St. Louis has yet to follow suit.
Varied solutions, varied progress
DeSoto Park was initially developed to serve the residents of the Pruitt-Igoe and Vaughn projects. Now it serves Carr Square and its adjacent north city neighborhoods — and it's been the focus of an orchestrated campaign to increase trees in the area.
The campaign comes from nonprofit Forest ReLeaf, which is making some headway, says Rebecca Hankins. She walks along a path flanking the park's soccer fields, passionately showing where river birches they planted in 2017 are growing and will eventually provide shade for players and spectators using the fields. In December 2021, Forest ReLeaf worked with community members to plant an additional 60 trees of 8 different species in the park.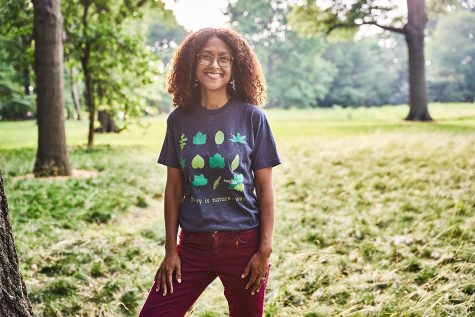 The nonprofit has been working with community groups and supporting municipalities to expand native tree growth on public land across Missouri for 30 years. Hankins was brought on board as the partnership's manager in 2021 to boost its capacity to increase the city's tree canopy, especially in north city.
Neighborhoods here tend to have a lower Tree Equity Score, which indicates whether a neighborhood has enough trees for residents to reap the benefits. In the past two to three years, Hankins says they have planted and been actively stewarding more than 750 trees in north city alone.
"We don't realize how much trees are doing for us," she says. They're a cost-effective solution for so many issues, she says, like reducing asthma-causing air pollutants, managing stormwater and mitigating urban heat. Through shade and evapotranspiration, trees can cool communities by several degrees and provide respite during periods of extreme heat.
Heat from the sun's rays builds up on gray infrastructure during the day and radiates back out at night even after the sun goes down, Hankins says. Trees block those harmful rays.
"The leaves are absorbing all of that heat and energy, and they're converting it into something magnificent," she says. "They're turning that into energy for the tree to grow, which puts out oxygen.
"But otherwise, that energy from the sun is just lost on concrete," she says.
Nearby, Forest ReLeaf's canopy crew is watering a diverse mix of around 30 recently planted trees — including tulip trees recognizable by their distinct leaves shaped like a cat's face — along Gateway Elementary School to build a more resilient tree canopy. Just before, they were watering around 50 trees they had planted earlier this spring at Yeatman Square Park in the JeffVanderLou neighborhood and replanting a bald cypress that had been run over by a lawnmower.
"Forest ReLeaf has recognised that if we really want to make an impact, we can't just plant a tree and walk away. We have to steward that tree to the point it's going to survive on its own," Hankins says. A tree is most vulnerable during its first three years of establishment, she says.
The new trees replaced the former ash trees at both locations that had been ravaged by the emerald ash borer. The metallic green-winged beetles have been migrating across the U.S. over the past 20 years, Hankins says, leaving dead ash trees in their wake.
"We're losing trees at an alarming rate because of the emerald ash borer," she says. More than 3,150 street trees have been removed in the past three years. Another 8,600 still need to come down, many in north city.
Urban tree cover averages around 40 percent nationally, according to a 2018 study. In 2010, Forest ReLeaf assessed the urban tree cover in St. Louis was at 18.2 percent of the city, with the possibility of 33.9 percent tree cover. (City officials did not have the current number.) The emerald ash borer and other conditions, like the recent drought, have made it difficult to merely maintain the level of tree canopy in the city, let alone increase it.
The city's forestry commissioner Alan Jankowski says they've been seeing more ash die this year than in previous years, which is straining resources. The Forestry Division has been down staff since COVID-19, he says. To keep up with the workload, the city has a half-million-dollar contract with a private company that helps them take down ash trees and another million-dollar contract to help take down other hazard trees.
Come fall, the Forestry Division will set about planting its annual goal of 3,000 trees. It applied for an Inflation Reduction Act grant that the city hopes will allow it to double those numbers this year.
"It takes decades to build that canopy, and it starts now," Jankowski says. "We're really planting for the future."
Priority is given to the low-canopy, disadvantaged communities in the city, he says, but it's ultimately up to the city's aldermen to allocate funds for their wards.
Planting trees, however, can't be the only solution to reducing extreme heat in St. Louis. Before the 2018 Climate Vulnerability Assessment, Werner — the city's former sustainability director and now a senior sustainability planner with engineering consultants AECOM — developed the city's first Climate Action & Adaptation Plan in 2017 to identify the recommended climate mitigation and adaptation efforts in St. Louis.
In addition to increasing the city's tree canopy, the report identified installing cool and vegetative roofs as actions to cool the city. In 2013, a few years prior to the report's publication, the city awarded a grant to a pilot project in the Forest Park Southeast Neighborhood called Painting Sustainability, which trained residents and volunteers to paint roofs with a reflective white coating that lowered the rooftop temperatures.
Since then, however, there is little evidence that the city has installed any cool or green roofs on public buildings or that it is financially incentivizing residents and businesses to install the roofs themselves. A city spokesman wasn't able to provide information on any more recent programs by press time. (The city's 2013 Sustainable Neighborhood Toolkit does include instructions on how members of the community can create their own cool roofs program.)
Planting trees and installing cool or green roofs fall into what Shandas describes as the "physical" category of solutions to urban extreme heat, in which municipalities try to change the physical design or experience of a city.
Another category is "social" solutions, which encompasses more than 100 cooling centers in the St. Louis region, many of which are at public libraries and local nonprofits, and the services provided by the likes of EnergyCare and Cool Down St. Louis.
"Policy" is Shandas' last category — and often the slowest to gain traction, he says, because policymakers are struggling to grapple with heat, given that it doesn't fall squarely into any one agency. Some cities, like Miami, have created the position of "chief heat officer" within their city governments to help coordinate across multiple bureaus. St. Louis hasn't done that.
In St. Louis and across the country, Werner says in an email that a "lack of information, limited capacity and constrained financial resources are always a challenge.
"Fortunately," she says, "we are amid a 'once in a generation' period of federal grant opportunities available to plan for, measure, and implement a host of climate, resilience and sustainability objectives. In fact, there are so many grant opportunities now that it can feel overwhelming trying to keep on top of the many requirements, let alone assemble the stakeholders and data sets that will be needed."
But taking advantage of the programs requires someone to prioritize it. The city says they have been interviewing candidates to replace Werner, who moved to AECOM around a year ago, and hope to make an offer soon. St. Louis County's sustainability director left her position during the reporting for this story, and a county spokeswoman did not respond to three follow-up requests for comment about its plans.
According to Trotter of Cool Down St. Louis, much more needs to be done — and it's an all-hands-on-deck situation that needs to include the government, utility companies and the general public.
"Climate change is getting worse. And we all need to address it in our different areas of expertise," he says. "People are in denial at the expense of people's lives and their livelihoods."
You can find reporter Kelly Smits on Twitter at @kellymsmits. For more on the River City Journalism Fund, which provided funding for this project and seeks to support local journalism in St. Louis, please see rcjf.org.
If you or someone you know is vulnerable to extreme heat and in need of air conditioning units or help paying utility bills, call EnergyCare at 314-773-5900 or Cool Down St. Louis at 314-657-1599.
.