Yvette Drury Dubinsky returns to St. Louis for latest art exhibition
Jordan Palmer, Chief Digital Content Officer
Published May 23, 2023
When Yvette Drury Dubinsky's sixth-grade teacher excused her from all classes and told her to "go to the back of the room and just draw and paint," she knew art would be a big part of her life. Now, "Traveling," an exhibition of her newest work, is on exhibit at Bruno David Gallery in Clayton, Mo. This is her seventh solo exhibition at the gallery.
Yvette Drury Dubinsky
Drury Dubinsky grew up on the north side of Chicago in a Conservative Jewish family. She could read and write Hebrew before even speaking English. She graduated from high school in the early 1960s and soon found herself on a train to St. Louis where she was enrolled at the College of Art at Washington University on a full scholarship.
"But my father said I needed to come out with an ability to have a job, so I was in an art education curriculum," said Drury Dubinsky.
She eventually left the College of Art and graduated with a liberal arts degree in sociology. She went on to graduate school at Wash U where did research for a social planning agency and later taught sociology at University of Missouri-St. Louis and the St. Louis community colleges.
But making art remained what she loved to do.
"After marrying and having three children, I went back to art school to do what I had always wanted to do," she said. "I finished in MFA in 1990 at Washington University, set up a studio and started to show my work."
The art of Yvette Dubinsky
Drury Dubinsky creates her art wherever she finds herself. She is now based in Truro, Mass, New York and of course St. Louis.
Most of Drury Dubinsky's work is in mixed media, combining paintings, printmaking and photography with sculpture work. She finds significant inspiration from her own reactions to life's experiences.
"My work seems to be an attempt to make sense out of what is bothersome or upsetting, or on the other hand, what is astonishing and wonderful," said Drury Dubinsky. "I love the process of making things work intuitively. I love sensuous and unusual materials. I love to experiment. My work in this new exhibition is varied, but smaller than my usual work because I carried and sent things to myself as I lived in different places."
'Yvette Drury Dubinsky: Traveling'
Her latest exhibition, "Traveling," presents art that is an interplay between working in her studio during the COVID-19 pandemic and the turmoil of the outside world, notably the war in Ukraine.
A century ago, as a child, Drury Dubinsky's mother fled war just north of what is now Ukraine, trapped for a time in the basement of an occupied house. She recalls that her mother never fully processed the exodus or talked about her childhood, spending her later life traumatized by the violence she had experienced.
The largest work in this exhibition, titled "Anguish" (2022), was begun to augment a series of smaller works already in progress when Ukraine was invaded by Russia in February 2022 and left much of the world stunned, horrified, and immobilized.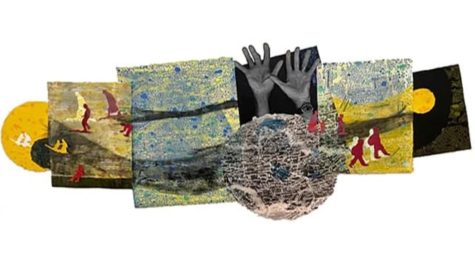 Working in her studio as the violence in Eastern Europe escalated, Drury Dubinsky found herself assembling this piece in reaction to the conflict, its effects on the Ukrainian people and thinking of her mother.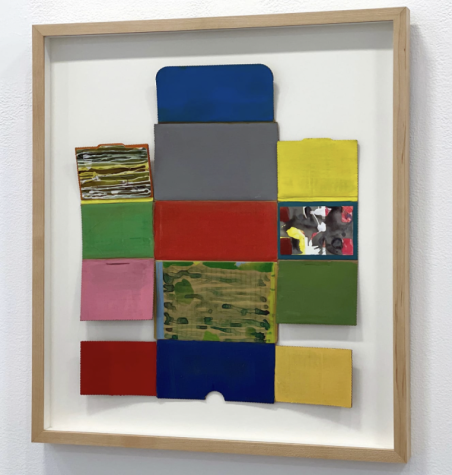 Other works in the exhibition, including several paintings on handmade paper and repurposed medicine and art supply boxes, were made between 2021 and spring 2023 at points during the pandemic when travel to visit family was possible but meant a lack of studio.
How to see "Traveling"
The exhibit of Drury Dubinsky's work is on display through June 17th. On Wednesday, May 24, you have chance to meet Drury Dubinsky as part of the gallery's "Art Talk" series. She will be joined by artist Carlos Salazar-Lermont starting at 6 p.m.
They will share their insights and perspectives on their creative processes and inspirations. This is a free event that is open to the public and includes refreshments and free parking.
The "Traveling" exhibition
When: Through June 17, 2023
Where: Bruno David Gallery, 7513 Forsyth Blvd. 63105
How Much: Free
More Info: Visit the gallery online.